NHL, NHLPA and NHL Alumni Association announce NFT partnership with Sweet
The Sweet-powered official NHL marketplace will offer officially-licensed collectibles including current and historical video moments and gamification features.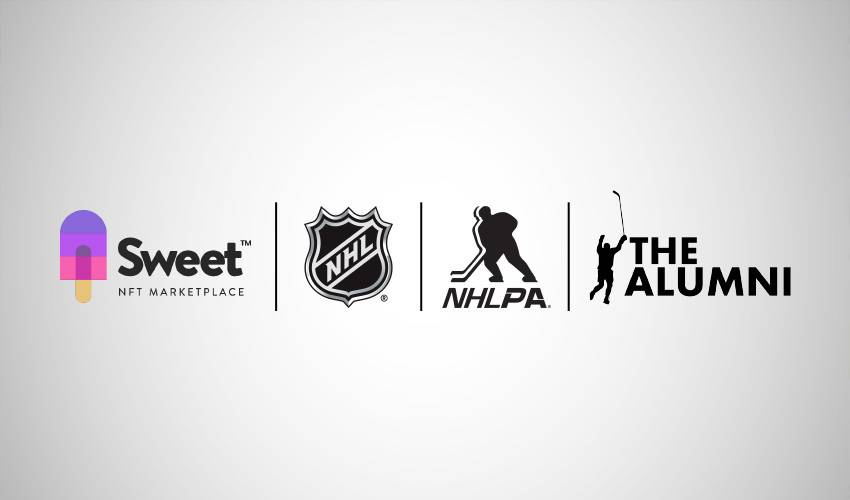 THE NHL, NHLPA AND NHL ALUMNI ASSOCIATION ANNOUNCE GROUNDBREAKING
MULTIYEAR NFT PARTNERSHIP WITH SWEET
Sweet becomes the Official NFT Digital Collectibles Marketplace of the NHL, NHLPA and NHLAA
Sweet-powered official NHL marketplace will offer officially-licensed collectibles including current and historical video moments and gamification features
---
NEW YORK, N.Y./TORONTO, ONT. (June 23, 2022) – The National Hockey League Players' Association (NHLPA), the National Hockey League (NHL®), the NHL Alumni Association (NHLAA) and non-fungible token (NFT) distribution platform Sweet today announced a new multiyear partnership naming Sweet the Official NFT Digital Collectibles Marketplace and an Official NFT partner of the NHL, NHLPA and NHLAA.
The Sweet-operated NHL marketplace will focus on providing the entire community of NHL fans and collectors with a unique and valuable engagement experience through the opportunity to buy, sell, collect and trade never-before-offered pieces of NHL history.
With a planned launch at the start of the 2022-23 NHL season, the stand-alone NHL platform custom-built for this program by Sweet will showcase current and historic moments as well as iconic elements of the game in the form of non-fungible tokens. Also on the roadmap are specialty packs, gamified collection experiences, 3D interactive trophy rooms where users can display their collections, as well as dynamic NFTs designed to change based on current team data, and more.
The category-exclusive partnership is the first-ever to bring the NHL, NHLPA and NHLAA together to offer NFTs in the form of current and archival video moments and collectibles from across the League featuring past and present NHL stars and top plays. Planned collections will be comprised of cinematic, high-definition game highlights from past and present NHL seasons, iconic historical highlights and host of other cutting-edge features and functionality that will appeal to new and experienced NFT collectors. Sweet's user-friendly platform will make it easy for first time fans to experience the thrill of buying, selling, collecting, and trading on the NHL marketplace. The marketplace will also allow fans to showcase their purchases through innovative hockey experiences.
"We are proud to be launching the NHL's official NFT Digital Collectibles Marketplace this upcoming season and to offer this new and innovative interactive touchpoint for NHL fans," said Dave Lehanski, NHL Executive Vice President, Business Development and Innovation. "We invested a significant amount of time to analyze the marketplace and establish a fan-first strategy and are now thrilled to announce a partnership with a company that will not only provide us with a world-class digital NFT collectibles experience, but also a commitment to develop a comprehensive platform that is completely designed and customized for the NHL and wholly focused on connecting with hockey fans in the most authentic and engaging manner possible."
"The NHLPA is excited about, and very confident in the platform Sweet has developed for NHL NFT collectibles," said Mathieu Schneider, Assistant to the Executive Director for the NHLPA. "We're looking forward to collaborating with Sweet to promote our game like never before, by giving fans a chance to collect their favourite player moments, and to interact with the players and other fans in a whole new way."​
"The NHL Alumni Association is excited to work with the NHL, the NHLPA, and Sweet to bring these digital hockey products to fans," said Glenn Healy, Executive Director of the NHLAA. "Sweet has done an incredible job of building the innovative platform and products that will bring NHL NFT Digital Collectibles to life. This collaboration has been worth the wait as fans will be able to access their favorite hockey history moments while we do our part to honor the past".
Tom Mizzone, CEO of Sweet, said: "We're honored to be partnering on an industry-first launch with an organization as globally renowned as the NHL. Working closely with the League and the Associations, we've curated some visually stunning action-packed moments, leveraging in-play gamification to create a genuinely engaging and unique relationship between collectibles and experiences."
The NHL marketplace operated by Sweet will also host quests and challenges that increase fan engagement through their collectability. Special stadium packs featuring moments from the NHL's marquee events, including the NHL Winter Classic®, NHL Stadium Series™, and NHL Heritage Classic™, will also be made available.
Fans can visit NHL.sweet.io to get in early and register for upcoming announcements and releases.