Matthews humbled to earn nod from peers, spot in TLA history
The 2021-22 Ted Lindsay Award recipient, Auston Matthews, capped off a notable season with the vote from fellow NHLPA members.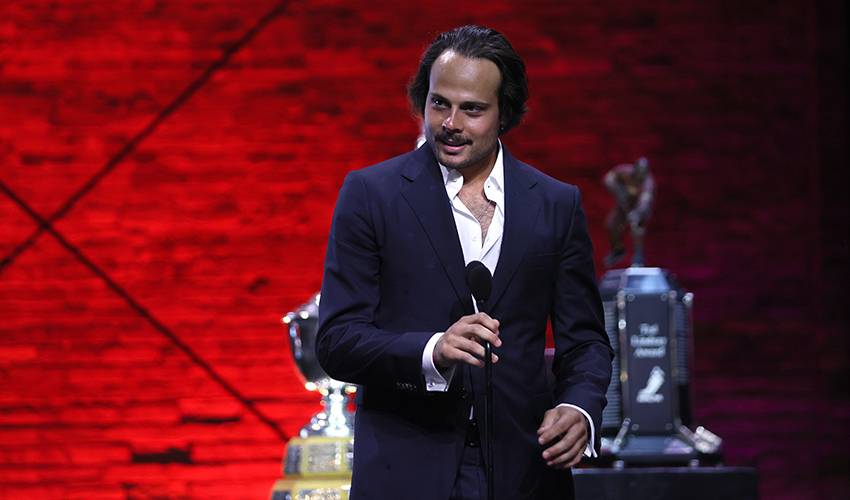 Feature photo: Getty Images
---
It is a treasured first for one of hockey's elite players.
Auston Matthews, who set several impressive records this season, was named the 2021-22 recipient of the coveted Ted Lindsay Award, presented "to the most outstanding player in the NHL," as voted by fellow members of the NHLPA. With the distinction, the 24-year-old forward became the first Toronto Maple Leafs player and second American-born player (Patrick Kane, 2015-16) to receive the award.
"I didn't know that actually," Matthews admitted when told about his franchise-first and place in American hockey history. "It's pretty cool. It's tough to find words. It just means a lot and I'm very humbled."
Matthews, along with three-time TLA recipient Connor McDavid of the Edmonton Oilers and Nashville Predators captain Roman Josi, were the three finalists for this year's honour.
"I can't tell you guys enough how humbling it is to win this award named after the late Ted Lindsay," said Matthews from the 2022 NHL Awards ceremony.
"Roman, Connor, congrats to you guys on amazing seasons. You are incredible players and I have a lot of respect for both of you. My family, it means the world to have you here with me. Thank you for your unbelievable support. I can't thank you enough. It just means a lot to be recognized by my fellow peers and the guys I compete against every single night."
Matthews, a TLA finalist for the second straight year, skated in 73 of Toronto's 82 regular-season games in 2021-22 and played a major role in the Maple Leafs securing second in the Atlantic Division with a franchise-best 115-point season. He scored 60 goals to win his second consecutive Maurice "Rocket" Richard Trophy, setting a Maple Leafs' franchise record as well as a single-season record for the most goals scored by an American-born player. From Nov. 24 to April 9, Matthews scored 51 goals in 50 games.
The first overall NHL Draft pick in 2016 also topped league scoring in even-strength goals (44), goals per game (0.82) and shots (348) and tied for sixth in league scoring (106 points).
With the Ted Lindsay Award being the only honour voted on by the players themselves, Matthews found the nod particularly special.
"I think it's just special because you're voted by your fellow players, those are the guys you're going out and competing against every night. I don't think it's something we take for granted so it's something very special."
Also named the 2022 Hart Memorial Trophy winner, Matthews, one of Toronto's alternate captains, tied for third in even-strength points (77) and he finished fifth in game-winning goals (10). He also recorded career-best marks in power-play goals (16) and face-off win percentage (56.22).
Matthews' teammates are elated at his inclusion into one of sport's most exclusive clubs.
With his TLA nod, he joins a list of some of the most celebrated players to have ever played the game – names like Wayne Gretzky, Mario Lemieux, Jaromir Jagr, Guy Lafleur and Joe Sakic along with more recent contemporaries such as Sidney Crosby, Alex Ovechkin, Connor McDavid, Leon Draisaitl and Nikita Kucherov.
"I'm extremely humbled," said Matthews after the awards ceremony. "It means a lot to be recognized by the other guys in the league, my fellow peers. There's so many great players playing in the NHL today so it just means a lot."
Those who get to see the forward's talents up close day in and day out, agreed with the way their peers in the league voted.
"The honour is very well deserved," Toronto teammate, Mitch Marner, told NHLPA.com. "He is a special talent, but an even better person."
Maple Leafs' captain, John Tavares, also spoke with NHLPA.com and echoed Marner's thoughts.
"Auston had a remarkable year and continues to get better and better. He's an incredible talent and an even better teammate. Being selected as the most outstanding by your peers puts you in a class only so few have earned. It's been special witnessing him become one of the best in our game, day in and day out."
Toronto defenceman Jake Muzzin, summed up his thoughts on Matthews in one word, with an accurate description of Matthews' play throughout the entire 2021-22 season.
"Beast," the veteran blueliner and Maple Leafs' alternate captain put simply.