Suzuki proud to help lead HIFE efforts
Amid a season of career-best numbers, Nick Suzuki found ways to be a leader off the ice, too.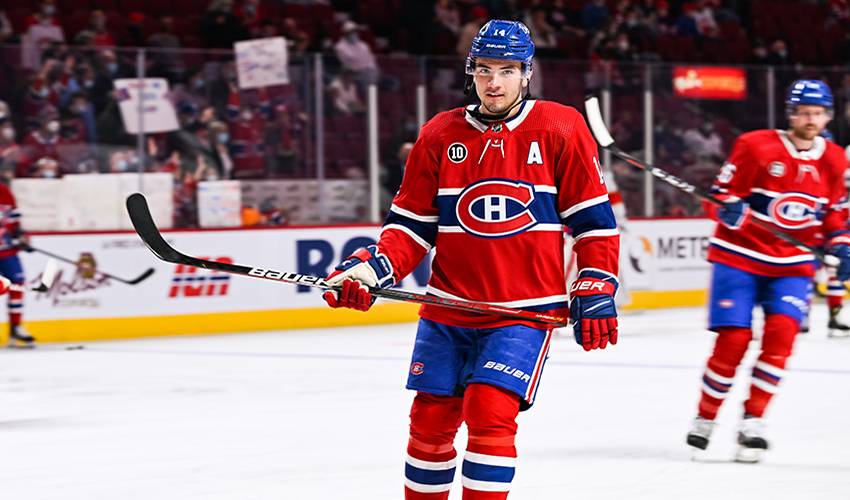 Feature photo: Getty Images
---
It was an offer Nick Suzuki quickly accepted.
When the Montreal Canadiens asked the 22-year-old Suzuki if he would be interested in being the team's Hockey Is for Everyone ambassador, he wasted no time in giving his answer.
"The team approached me about it and thought I'd be someone who could help in representing the team," the forward said of the NHL/NHLPA initiative that uses the game of hockey – and the league and players' global influence - to drive positive social change and foster more inclusive communities.
"It's definitely something I wanted to be part of and to help out in any way I could. The slogan says it for itself, hockey is for everyone. Anyone who wants to play should be able to and should feel comfortable doing so. That's the biggest message we try to get out there."
It's a message Suzuki believes in.
In April, the 13th overall pick of the Vegas Golden Knights in the 2017 NHL Draft celebrated the team's Pride Night in a video, noting, "We believe no barriers, including sexual orientation or gender identity, should prevent members of the LGBTQ+ community from enjoying the sport we all love, whether on the ice, in the locker room or in the stands."
As part of the NHLPA's and NHL's Hockey is for Everyone program, the evening provides a platform for each NHL team to showcase its support for people of different sexual orientations, gender identities and expressions, and to highlight the significance of respect and inclusion of people from the LGBTQ+ in hockey and other sports.
The London, Ontario, native is grateful for the support he and his teammates received in the leadup and aftermath of their Pride Night home game which saw special sticks, shirts and jerseys go up for auction.
"We had a great game for the Hockey Is For Everyone campaign. We raised a lot of money, helped a lot of people, and hopefully, opened a lot of eyes in the city and across the country too."
All proceeds from the auction will be donated to You Can Play, a non-profit organization fighting homophobia in sport, and GRIS-Montreal, a research and social intervention group that demystifies homosexuality, bisexuality and gender identities in schools.
Suzuki is committed to his ambassadorship role using his status to create change, making sure that the stands and locker rooms are welcoming and safe places for everyone.
If an NHL teammate were to come out, what could that person expect, reaction-wise, from Suzuki and other Canadiens players?
"It would be full acceptance. We are a family, and we all stand together. If that did happen, I know everyone on the team would support them. It would be a big decision [to come out] these days, but hopefully it won't have to be that way anymore. We just want to let everyone know they can be open."
When it comes to creating a safe and welcoming locker room, Suzuki emphasized the importance and power of words.
"For sure," said Suzuki. "None of that [derogatory] language is used in our room. It would be a shock if you heard anything like that."
Using his voice to affect change and being an ally remain top priorities for one of the game's top young stars.
He's honoured to offer his support.
"I know people and I've met people in the LGBTQ+ community and I want to support them in any way I can. Our country still has a long way to go but I think the steps are going in the right direction. It's going to take a lot more people to get the message of support. I think the next generation is open to that, so we are in a good place going forward."
This summer, Suzuki finds himself in a different place than he's used to, specifically, the NHL city he calls home during the hockey season.
"I haven't really had the full experience of Montreal since my first season. I didn't get to spend much of the summer there at all. So, this year, I thought I'd stay here and get to explore a lot of the things the city has to offer. The weather is great. We were just at an outside market, which was great. It's been a lot of fun to get to know the city better and see so many different and unique places. It's pretty cool."
Suzuki has been making the most of his time in Montreal connecting with fans, having recently joined teammate Jonathan participants from the Hockey de Rue program in Cote-des-Neiges for a little ball hockey.
Expect the forward, who set career-high numbers in goals (21), assists (40) and points (62) in his 2021-22 regular season to be a familiar face at some of Montreal's world-famous summer events.
"It really is a world-class city. There is a lot of good golf around and there are so many awesome festivals. I'm looking forward to going to a lot of the festivals and other spots, and just being around the city to experience everything I can this summer."