Dennis humbled to receive USA Hockey's Distinguished Achievement Award
Maria Dennis, in addition to her role as Director of Player Health and Safety and Associate Counsel for the NHLPA, also chairs the NHL/NHLPA Female Hockey Advisory Committee.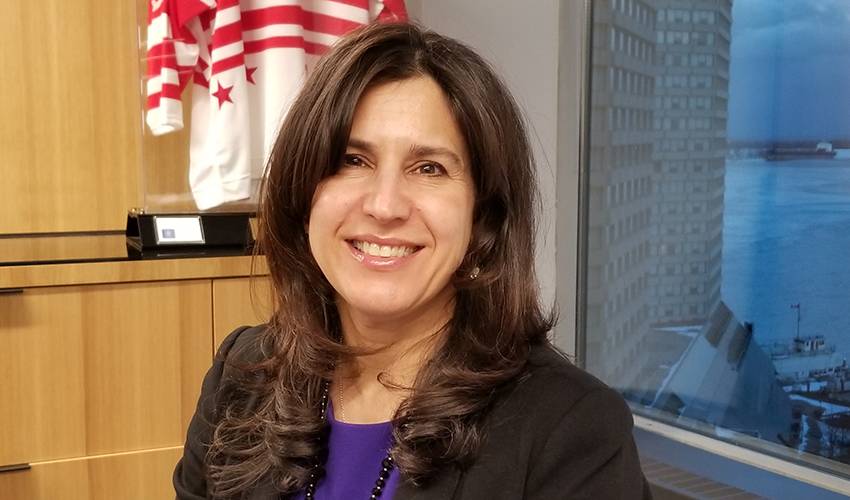 Feature photo courtesy of Maria Dennis
---
It's certainly fitting that an honour associated with Maria Dennis has the word distinguished in the title.
When USA Hockey hosts its 2022 Annual Congress June 8-11 in Denver, Colorado, Dennis, the Director of Player Health and Safety and Associate Counsel for the National Hockey League Players' Association, will be recognized for her numerous contributions to a sport she has been associated with for almost her entire life.
The former U.S collegiate standout forward at Yale University is this year's recipient of the USA Hockey Distinguished Achievement Award, presented annually since 1991 to a United States citizen who has made hockey his or her profession with outstanding contributions, on or off the ice, to the sport in America.
She has impacted the game on and off the ice. Congratulations, Maria!

—

USA Hockey (@usahockey) June 9, 2022
Her initial reaction to the news was in line with how most hockey players would respond – humbly and somewhat uncomfortably.
"I'm obviously grateful and humbled by this, but there's always that part of an athlete where they say, 'Why are they giving it to me?' My friends reminded me about my love for the sport, how I've tried to play my part in making it better for others, working to grow the game and in my role as Chair of the NHL/NHLPA Female Hockey Advisory Committee," offered Dennis.

"When they put it like that, I could see it, but there are so many more people who do the same thing – make contributions, and volunteer their time. I'm honoured to be put into that same category. I feel very grateful, but I'm still in that mindset of, 'Why me?'"
Just as she was when current NHLPA Special Assistant to the Executive Director, and former star NHL defenceman, Mathieu Schneider, informed her of the award.
"When Mathieu told me, he said, 'Now don't do the typical hockey thing!' But I did. I guess it's a hockey player characteristic."
Dennis, who started playing hockey at the age of six in her hometown of South Windsor, Connecticut, before starring at Yale University where she netted numerous scoring awards – including 96 career goals for the most of any male or female player – in the school's hockey history, now finds herself in elite company.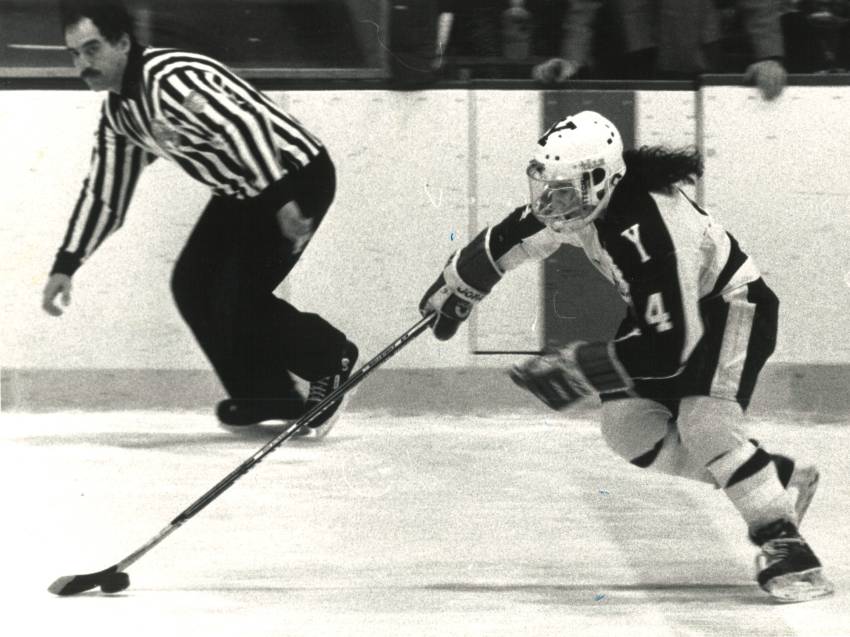 Past recipients of the Distinguished Achievement Award include some of the most impactful hockey names in the game.
There is an unmistakable tone of incredulity in Dennis' voice as she reads many of the names on that list.
"Jack Parker, Phil Housley, Peter Karmanos, Brian Burke, Lou Nanne, Willie O'Ree, Tim Taylor, the 1980 U.S. Men's Olympic Team. … Unbelievable. That's very cool. You get very humbled when you see this list."
Taylor played an integral role in Dennis' life, inside and outside of the arena, during her U.S. collegiate days.
"Tim Taylor was the head men's coach at Yale when I went there. I got a part-time job when I was on campus and I worked for Tim for four years. He let me play, especially in my first two years there, with the men's team for captain's practices, which is before the start of the collegiate hockey season. The NCAA allowed you to go on as long as there are no coaches on the ice. It must have been two weeks, I practiced with the men's Division I team. It was the most fun I've ever had, but it was the most nerve-wracking. People became NHL players, like Randy Wood and Bob Kudelski. I couldn't believe I was playing with these players. They would fire these really hard passes at me, and I thought, 'What are they doing?' But that's just the way they passed the puck. It was a lot of fun."
That's the way Dennis has always viewed the game of hockey – as fun, regardless of whatever role she has assumed.
And there have been many.
While attending Georgetown Law, Dennis was selected to the U.S. Women's National Team and helped Team USA earn a silver medal in the inaugural International Ice Hockey Federation Women's World Championship in 1990.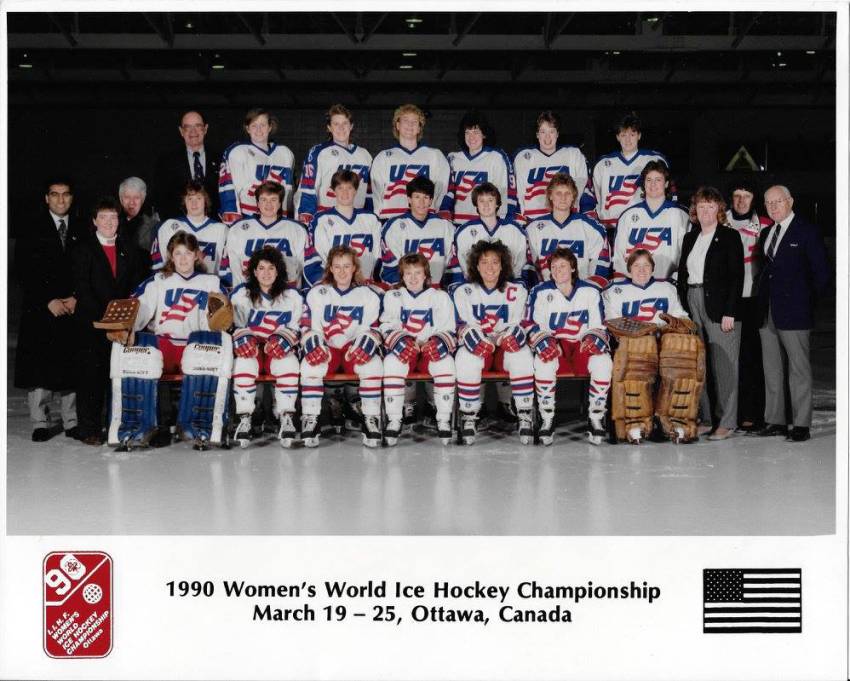 After her national team playing career, Dennis volunteered with USA Hockey as a member of the Board of Directors for nearly a decade and simultaneously served as a member of the Board of Directors of the United States Olympic Committee. In addition, she was voted to serve as an athlete representative to the Salt Lake Olympic Management Committee for the 2002 Olympic Winter Games.
In 2011 Dennis joined the NHLPA, where she advocates on behalf of the players' interests with respect to a wide array of health and safety matters, including the players' right to quality medical care, second medical opinions, a fair and equitable drug testing program, substance abuse and mental health assistance and concussion management. Using her hockey background, she also represents the players' interests in the areas of supplementary discipline, data analytics, and wearable technology.
Whatever role she's been in, Dennis carries with her a litany of lessons learned from her days playing the game.
"It's always the lessons that everyone says they acquired from team sports. It's pretty universal. It's how to keep going in the face of adversity, how to overcome a challenge, how to never give up, how to work as a group with one goal, how to have leadership qualities – you get to learn so much and you get to learn about yourself."

"You learn about your strengths and weaknesses. When you play on a line with two others, you don't all necessarily have the same skills. One might be the passer, one might be the one shoots the puck, the other might be the mucker – it's about bringing together those different skills for the same goal. I definitely took those lessons and applied them to my day-to-day work life and personal life, especially overcoming adversity and never giving up. When I was growing up, women really didn't play hockey that much. We had a few. There were two in my state, and we became friends because we were the only two girls in the state that played, and we played against each other."
It's people like Dennis who have helped dramatically change the course of women's hockey.
Today, Dennis chairs the NHL/NHLPA Female Hockey Advisory Committee, a joint initiative that began in 2018 to accelerate the growth of girls' and women's hockey in North America and ensure that girls and women experience all the opportunities and benefits that the sport provides.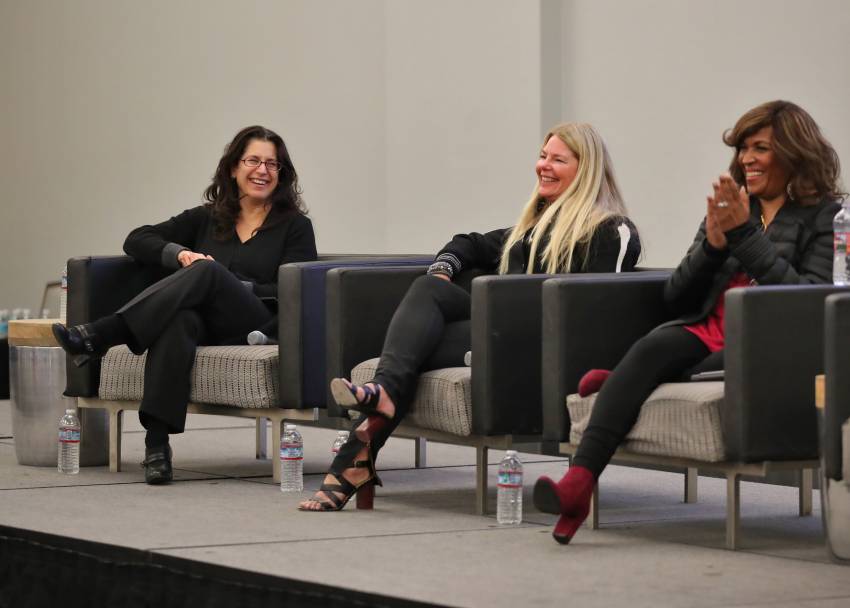 Her work in that area is far from done.
"I think this whole movement of diversity and inclusion is very encouraging. I'm very glad to see it taking hold in different aspects of life. It's in the corporate world, it's in government and in organizations. There is a focus to be welcoming and inclusive, and that's how it should have been the whole time. Now that it's in focus and people are looking at the issue, making sure it's available to everybody, I think it's an important thing to remember – that hockey can be everyone."
It was something her father, Tony, championed years ago.
His love for hockey and his belief that everyone should be able to play became evident to Dennis early on in her life.
"In the New England region, my dad, back when I started playing, was someone who had already been pushing for women's hockey. He was the person who was always pushing USA Hockey to do something for girls and women. He was a big believer in that. He was my first ally. When I asked him why he put me on the ice in 1972, he just laughs. He says, 'You know what, Maria? I never thought anything of it. We just thought to put you on the ice and see if you liked it.' For him to do that, he opened up the whole world for me. If he didn't do that, I wouldn't have the life I have today."
A life that Dennis is grateful to have.
She reminds herself, daily, of what hockey has given her.
"It's given me my best friends, my education, my job – the best job I've ever had, which is working for the NHLPA. I love working on behalf of athletes, especially hockey players, and it's opened up all these avenues for me. The challenges I had to overcome, even if I have to walk into any room and I'm not conversant in the topic, I could at least feel confident I could be in that room. It's taught me a lot of self-confidence."
Her playing days are far from over.
Next month, she'll lace up the skates for a tournament that takes place in the Golden State.
"I'm going to be on the ice for the Snoopy Senior World Hockey Tournament (July 7-17 in Santa Rosa, California). The youngest age group at the tournament is 40 and over. And they go in five-year increments. The oldest group is 75. When you are in the 40-year-old group and you go into the rink and see the 75-year-olds playing, you look at them and think, 'Wow! They are role models. When I grow up, I want to be like them.' If I can pass that love and passion to somebody else, that would be pretty awesome."
Dennis no doubt already has, hundreds of times over.
And, just like her father did for her nearly 50 years ago, Dennis wants to see more young people discover the game she cherishes.
"I would hope that I have opened some doors or be a role model for some other girl or some other marginalized person to believe that they could play the sport too, have fun at it and play for as long as they can. Hockey really can be for everyone if the barriers are lowered, and the community is welcoming. I certainly had a welcoming community – I had to find it though – so I'm hoping, especially with the Female Hockey Advisory Committee, that we continue to grow the sport as a whole and encourage other young girls and boys to play. It's just such a wonderful sport, there is nothing like it."