2021-22 Ted Lindsay Award finalists: Josi, Matthews and McDavid
Roman Josi, Auston Matthews and Connor McDavid have received the most votes from their peers as the most outstanding player.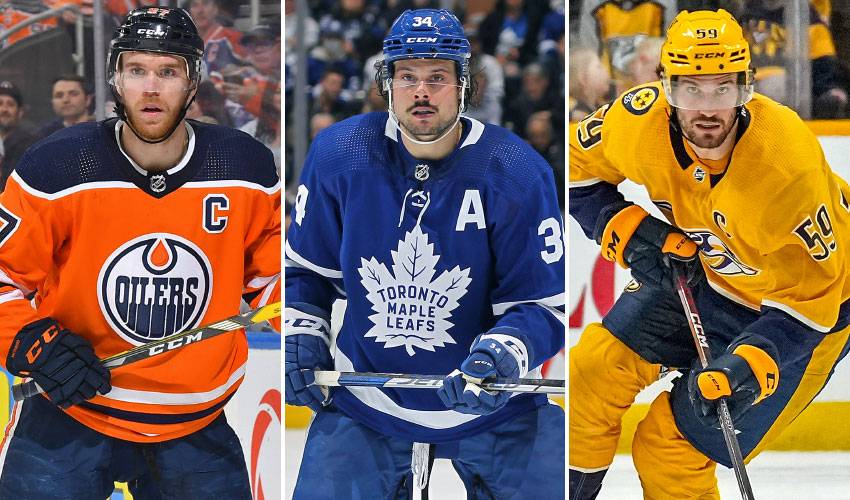 2021-22 TED LINDSAY AWARD FINALISTS:
JOSI, MATTHEWS AND MCDAVID NAMED BY PEERS AS FINALISTS FOR MOST OUTSTANDING PLAYER AWARD
…Josi seeks to become first defenceman TLA recipient since 1974-75; Matthews vies for first TLA in second consecutive year as a finalist; and McDavid looks to join rare company with fourth TLA
---
TORONTO (May 13, 2022) – The National Hockey League Players' Association announced today the three finalists for the 2021-22 Ted Lindsay Award are defenceman Roman Josi of the Nashville Predators, forward Auston Matthews of the Toronto Maple Leafs and forward Connor McDavid of the Edmonton Oilers. The TLA is presented annually "to the most outstanding player in the NHL," as voted by fellow members of the NHLPA.
Josi is seeking his first TLA as a first-time finalist, while McDavid is looking to receive his second consecutive and fourth TLA in six seasons, and Matthews is vying for his first TLA after finishing as a finalist last season. Each of the three finalists contributed exceptional individual seasons to help their respective teams reach the playoffs – Josi led all defencemen in points, McDavid captured his fourth Art Ross Trophy and Matthews won his second Maurice "Rocket" Richard Trophy. Earlier this week, Josi was also announced as a finalist for the James Norris Trophy, and Matthews and McDavid were each named finalists for the Hart Memorial Trophy.
The 2021-22 TLA recipient will be announced later this spring during the Stanley Cup Playoffs (exact date TBD). Formerly known as the Lester B. Pearson Award, the TLA is the namesake of the first president of the original Players' Association and NHLPA pioneer, Ted Lindsay. This season marks the 51st presentation of the award.
The three TLA finalists received the most votes from their fellow players based on their 2021-22 regular-season campaigns, and are listed in alphabetical order as follows:
ROMAN JOSI, Nashville Predators
Josi played in 80 of Nashville's 82 regular-season games during the 2021-22 season to help the Predators to their eighth consecutive playoff appearance. He scored 96 points to set a franchise record in the category and a single-season record for points recorded by a European defenceman, while he led both the Predators and NHL defencemen in assists (73) and shots (281). Among league blueliners, he ranked first in even-strength points (59), power-play goals (11), points per game (1.20), multi-point games (26) and primary assists (36), and he finished second in goals (23) and power-play points (37). The 31-year-old native of Bern, Switzerland, placed fourth in the league in total ice time (2,044:21), averaging 25:33 TOI/GP. Josi is only the third defenceman in 22 years to be voted a finalist (Brent Burns, 2016-17; and Chris Pronger, 1999-00). He is also the first TLA finalist in Nashville's franchise history. Josi is looking to follow Bobby Orr (1974-75) as only the second defenceman to receive the TLA.
AUSTON MATTHEWS, Toronto Maple Leafs
Matthews played in 73 of Toronto's 82 regular-season games to help the Maple Leafs place second in the Atlantic Division with a franchise-best 115-point season. He scored 60 goals to win his second consecutive Maurice "Rocket" Richard Trophy – setting a Maple Leafs' franchise record as well as a single-season record for the most goals scored by an American-born player. The 24-year-old native of Scottsdale, Arizona, led the league in even-strength goals (44), goals per game (0.82) and shots (348), and he tied for sixth in league scoring (106 points). Matthews placed second in points per game (1.45), tied for third in even-strength points (77) and he finished fifth in game-winning goals (10). He also recorded career-best marks in power-play goals (16) and face-off win percentage (56.22). A TLA finalist for the second season in a row, Matthews is looking to become the first Maple Leafs player and second American-born player (Patrick Kane, 2015-16) to receive the award.
CONNOR MCDAVID, Edmonton Oilers
McDavid played in 80 of Edmonton's 82 regular-season games to help lead the Oilers to a second-place finish in the Pacific Division and their third consecutive playoff berth. The 25-year-old native of Newmarket, Ontario, led the league with a career-high 123 points to win his fourth Art Ross Trophy and second in a row. McDavid led all skaters in points per game (1.54), power-play points (44) and multi-point games (45), and he tied for first in overtime goals (4). He also recorded career highs in assists (79), ranking second in the league, and goals (44). McDavid placed second among forwards in TOI/GP (22:04), and he finished second in the league in even-strength points (78) and third in primary assists (49). A three-time TLA recipient (2016-17, 2017-18, 2020-21), and now a five-time finalist (also 2018-19), McDavid is looking to join Mario Lemieux and Wayne Gretzky as the only players to receive the award four or more times.
About the Ted Lindsay Award:
The Ted Lindsay Award is unique as the only award voted on by the players themselves, carrying on the tradition established with the Lester B. Pearson Award in 1970-71. NHLPA members annually vote on the player they deem to be the most outstanding in the NHL regular season. Reintroduced in 2009-10 as the namesake of the late Ted Lindsay – the Ted Lindsay Award honours his legacy as a Hall of Fame forward known for skill, tenacity, leadership and his role in establishing the original Players' Association. For more information on the TLA, visit NHLPA.com. Join the conversation by using #TedLindsayAward.­­­