Acciari hoping good things do come in threes
Rounding out a healthy return from injury and a new baby with a shiny silver trophy would mean good things have indeed come in threes for Noel Acciari.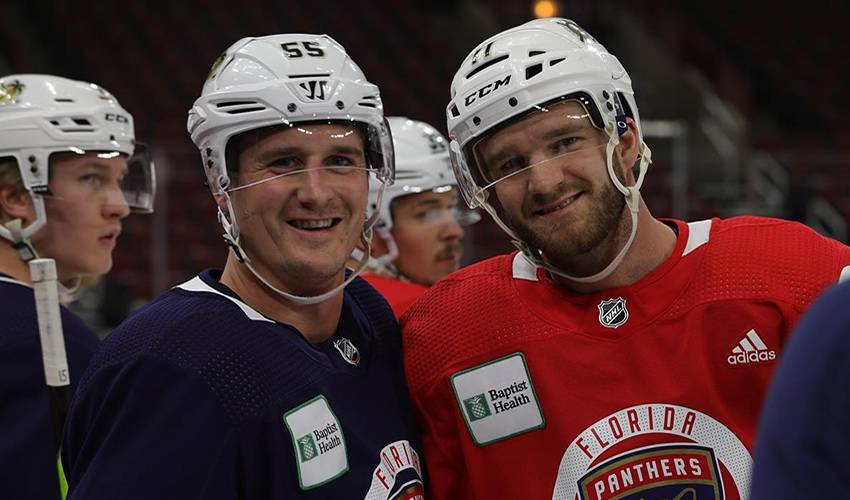 Feature photo: IG / @noelacciari
---
If good things do come in threes, it could be a memorable Stanley Cup Playoffs for Noel Acciari.
After an injury-riddled regular season, one that saw him limited to 20 games over his 2021-22 campaign, things have finally turned around for the 30-year-old Florida Panthers forward.
Acciari, who scored in Florida's final game of the regular season, has looked sharp since his return to the lineup, contributing at both ends of the ice, while bringing his energetic ways to the team's fourth line.
"Not the ideal start of the season I wanted, with having the surgery and taking that much time off," said Acciari. "But seeing how well the team was doing was definitely a bright spot."
It isn't just on the ice where things have changed for the Rhode Island-born forward.
He and his wife, Kaitlyn, recently welcomed their second child, a daughter named Sutton.
"It's been exciting. It's also wild. Having a girl, it's all new to me. I have brothers, boy cousins, but only one girl cousin. But it's all great. Greyson [Acciari's son] loves her. He's very gentle with her. He gets a little jealous at times, but he's awesome with her. So, getting back into the lineup and having a daughter, there's a lot to be grateful for. It's like everything happened at the perfect time with being healthy and feeling good about my game and then having a new arrival. When you have something to look forward to, it really does make a huge difference in your life. I'm pretty fortunate that things came together as they did."
Acciari resisted the urge to get too far ahead of himself during his recovery period, focusing instead on what he could accomplish along each step of the way.
He's opting for the same outlook when it comes to the playoffs.
"You want to keep things the same as you have the whole year. You don't want to overthink anything. You stick with what you know and what has helped the team be successful. You stay with that routine. The more simple you keep it, the better it is. You just have to play your game and look to the things that got you to where you are."
Acciari's answer as to who might step up and be an under-the-radar game-changer for Florida speaks volumes about the team's depth.
"You know, it's tough to say because of how our team has been the whole year. We've had guys up and the down lineup have career years. Honestly, it's tough to come up with an answer because everyone has played so well, and everyone has contributed in a meaningful way. I think it could be anyone and that's what you need in the playoffs to succeed. That's what helped our team be successful so far this year. We're focused on the upcoming game, and nothing beyond that. It's one of the things we've done throughout the whole year. For us, it was one game at a time and have fun. That's one thing about this group. Every day we show up at the rink, we have fun together."
It's much the same for Acciari whenever he heads home from the rink.
Family time continues to be his biggest priority outside of hockey.
"Having kids, it's so much different than what you are used to, but in the best possible way. My little guy is at a perfect age where he just wants to go to the park and test out all different types of sports, whether it's running bases, throwing a football or kicking a soccer ball. Greyson and I will go to the park and hang around. We watch kids play baseball. He's fascinated with that. We'll go out for something to eat and then head home and the four of us will spend time as a family."
As for his daughter's name, it was the result of a team effort.
"Since we have Greyson, we wanted the 'on' at the end of the name. We liked the sound of it and we came to find out that is a special name in the south and she was born in Florida. We liked that. Our little guy helped pick out the name because his favourite letter is 's,' so it made it easier for him to say."
Acciari has no shortage of praise for Kaitlyn.
"She's the best. She's taking care of our newborn and when I'm on the road, she has the two little ones. She's a rockstar. I don't know how she does it on the little sleep she gets. She's the perfect teammate."
The same can also be said of Acciari, who will look to make what appeared to be a less-than-memorable season an unforgettable one.
Back at 100 percent and with a new baby to dote over, perhaps the final part of the 'good things come in threes' equation could come in the form of an iconic silver trophy.
"That's what they say… so let's hope it's true."