Borowiecki: It's good to be vulnerable in hopes of helping others
Not a day goes by that Mark Borowiecki isn't grateful for all that he's received over his NHL career.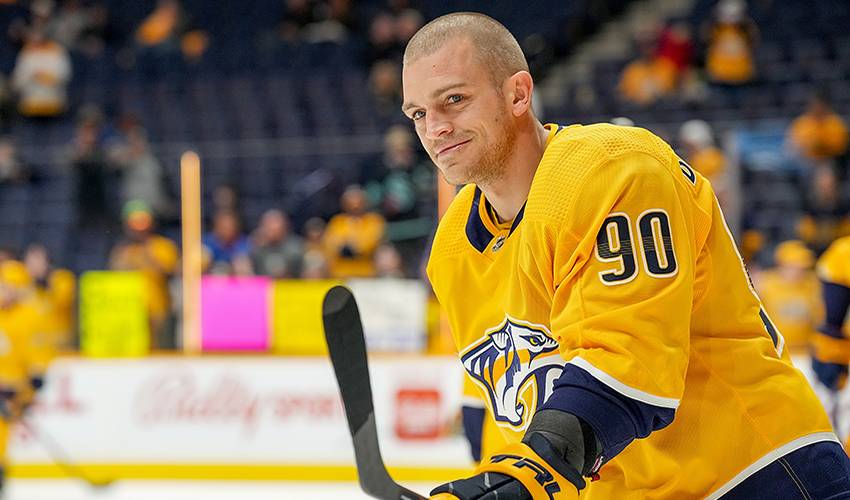 Feature photo: Getty Images
---
Mark Borowiecki is very much a man of the people.
For as much as his being named the Nashville Predators' nominee for the Bill Masterton Memorial Trophy is a testament to the character he brings to the game and to his life outside it, the 32-year-old Borowiecki views the honour through the lens of wanting to do his part in helping others.
Awarded annually to the National Hockey League player who best exemplifies the qualities of perseverance, sportsmanship and dedication to hockey, this year's Masterton Trophy has no shortage of impressive nominees from all 32 NHL teams.
"It's always a little bit surreal for me when I see the names like you have on this list," Borowiecki told NHLPA.com.
"I don't get too cheesy or sentimental, but I'm just a kid from Ottawa who went to the Senators games with my dad when I was growing up, and then my first NHL game was playing with Daniel Alfredsson and Jason Spezza and being starstruck. … Now that I'm older and being a little more introspective and reflective, looking back on my career and realize I'm coming up on 500 games, all of that and an award like this is pretty special.
Borowiecki is undeniably deserving of the accolade.
After a tumultuous first campaign with the Predators in which he only played 22 games, due in part to injury, the Ottawa native has been a force on the blue line for the Central Division club in 2021-22.
He's also happier than ever.
Borowiecki has been candid about his mental health struggles, specifically, his battles with obsessive compulsive disorder, taking to social media to share his thoughts and the journey to where he finds himself today.
"It goes back to my time in Ottawa. I knew deep down there was an issue there, something nagging at me that I couldn't really get a handle on myself. The help offered to me by the Senators medical staff and the organization just set me on the right path," offered Borowiecki.
"At that point in my career, I didn't feel confident enough or established enough to be public or candid about it. But when things came to a head here in Nashville last year… this organization bent over backwards for me. The resources, the support and the love they have given me, I can't say enough. Having a chance to reflect on my life, I'm old enough now and played long enough to realize it's good to be vulnerable in hopes of helping others, whether it's guys in the league, guys coming up in the AHL, or younger kids playing hockey. Whatever it may be, if I can pay forward the help, support and love I've had in my career, it would certainly be very fulfilling for me."
In terms of his hockey career, one that recently surpassed 450 games, Borowiecki is feeling right at home in Nashville, eagerly embracing his hard-nosed defensive role and veteran leadership status.
There was a time when the 6-foot-2, 204-pounder didn't think an NHL career was in the cards.
"I can go a ways back and tell you that I wasn't drafted into the OHL in my draft year. Even at that point, I wasn't considering a career in hockey. I was actually getting an application for RMC, Royal Military College, and thinking about doing that. To look back and reflect, it's still kind of remarkable to me sometimes. When I turned pro, I thought I'd maybe have a chance to get a few stints in the NHL and do my thing playing pro in the American Hockey League for a bit and then maybe head oversees and try to make a living and a career over there.
"But Ottawa showed a lot of faith in me and gave me the start to my career that I needed, and now I've found a home in Nashville. They've placed a lot of value on my role here. It's really special. I'm actually really enjoying my role as an older guy on the team and helping the young guys out, just trying to be a resource for them. I'm the oldest guy on the Predators, so it kind of hits me when some of the guys say they were born in 1999, 2000 or 2001."
Age is just a number for Borowiecki, who is okay with being wrong, very wrong, on how his hockey career would unfold.
Now that he's nearing 500 games, perhaps he should start thinking about 900?
"I think I might have a few too many miles on my body for that one," he said with a laugh. "I'm just going to take it as it comes and be appreciative of every moment along the way."
Which is exactly how he views things outside of the arena.
Life, acknowledged Borowiecki, is very good. Even if it happens to look different than in years past.
"My two-year-old son was digging around my nightstand the other day and he pulled out my NHLPA security card from 2012. I look at the picture and I thought, 'Where did my hairline go?' I distinctly remember all those years ago and it doesn't seem that far away, those days with that great young group in Ottawa, a lot of guys who came up together through the American Hockey League. Those are still vivid memories. And now we're here in Nashville, and it's just been fantastic in every way."
Being recognized with his second career nomination for the Masterton – the first came in 2018 when he was with Ottawa – is one more example of the respect Borowiecki has earned for his contributions to the game on and off the ice.
But there is still more he wants to achieve, both in a Predators uniform and in his personal life.
"I think that's what I try to do, in being able to help others. Even if it's meant for some tough times for myself, if you can help someone else out, I'd do it all over again 10 times over because there is some good at the end of the story. I'm happy to be public about it and I'm very serious about guys reaching out to me if they do need help."