Prioritizing women's sports is beneficial for all
As the NHLPA and NHL celebrate Gender Equality Month, the FHA Committee knows not to limit recognition of girls and women to only one month.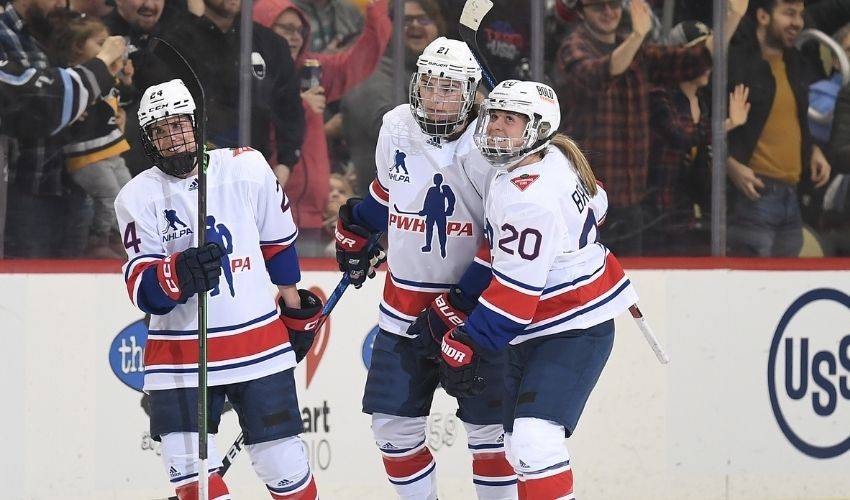 Feature photo: Getty Images
---
To conclude Gender Equality Month, the Chair of the Female Hockey Advisory Committee and the NHLPA Director of Player Health and Safety, Maria Dennis, provides her take on the state of women's sports.
Covering women's sports equitably is vital to growing support for, and increasing participation in, women's sports. Traditionally, coverage of female athletes has been lacking. To further illustrate, let's review some discussions about the health of women's sports in relation to media coverage.
The Olympics are a rare time when female athletes receive similar, but not equal, airtime. A 2018 UNESCO report found that women represent just 4% of all sports-media coverage outside of major events like the Olympics and receive only a small fraction of sponsorship dollars.
With more teams, sponsors and viewers than ever before, this year's NCAA women's basketball (WBB) tournament – finally permitted to use the lucrative "March Madness" brand – will end up being the biggest yet. Last year's championship game was the most watched since 2014, averaging four million viewers. In addition, viewership for every round of the 2021 WBB was up over 2019.
According to SponsorPulse, more than 39 million American women (or 23.3% of the female population) engage with March Madness annually, and 7.8 million say they have a growing interest in the tournament. Already this year, reports find that ESPN's Selection Sunday programming had 1.19 million viewers – a 160% increase from 2021, making it the most-watched women's selection special since 2005.
We shouldn't be surprised to hear that Disney/ESPN completely sold out their ad inventory for the 2022 WBB a month before the tournament's first game.
Growing women's sports also makes good business sense. Companies are now replacing traditional product-centric and customer-centric approaches with value-based marketing, as they recognize the economic value in investing in women's sports. Companies are also betting big on women with name, image, and likeness (NIL) opportunities now available for college athletes. Women's basketball currently earns 18.5% of NIL compensation, second only to football.
As Cierra Moore wrote in Sports Business Journal, "This begs the question: How can people become fans of female athletes if they don't see them? How can female athletes become popular if they aren't covered?" Increasing coverage of women's sports and the visibility of female athletes is vital to improving engagement among viewers and growing participation.
In hockey this year, the Canada-U.S. women's Olympic gold medal game earned a peak TV audience of 2.7 million viewers in Canada as the most watched event of the Beijing games, and averaged 3.54 million viewers on NBC in the U.S. While Premier Hockey Federation (PHF) fans had to watch the league's games on Twitch last year, this season, broadcasts of PHF games on ESPN+ have increased visibility of professional women's hockey. In addition, the PHF's Isobel Cup championship game on Monday, March 28, aired on ESPN2, marking the first such linear broadcast for professional women's hockey on the network. Similarly, the best female hockey players in the world who make up the Professional Women's Hockey Players Association (PWHPA) are wrapping up another successful season of its barnstorming tour with support from several NHL teams, which also featured the first ever post-Olympic 'rematch' between the U.S. PWHPA players and the Canadian PWHPA players.
Christine Franklin, executive vice president of marketing and sponsorships at Octagon, writes, "Women's sports continue to disrupt an existing sports marketing landscape that has long been dominated by male-driven sports. [W]e've answered the question of 'Why invest in women's sports?' once and for all. It's time to show brands how to invest more."
In Adweek, Christine Guilfoyle asserts, "Gender equality in media and entertainment is good for society and drives brand reputation, purchase intent and increased sales for brands. If you can see her, you can be her."
The next step in eliminating inequality in sports is to provide the same, if not more, opportunities to women and girls. Unfortunately, there are fewer opportunities for female athletes than their male counterparts at every level — a 2020 report found 87% of NCAA schools are still guilty of providing disproportionately higher athletic opportunities to men.
We already know female athletes are a historically underserved market. By age 14, girls tend to quit sports at twice the rate that boys do due to underfunding, social stigma, and lack of access. So how do we keep girls involved in sports? How do we invite women to get on the ice and play in addition to being a "hockey mom?" The NHL/NHLPA Female Hockey Advisory Committee (FHA Committee) is addressing these matters by making recommendations to the NHL and NHLPA in order to enhance their efforts around increasing the participation of girls and women in the sport of hockey at all levels of the game – as players, coaches, officials, fans, executives, etc. The most signifigant increase over the past few years in the NHL/NHLPA's introduction-to-hockey programs (referred to as 'Learn to Play' in the US and 'NHL/NHLPA First Shift' in Canada) has been among girls. The percentage of girls registering for the hockey programs has increased to 41% in Canada and 21% in the United States, proving that a strong future of hockey lies with the girls! The FHA Committee also established the NHL/NHLPA Female Hockey Ambassador Program. This extremely successful program incentivizes NHL clubs to utilize grants available for including female role models throughout their youth programming. The NHL and NHLPA believe that representation matters and that if little girls (and boys) can see successful women role models, then they too can believe that they can grow up and be successful in hockey.
Other than creating female-specific programs and grants, another way to increase female participation in sports is to increase women and girls' media coverage. Let girls see their future selves making the three-point shot, kick in a penalty shot for a goal, or rip a slapshot from the point to win the game! And let everyone see how accomplished, skilled and exciting these athletes are. As we near the end of celebrating Gender Equality Month, the FHA Committee knows that we do not limit our recognition of girls and women to one out of the 12 months per year. In fact, we honour and celebrate girls' and women's participation in hockey throughout the whole year and hope to see this reflected in balanced media coverage of these athletes, too.