Ian Cole spreads kindness one toothless grin at a time
From fist bumps to meeting with fans, the Hurricanes defenceman wants to spread kindness any way he can.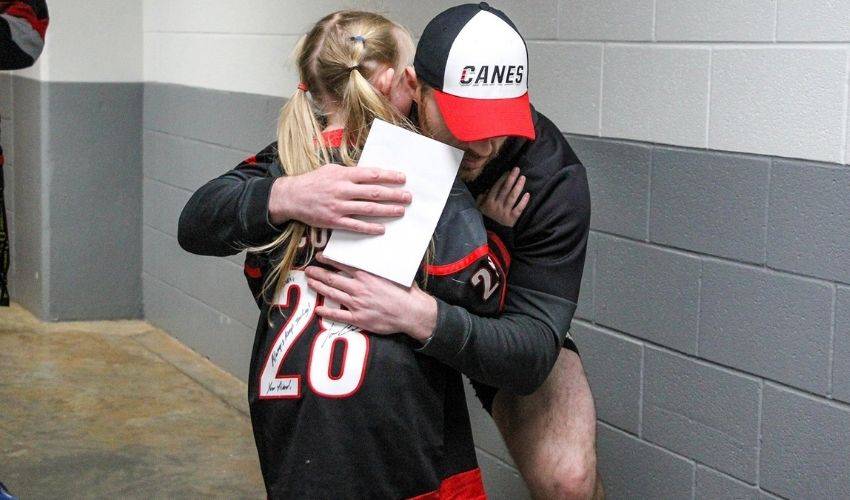 Feature Photo: IG / @icole28
---
When it comes to acts of kindness, Ian Cole always manages to go top shelf.
The 33-year-old two-time Stanley Cup champion from Ann Arbor, Michigan, knows how to make a hockey fan's day.
Whether it's putting a smile on the face of a young girl who was sad about losing a tooth, to signing a jersey for one of his biggest fans, to offering a fist bump during warm-ups, the Carolina Hurricanes defenceman, now in his 12th NHL season, has a knack for leaving a lasting impression.
When five-year-old Lorelai Moose was crestfallen after losing her first tooth, Cole, who has lost a few teeth of his own over his NHL career, stepped up to offer his support for the young girl diagnosed with autism.


After her father posted a tweet, one which featured a side-by-photo of his daughter and the blueliner, Cole not only responded via Twitter, but also hooked her up with a Hurricanes jersey and met with Lorelai before the team's home game against Dallas on March 24.
Pictures and video of the two meeting each other – including the pair playing with Lorelai's stuffed animals – made the rounds on social media.
"I don't know how beneficial social media is all the time, but I will say for something like this, that it's a very good thing," said the veteran of over 650 NHL regular-season games.
As for who wears the toothless look better, Cole isn't touting himself as the winner.
"Looking at myself in the mirror, it's Lorelai, no doubt. She's much cuter than I am, that's for darn sure."
There is no doubt Cole is an athlete who understands the connection between players and fans.
This January, a young fan was shown on Twitter opening a package containing a jersey that had been signed by Cole, his favourite player.
The reaction put a smile on Cole's face."I met him when I did a couple of signings when I was in Pittsburgh. He and his family are huge Penguins fans and I met them a few times. The dad reached out and told me, 'I got him a Cole jersey because you're his favourite player. If we sent it to you, would you sign it?' I said, 'Are you kidding me? Absolutely.' So, I signed it and sent it back to him. He was nice enough to ask if I could come see his game, but unfortunately, it was on our game day, so I wasn't able to do that. It's a really nice family and he's a really nice kid."

Do his kind acts make Cole hockey's version of Santa?
"Well, I do have a big beard, but hopefully, I'm not that portly … at least not yet."
The 18th overall draft pick of St. Louis in 2007 was back at it again in January, taking a quick break during warmups at a home game to fist bump with a young fan through the plexiglass.
It's all in a day's work for the former Notre Dame standout.
"I think just being kind, being nice to people, it's something my parents instilled in me, in doing things for other people. It's important. We're fortunate to have some small slice of celebrity, being hockey players. If you can make somebody's day, especially a kid's day by just being kind, why wouldn't you? When you find yourself in those situations, where you have the chance to share a quick word, or to make some small connection, I always try to be kind. You really do appreciate those moments when you are able to meet someone and put a smile on their face."
Smiles are the order of the day for Cole's son, who appears to share his father's passion for hockey.
"Right now, it's all about 'ha-ha'," said Cole, in referencing his young son's term for hockey. "It's a little beyond him right now, but he sees it on TV and starts shooting a tennis ball around. It's great to see him enjoying that. He also likes the movie "The Good Dinosaur" and going outside – which is great – but he seems to be fascinated with ha-ha."
Cole noted that he won't be going into playoff mode with his son when they play hockey together. Their games won't have anywhere near the same intensity on display in the NHL postseason.
"I'll definitely dial it back and go easy on him. I'll save it for everyone in the actual games."
Just what you would expect from Carolina's Mr. Nice Guy.