NHL and NHLPA celebrate women on and off the ice for Gender Equality Month
The NHL and NHLPA are celebrating International Women's Day and Gender Equality Month by sharing stories of women who are moving the game forward.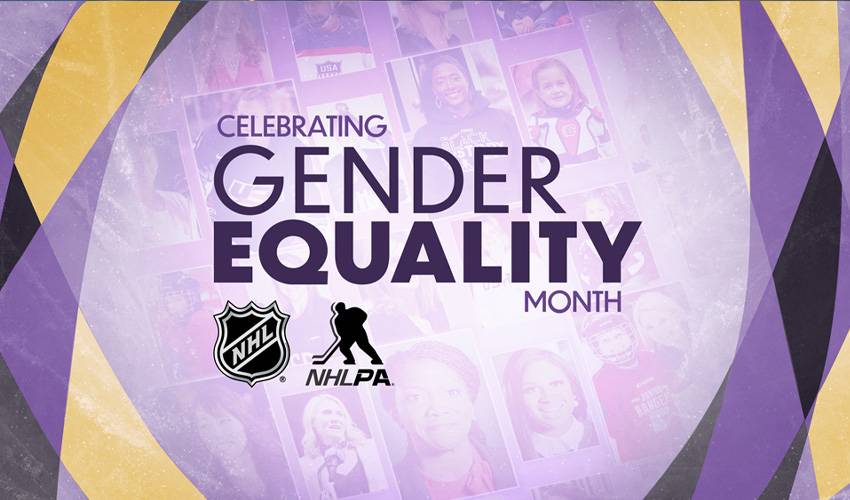 ---
NEW YORK/TORONTO (March 8, 2022) – The NHL and NHLPA are celebrating International Women's Day and Gender Equality Month this March by sharing stories of women who move the game forward for the next generation.
Across the NHL and its 32 Clubs, there are nearly 100 women in Hockey Operations, player development, and player health and safety roles. This esteemed group of women are scouts, player and skating development coaches, data scientists and analysts, dieticians and nutritionists, doctors and physicians. This month, the League will provide a behind-the-scenes look at three women – Blake Bolden, Meghan Duggan, and Brigette Lacquette – who have transitioned their illustrious on-ice careers to valued hockey operations roles in the NHL.
This year's celebrations occur during a momentous season for women in hockey, beginning with Katie Guay, who on October 16 became the first female official in the American Hockey League (AHL). Her historic debut was followed by nine female officials who also made their AHL debut, the most-ever in hockey history. All 10 women participated in the NHL's Officiating Exposure Combine and/or the 2020-21 NHL and NHL Officiating Association Mentorship program.
"Women have been making critical strides on and off the ice this season. Following Guay's historic debut, the Vancouver Canucks welcomed female assistant general managers Émilie Castonguay and Cammi Granato; as president of the Montreal Canadiens, France Margaret Belanger became the first woman to sit on the executive committee in the Club's 104-year history; and most recently at the 2022 NHL Stadium Series outdoor game, Ali Murdock and Francesca Ranieri made history when both women resurfaced the ice at the same time as part of their work with the ice crew," said Kim Davis, NHL Senior Executive Vice President, Social Impact, Growth Initiatives & Legislative Affairs. "The power of storytelling and empowering women in hockey gives us an opportunity to promote gender equality in every dimension of the game, from the ice to the stands to the front office."
"This past year has seen a number of firsts for women in our sport, giving us more reason to celebrate International Women's Day today, and Gender Equality Month throughout March," said Maria Dennis, NHLPA Director of Player Health and Safety & Associate Counsel, and the Chair of the NHL/NHLPA Female Hockey Advisory Committee. "The NHLPA is committed to increasing the participation of girls and women in the various opportunities our sport provides. As part of our joint work with the NHL on the Female Hockey Advisory Committee, we have helped implement programs to deliver on that commitment – from female-specific learn-to-play programs to the NHL/NHLPA Female Hockey Ambassador Program that incentivizes NHL Clubs to hire more women. The many accomplishments of individual women in our game can be celebrated by us all, with an appreciation for the importance of how much representation matters. If more people see girls and women achieving success at all levels of the game, they will believe that they themselves can reach for such goals."
Today for International Women's Day, the NHL will highlight one woman from all 32 NHL Clubs to showcase the various roles and responsibilities women influence in today's game including in the front office, hockey operations, data analytics, and youth hockey development. Also, the League will recognize the numerous female hockey reporters and broadcasters who have broken down barriers since the 1970s and blazed a trail for women in sports media today.
Hockey is for Everyone™ is an initiative led by the NHL and NHLPA to reinforce that hockey is a sport of inclusion on the ice, in locker rooms, boardrooms and stands. The initiative includes key celebratory months – Black History Month (February), Gender Equality Month (March), Earth Month (April), Asian & Pacific Islander Heritage Month (May), Pride Month (June), Hispanic Heritage Month (September) and Hockey Fights Cancer (November). To join the conversation, use the hashtag #NHLGenderEquality and #HockeyIsForEveryone. For more, visit NHL.com/GenderEquality.