Olympic gold medallist Erin Ambrose hopes to inspire the next generation of young players
After watching from the sidelines in 2018, Erin Ambrose put on a stand-out performance at the 2022 Olympic Winter Games with Team Canada.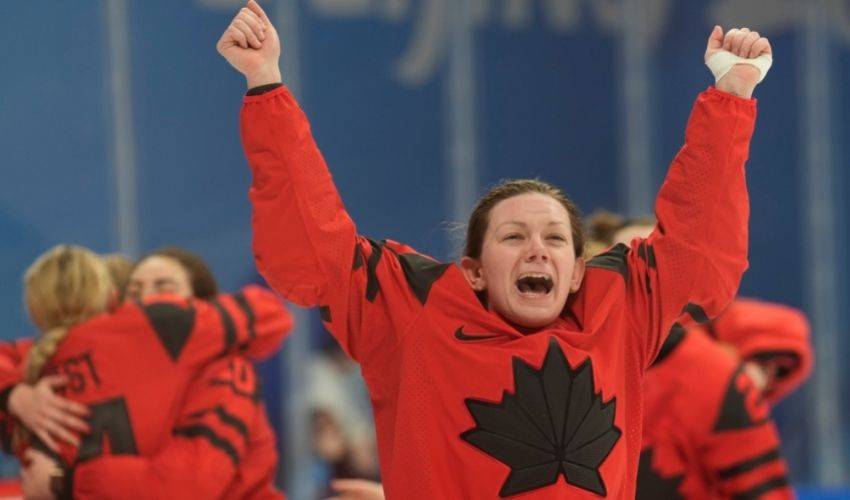 Feature photo: Getty Images
---
Erin Ambrose worked tirelessly to put all the puzzle pieces in place.
There is an unmistakable joyful tone in her voice, one that stems from recently achieving her lifelong goal of winning one of hockey's most sought after honours.
For Ambrose, who helped lead the Canadian women's hockey team to a gold medal at the recent Olympic Games in Beijing after notching nine points in seven games, the reality of seeing her long-held dream come true is still hard to process.
"I think this trip kind of helps it all sink in," said Ambrose, who had traveled to Mexico alongside 12 of her Olympic teammates for a celebratory vacation. "I don't think the level of what we did has sunk in. Obviously, winning a championship is something, but reminding myself that I'm an Olympic gold medallist … I don't think that's hit yet. But the smile on my face is pretty big."
The road to gold has had its share of disappointments for the 27-year-old defenceman. Four years after joining the National Team, Ambrose was cut from the roster ahead of the 2018 Olympic Games in PyeongChang.
There were off-ice struggles as well.
Ambrose battled anxiety and depression throughout her teen years. She detailed those struggles, as well as her process in coming out as a member of the LGTBQ+ community, in an October 2020 piece published on the Hockey Canada website.
"With my senior year coming to an end and post-college life approaching in the spring of 2016, I was still struggling immensely with day-to-day anxiety even as I felt more at peace with myself," she shared in the story. "As I continued to work myself out of the dark hole of depression, my anxiety increased ten-fold with the unknown ahead ... to start working through what was holding me back, there were aspects of my life I needed to start to embrace and accept. For one, my sexual orientation was something I had been hiding for years ... as much as I struggled to choose to be myself and live the real me, I can tell you, with so much happiness, that as a proud LGTBQ+ member, it is WORTH it to be yourself and be PROUD of it."
And that's precisely what Ambrose embraced.
Through the tough times, the native of Keswick, Ontario, who played her collegiate hockey at Clarkson University while majoring in Innovation and Entrepreneurship, found inner strength and resolve. The goal of representing her country in 2022 became her primary focus.

"It was a dream I've had for as long as I can remember, and I didn't want to give up on chasing that dream."
Four years after the heartache of watching from the sidelines, she finally got the opportunity she had worked tirelessly for.
And she made the most of it.
"It's easy now to look back and say it was all worth it – in the moment it was very difficult – but I do think it helped me in the end to be able to get there, to be able to play well and play free. All those things wouldn't have happened if I didn't go through what I did in years prior."
In addition to her contributions with Team Canada, Ambrose is making an impact on the sport through her efforts on and off the ice with the PWHPA, in her assistant coaching role at Concordia University in Montreal, and as a role model for young players.
"I love the game and I'm committed to making a difference in any way I can," said Ambrose, who played for the Montreal-based team during the PWHPA Dream Gap Tours in 2020 and 2021.
Her hockey journey is far from over. There is more she wants to accomplish.
"My mom and I were in the car a little while ago and she said to me, 'What do you do now? You did what you always wanted to do.' I told her that I'm not retiring. She said, 'No, not that. But you did what you set out to do.' At 27, to be able to sit here and say that … it feels pretty special."
Ambrose hopes other young players get to say the same one day.
"One of the things we talked about as a group in Beijing was that team in 2002 [the Canadian women's team that won Olympic gold in Salt Lake City]. That team triggered a lot of stuff for all of us, igniting our dreams. We're hoping that our win will do the same for young kids who are watching the game right now."
Aspiring young players have an ideal role model in Ambrose.
"It's not about my journey, personally, or what I can do, but it's about how I can help others and maybe give them an opportunity to succeed in ways that maybe they didn't think they could. I'm so thankful to be able to have an impact on younger girls and boys, and hope they know that their dreams can come true. Whenever I talk to young players, I always tell them to enjoy the game."
That's exactly what Ambrose and her Canadian teammates have done throughout their Olympic experience.
"I think that was the most special thing with this team. We had the most fun. It was the most special group I've ever been a part of. Thirteen of us in Mexico for four days, that's how much we enjoy being around another."
It's one of many reasons why the player with a fondness for doing puzzles has produced a complete picture of herself on and off the ice.
"I feel like that's been a big thing, putting the puzzle pieces together. Sometimes they don't work and sometimes you have to rearrange them. I think that's been the best thing about all this, is just finding a way to make sure it all fits together at some point."