Timo Meier hopes to inspire the next generation of Swiss hockey players
Fresh off his first NHL All-Star appearance, Meier's love for the game and motivation to inspire Swiss-born players is as strong as it's ever been.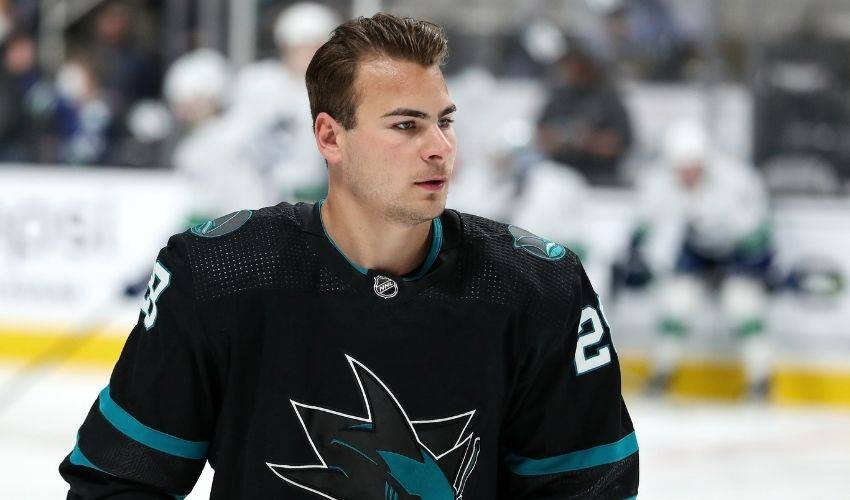 Feature photo: Getty Images
---
Timo Meier has been pleased to see the growth of hockey in his native Switzerland.
Before he made his hockey presence known in North American circles, the native of Herisau, Switzerland, had already made a name for himself in the country of over 8.7 million people, lighting up the scoreboard at every level.
These days, Meier – the ninth overall pick of the San Jose Sharks in the 2015 NHL Draft with 361 career games played – has solidified himself as a true NHL talent. He is also part of a growing group of Swiss-born players who are making an impact at the game's top level.
Roman Josi, captain of the Nashville Predators and first Swiss-born player to win the Norris Trophy as the league's top defenceman; Nico Hischier, the only Swiss-born player to ever be selected first overall at the NHL Draft (2017); Nino Niederreiter, a veteran of over 700 NHL games; Kevin Fiala, already a three-time 20-goal scorer; and Pius Suter, a second-year forward for the Detroit Red Wings, have all excelled in facing off against hockey's best.
Meier is hoping there is more Swiss-born talent to come.
"I am proud that we are seeing a big number of players having success in the NHL, but also the expectations have risen in Switzerland," Meier told NHLPA.com. "I also am proud of the mentality that's changed in Switzerland, that there is a bigger horizon for all the young players."
Those aspiring big leaguers certainly have an ideal role model in Meier.
Prior to his NHL career, the skilled forward who grew up about an hour's drive east of Zurich, was a junior standout.
In 2014-15, Meier netted 90 points, 44 of them goals, in 61 games with the Halifax Mooseheads of the Quebec Major Junior Hockey League (QMJHL). He signed a three-year, entry level deal with the Sharks in July 2015, but spent the 2015-16 season back in the QMJHL, where he recorded 87 points, including 34 goals, in 52 games split between Halifax and Rouyn-Noranda.
Meier divided his first professional season, 2016-17, between the American Hockey League's San Jose Barracuda and the Sharks. Meier scored his first NHL in his debut on December 16, 2016 – a 4-2 win versus Montreal.
He spent the entire 2017-18 season with the Sharks, scoring 36 points (21 goals, 15 assists) in 81 regular-season games and had five points (two goals, three assists) in 10 playoff games. Following the Sharks being eliminated in the second round, he helped Switzerland capture a silver medal at the 2018 IIHF World Championship by averaging one point-per-game in seven contests.
"Playing for your country is a great feeling and a big honour. I'm always proud to wear the Switzerland jersey," the 25-year-old forward added.
Meier's best NHL season to date, offensively, came in 2018-19 when he scored 30 goals and totalled 66 points in the regular season followed by 15 points in 20 playoff games during the Sharks' run to the Western Conference Final.
Recently making his first NHL All-Star appearance earlier this month, Meier is on pace to best those numbers with 50 points through 44 games this season. On January 17, 2022, he became the first player in Sharks history to score five goals in a game when he did so in a 6-2 win against the Los Angeles Kings.
"It was a great feeling," said Meier. "I definitely got a lot of help my teammates."
That performance has no doubt inspired young Swiss hockey players to dream big, and is exactly what Meier did during his childhood days in Europe.
"My favourite memories are definitely going to hockey camps during the summer with my teammates and going to tournaments with my club team aside from the regular season games," said Meier, who runs a camp of his own in Switzerland during the offseason. "My grandpa always gave me a season ticket to the public skate for my birthday, so I loved going on the public skate pretty much every free minute since I lived close to the rink. If I went missing from home, my parents knew where to find me … at the rink."
Meier's love for the sport and any chance to represent his country on the international stage is as strong as it's ever been.
So too is his desire to see a new generation of Swiss-born players start their journeys to a life in the NHL.
"My message would be to always believe in that dream, put in the work and use the sources you have to get better every day."