Bryan Rust continues competitive fire as he approaches 400th NHL Game
From Notre Dame to the Pittsburgh Penguins, forward Bryan Rust continues to compete every night as he chases his third Stanley Cup.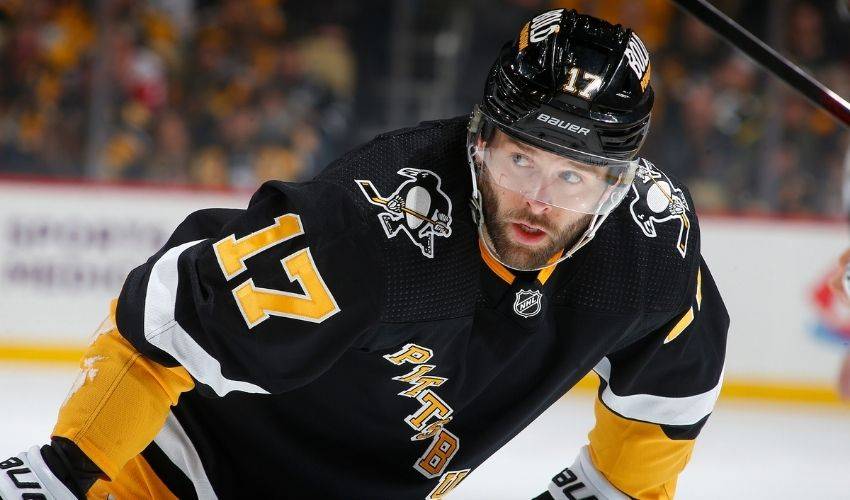 Feature photo: Getty Images
---
Bryan Rust's competitive fire came long before he skated in his first NHL game.
Throughout his nearly 400 NHL games, the 29-year-old forward and two-time Stanley Cup champion has been a driven and determined player for the Pittsburgh Penguins, devoted to make a difference with every shift.
That approach doesn't come as a surprise to those who know Rust best, including his older sister.
"He will be very competitive with family games or board games," started Erika Rust, a high school English teacher and women's soccer coach in Farmington Hills, Michigan. "He always was with his older brother, Matt, too. I was a little bit older than them. When they were young, I was usually the goalie when we played mini sticks downstairs. I was a soccer goalie, but I always said that if I was raised on skates, I might have been a hockey goalie too. I guess I let them score on me every now and again."
Her brother doesn't dispute the competitor label.
"My competitive streak isn't just confined to the rink," admitted Bryan. "I'm competitive in a lot of other aspects of my life, whether it's a board game, video game or just any kind of friendly competition."
Was there any ever peace and love between Bryan and Matt?
"There was probably very little of both of those," said Bryan. "It was likely me being upset with him for me beating me so bad and him doing the same thing. Those days, playing hockey or just hanging out with my brother and sister, it was awesome. She was always around, and she was such a good sport when it came to jumping in net for us. But you're probably just like any other kid, where you want to win and hate to lose."
Wherever he's played and whatever level it's been, it's an approach that has served him well.
It certainly did during his two years with USA Hockey's National Team Development Program and in his four-year college career at Notre Dame, which began just a few months after Bryan had been selected 80th overall by the Penguins in the 2010 NHL Draft.
Skating with the Fighting Irish, Rust earned a reputation and rave reviews for his two-way play. He completed his collegiate career with a plus-53 rating in 161 games. In his senior year, he served as an alternate captain and scored 17 goals.
After a pair of games with the American Hockey League's Wilkes-Barre/Scranton in 2013-14, followed by 45 games the following campaign, Rust made his NHL debut on December 13, 2014. He netted his first NHL goal during his next game two nights later versus Tampa Bay.
A pair of Stanley Cups (2016, 2017) later, Rust – who became the eighth rookie in NHL history to score multiple goals in a Game 7 after he scored twice during the final game of the 2016 Eastern Conference Final – has established himself as a well-rounded player.
He has taken none the success for granted.
"I never lose sight of how lucky I have been or all of the support I have had from so many people. To be able to share all of it with those I'm closest to is something I'm truly grateful for. They've been a huge part of where I am today and where I'll be in the future. It's nice to have had those special moments with them."
There is no doubt more of those moments are to come, including on the home front.
Bryan and his wife, Kelsey, welcomed a boy, Hunter Timothy Rust, this past May.
Erika, who is Hunter's godmother, has watched all of Bryan's life and career accomplishments through the lens of a proud sibling.
"He's a blast to be around all the time. For a while, it was almost surreal watching Bryan play, especially the first Cup win in 2016. Now, it's just fun. Seeing how he works so hard to improve, the way he plays the game, and growing into being a leader, it's amazing. On the bench, there was a scene on the bench where Sid [Sidney Crosby] had scored a hat trick and the two of them were on the bench, smiling and laughing. It's just so great to see him become the type of player and good teammate that he is."
A player who is on the cusp of scoring 250 points as he now approaches his 400th NHL game.
"Every little milestone like that, when I reached 300 games, I kind of take a minute to realize how special that is. Getting a taste of the NHL and just hoping I would last as an energy guy, someone who could pump the other guys up, and chip in where I could … now I think my career has taken a turn and I'm relied on a little more. Each step, I've never tried to be satisfied or take anything for granted. For me, it's about striving for more. But it's been a fun ride."
One that is far from over.
His former mini-sticks goaltender can't wait to see how it all plays out.
"Bryan is extremely hard working and humble. His work ethic really stands out. Coming up through the ranks, he wasn't the flashiest player – he actually started as a goalie – and he just quietly went about getting better and improved every day. You still see that, year in and year out. He's still progressing because of his work ethic and never being content or resting on his laurels. He's always willing to help out anyone and he's always been a great teammate."