Evan Rodrigues enjoying personal highs of life in Pittsburgh
In the midst of a notching some personal-best numbers on the ice, Evan Rodrigues is equally enjoying his life outside the rink.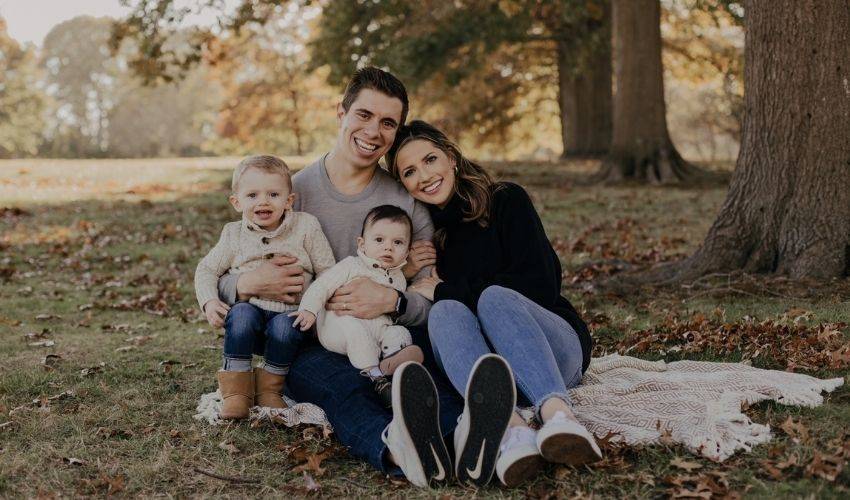 All photos courtesy of Evan Rodrigues.
---
Hockey nights at the Rodrigues household always bring out plenty of smiles along with the occasional penalty call.
Whenever Pittsburgh Penguins forward Evan Rodrigues, his wife Christina, and their young sons – three-year-old, Grayson, and 21-month-old, Noah – settle in for a little mini stick hockey action, the final score and who scored is never tallied up at the end of the night.
Instead, the games are all about quality family time and a shared love of hockey. Even if there must be a steady stream of penalty calls.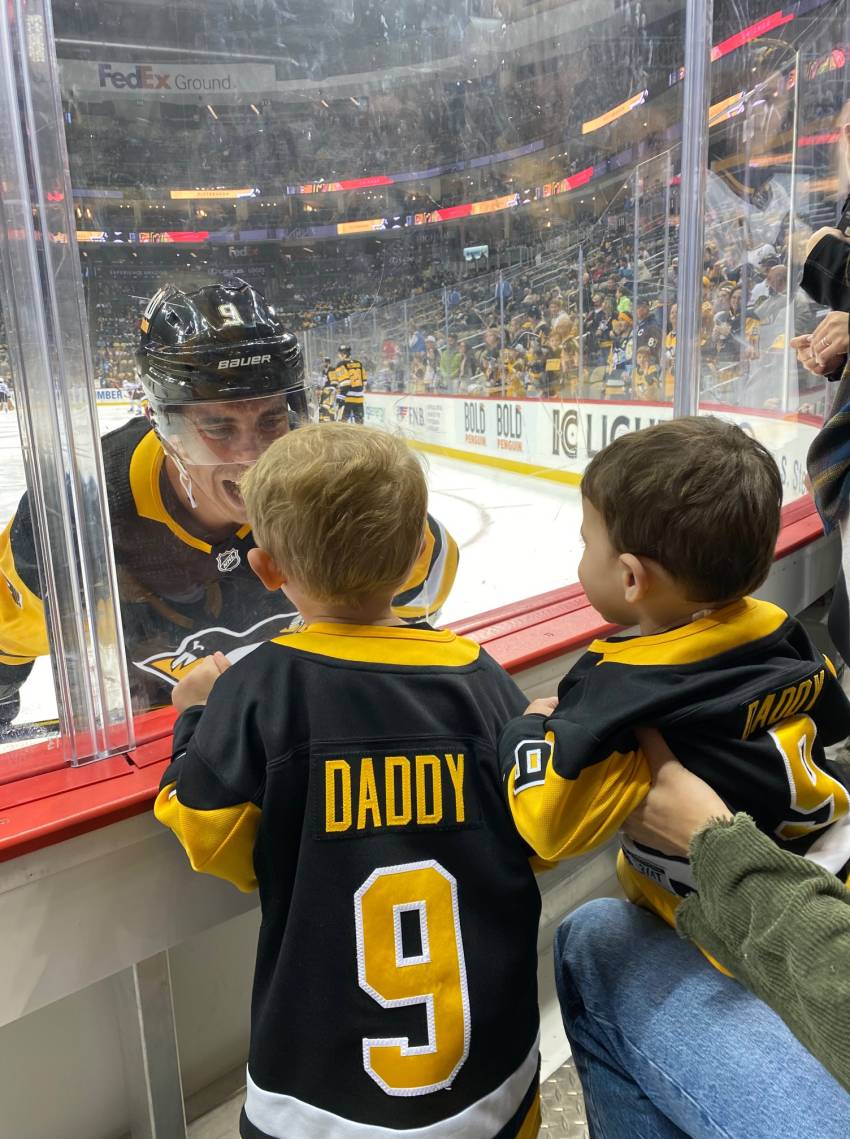 "Grayson just loves being the referee. I made this little mini stick rink with this rug that I bought – it looks like a hockey rink – and he runs around saying things like, 'Pittsburgh Penguins, two minutes, tripping.' He loves it. He's all about the game right now."
And it's all about the kids these days for Evan and Christina.
"Part of the hockey life means spending a good amount of time apart," said Christina. "The silver lining to that is watching the kids run to see Evan when he comes home. When Evan is not on the road, we have coffee/Bobby time together every morning. Evan and Grayson make a coffee for me and a bottle for Noah. We all hang out and watch TV together before getting ready for the day. The popular shows right now are 'Paw Patrol' or 'The Octonauts.' "
"Grayson, we take him twice a week to go skating," added Evan. "He's really been enjoying it, especially of late. He's starting to understand watching me play. Noah, he wants to do everything his older brother is doing. It's such a joy. He's getting to that age where he wants to play with his brother, so it's great to watch them growing up and play with each other. Christina does an incredible job raising them. They say it's the toughest job in the world and after watching what she does day in and day out, I definitely agree with everyone who would say that."
If it sounds like Rodrigues is happy settling into family life, he undoubtedly is.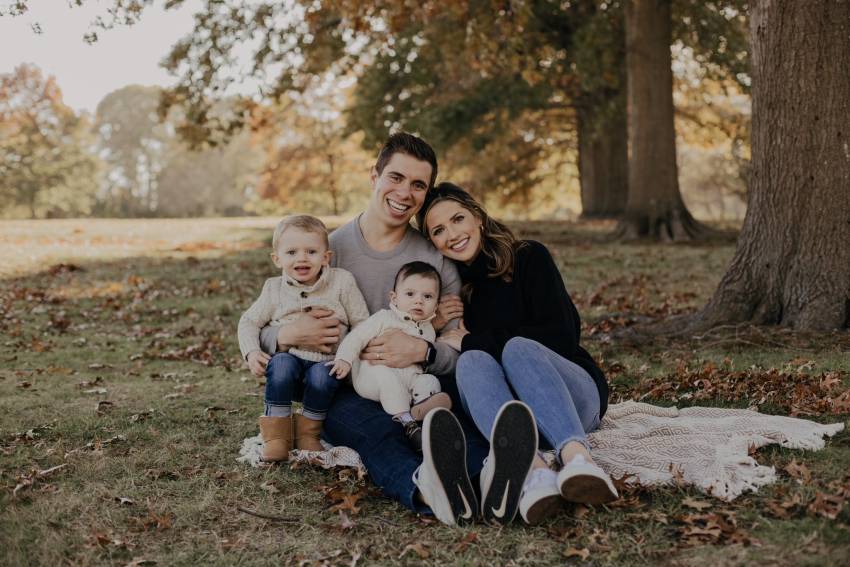 "I think it just helps [on the ice] when you have a great family life, to be able to come home to my wife and two young kids. The kids, they don't care what happens on the ice, they just want their dad home. It's a great feeling and it takes your mind away from overthinking the game. A lot of people do that. When things aren't going well, you can't get that out of your head. It's nice to come home to your family and put hockey behind you. You're almost able to hit the reset button a lot easier."
And as the Toronto native alluded to, it's not just on the home front where life is good these days.
Rodrigues, approaching 300 career NHL games played, is in the midst of his best season, offensively, with the Pittsburgh Penguins.
The undrafted forward, who began his big-league career in Buffalo, has made the most of the opportunities that have come his way, including playing on a line with three-time Ted Lindsay Award recipient and three-time Stanley Cup winner, Sidney Crosby.
"The group we have here in Pitt, the guys in the locker room are incredible. It's a great place to go to every day. There is not an ego in that room, and everyone loves hanging out with each other. We really are a great team in that sense. When you have to leave your family to play, it's not a bad place to be. Things are going really well and we're just trying to keep that going."
Prior to reaching the professional ranks, he enjoyed his breakout season in college hockey as a senior. Rodrigues played four seasons at Boston University, where he scored 121 points (42 goals, 79 assists) in 146 games. As a senior in 2014-15, he netted 61 points, including 21 goals, in 41 games to finish second in NCAA Division I scoring to linemate and future Buffalo Sabres teammate, Jack Eichel.

His on-ice achievements at the NCAA level didn't go unnoticed. Rodrigues made his NHL debut April 8, 2016, versus Columbus, and he scored his first NHL goal one night later against the New York Islanders.
The 5-foot-11 forward inked a two-year contract with Buffalo on July 27, 2017. While a broken hand limited him to 48 games in the 2017-18 season, Rodrigues still managed to make his mark with 25 points, which he followed up with 29 points in 74 games the following season. He was later traded to Pittsburgh at the 2020 trade deadline, along with Conor Sheary, for Dominik Kahun, and he enjoyed the first two playoff games of his career last spring.
At the start of 2021-22 training camp, Rodrigues felt this could be his best season yet.
"The beginning of this year, with the injuries we had, I was given an opportunity pretty early on. I felt confident from that first day of camp and have kind of been riding that the whole year."
He's already notched a slew of personal-best numbers, including goals (15), points (15), power-play goals and game-winning tallies.
But Rodrigues isn't taking any of it for granted.
"Even when there's been tough times in my career, you have to stay positive and you have to believe in your game. That's one thing for me that I've never let waver. Probably from my first NHL camp when I signed out of college, I knew that I could play in the NHL, and I've always had that belief. Whether it was fourth-line minutes, healthy scratch or whatever it was, I've never stopped believing in myself. When I got the opportunity this year, I've taken the chance to really prove myself and show what kind of player I can be."
Work-life balance, he offered, has never been better.
Not even a minor penalty in a mini stick game can come close to dampening Rodrigues' spirit.
"Things are going well. No complaints on my end."