Golden Knights goaltender Logan Thompson defies the odds
Taking an unconventional path to the NHL, Logan Thompson has his dream realized with the Vegas Golden Knights.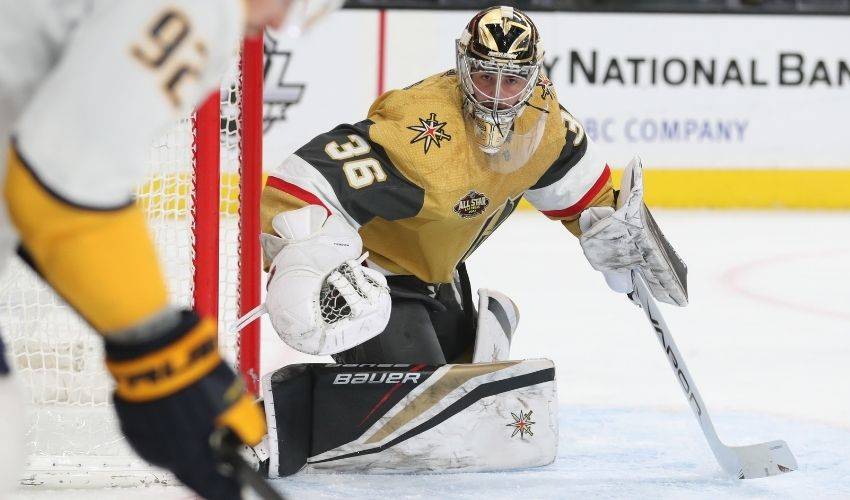 Feature photo: Getty Images
---
Logan Thompson made sure to soak up every bit of the moment before the puck dropped.
The goalie, who went undrafted and overlooked multiple times throughout his career, couldn't help but smile behind his mask before making his first NHL start on January 4 at T-Mobile Arena for the Golden Knights.
It was a moment Thompson had dreamt of and never gave up on despite an unusual path to seeing that dream realized.
"I have been able to wrap my head around it," he told NHLPA.com. "It's been a pretty exciting time, the last little while. You start to realize the opportunity you have and that you want to keep rolling with it."
Passed over by NHL teams after playing junior hockey with the WHL's Brandon Wheat Kings, Thompson joined the Canadian university ranks in 2018-19 as a member of the Brock Badgers at Brock University in St. Catharines, Ontario.
It was during his one campaign with the Badgers where a rejuvenated Thompson revitalized his NHL hopes, a season in which he recorded a sparkling .934 save percentage and was named the Ontario University Athletic Associations' rookie and goalie of the year.
After a standout season at Brock, Thompson went on to suit up with the ECHL's Adirondack Thunder and South Carolina Stingrays, along with one game for the AHL's Binghamton Devils.
"I definitely took away something from each of those experiences. I've been cut by a lot of teams and let go, so there's always been something I can learn and build on and try and make myself better as a goalie and a person. I remember getting cut from my Bantam AAA team and getting cut from AAA again in Midget, and then cut again from the WHL and sent down to the AJHL. I got plenty of good advice throughout all of those times, to keep grinding and working through that. Someone is always watching, so if one person doesn't like what you're doing, there could be 30 other people that might. You have to go out with the thought that you could be impressing someone."
And Thompson did precisely that with the Golden Knights' brass.
He had signed a two-way contract with Vegas in July 2020. He enjoyed a successful season with the Henderson Silver Knights of the AHL in 2020-21, where he went 16-6-2, recording a 1.96 goals-against average and a stellar .943 save percentage to earn the 2020-21 Aldege "Baz" Bastien Memorial Award as the AHL's goaltender of the year.
Last March, he made his big-league debut in a relief role, turning aside both shots he faced in eight minutes of action on March 10 against the Minnesota Wild.
Ten months later, his big NHL moment came.
With his start last week against Nashville, he became the first Canadian university goaltender to make an NHL start since the University of Manitoba's George Maneluk made his debut in 1990 with the New York Islanders.
Although there may not have been a fairytale ending to his debut – Thompson made 23 saves on 26 shots in a 3-2 loss to the Predators – the 6-foot-4 netminder opted to stay true to himself by focusing on the positive.
"I've had a ton of support from the day I got to Vegas. Seeing how happy my friends are, whether that's through texts or on Instagram, old coaches, past teachers – that means a lot, for sure. To realize how many people you know were watching the game, it makes it even more special."
Facing some of the game's top players was no less special for the young goaltender.
"During the national anthem, just seeing [Nashville goalie] Juuse Saros in the other net, that was great. A few years ago, I was watching him and Filip Forsberg, who scored twice on me, and then I'm on the same ice as them. It was exciting. I wanted to outcompete them, but at the same time, I wanted to take all of that in because only a couple of years ago I was at university watching these guys on TV."
His teammates have made him feel right at home, even if he's on the receiving end of the odd playful jab, with one joke coming only moments before his first start.
"I've had a little bit of razzing. Marchy [Jonathan Marchessault], as soon as I walked into the rink, he said, 'Holy crap, you look nervous.' It made me laugh. This is a really easy team to be a part of. There are no egos or anything like that and everyone treats everybody the same. Everyone gets along great. When I came in last year, the guys were all very welcoming."
When he's not working on his skills between the pipes, Thompson can be found indulging in his love of video games with his Vegas teammates, past teammates, and friends from back home.
He's also looking forward to making the most of his next chance in net.
"I always loved watching the NHL when I was growing up, I liked Daniel Briere when he was in Philly and goalie-wise, I liked Marty Turco and Miikka Kiprusoff. And, just like a lot of kids in Canada, you thought of what it would be like to reach that level one day. And when you do, it's even better than anything you could have ever imagined."