Loui Eriksson surpasses personal goal of making it to the NHL, by reaching 1,000 games
From one to 1,000 – Loui Eriksson looks back on his journey to 1,000 NHL games and the people who helped him get there.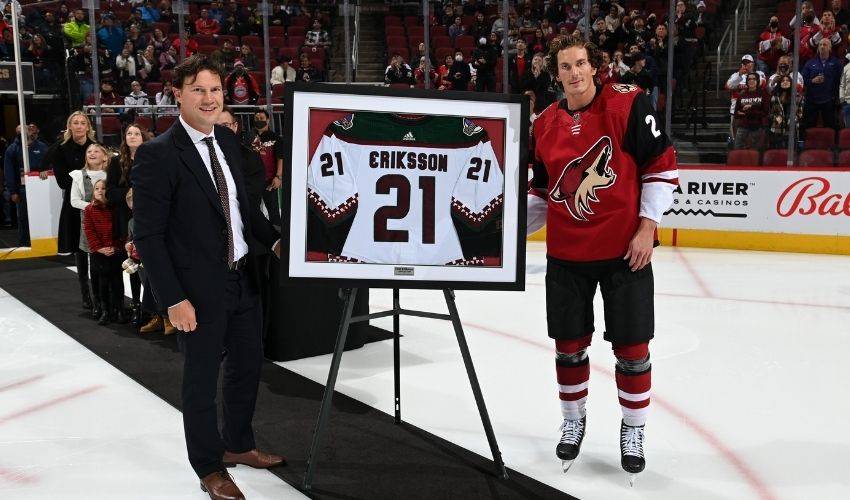 Feature photo: Getty Images
---
There was a time when Loui Eriksson had far less loftier aspirations than playing in 1,000 NHL games.
Not long after he skated in his 1,000th big league game on December 6 in Dallas, the 36-year-old Eriksson recalled one of his earliest objectives as a young hockey player.
"I just wanted to be able to say that I played in one NHL game," said the Arizona Coyotes veteran forward, who was drafted 33rd overall by the Dallas Stars in 2003. "After you realize that dream, you want more than that. I wanted to be on that team in Dallas and then play in as many games as I could. I kept working hard and moved up in the lineup and was able to get some more responsibilities. Once that happened, you change your goals."
As for game No. 1,000, Eriksson was humbled to have reached the mark.
"It was pretty cool how it all happened, that the game came against my former team. It was definitely a special night and something I will remember. It was really cool. I've been getting a lot of text messages from back home in Sweden and a lot of other places, which has been really great."
All of it prompted recollections of his first NHL game, which came on October 4, 2006.
"It was pretty amazing to line up with guys like Mike Modano, Jere Lehtinen and Sergei Zubov – there were so many good players on the team. We played against Colorado, so it was a special night. You can't believe it at first, that you are actually playing in your first NHL game. But it did happen and it was an amazing game. We won and I was able to score a goal. It's a pretty great feeling when you look back at it. It was a great start."
Eriksson spent his first seven NHL seasons with the Stars where he skated in 501 contests from 2006-07 through 2012-13 and enjoyed three straight 70-plus point seasons, beginning with the 2009-10 campaign. He skated in every game in four separate seasons while in Dallas, and showed himself as one of the game's best two-way wingers.
Dealt to the Bruins in a July 2013 trade, Eriksson, who grew up idolizing Hall of Famer Sergei Fedorov, played in 224 games with Boston before inking a free agent deal with Vancouver on July 1, 2016. Arizona acquired the veteran forward this past July.
Eriksson's wife, Micaela, has been by his side from the very start. Along the way, the couple had four children – daughters Blanca, Elle, Lola and son, Lou.
"When my wife and I came over here, it was just the two of us. Now, we have four kids and it's pretty fun for them to be here as well and remember this milestone too. My youngest is five and they are old enough to remember the games I am playing now. My wife has been amazing and supported me through everything. Two of our daughters were born in Dallas, one daughter and our son were born in Boston. Everyone knows the schedule and that I will be gone a lot of the time, so my wife is the one who does a great job keeping everyone happy and taking care of the kids. I'm thankful for everything she's done."
His professional career has included noteworthy moments on the international stage with Team Sweden, including the 2013 World Championship gold medal-winning team and the 2014 Olympic entry that took home a silver medal.
A hockey career that far surpassed his original objective.
"There have been some ups and downs throughout my career, but when you're done playing, you will take the time to look back at the good memories. You look back and realize all the hard work you needed just to make the league, and then how much harder you have to work to stay in the league."
Eriksson is still trying to wrap his mind around his status as the 357th player to reach the four-figure mark in NHL games.
"It's been a long time and now it's 1,000 games. It's really unbelievable when you think about it. It's so much fun to be able to play this game and to play with and against the top players. There are a lot of nice memories from the teams I played with."