Marcus and Nick Foligno continue to honour late mother with cancer charity work
Marcus and Nick Foligno are working to assist cancer patients in Northern Ontario through the Janis Foligno Fondation.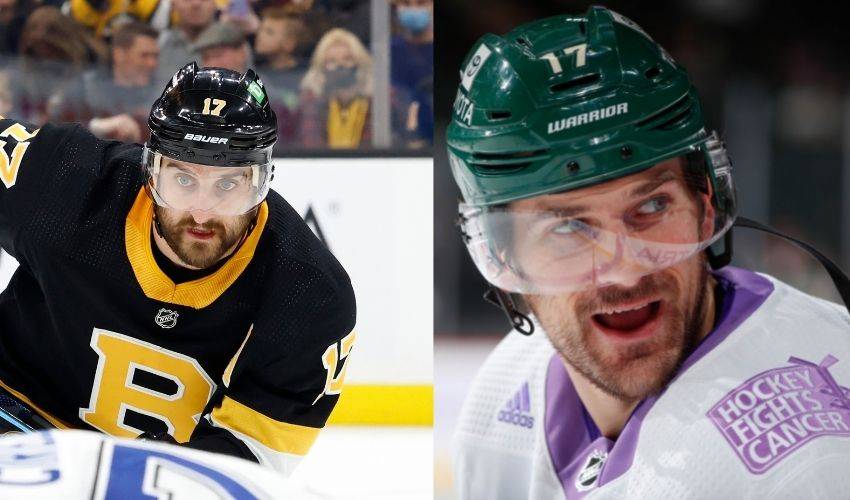 Feature Photo: Getty Images
---
It's a heartfelt act of kindness Janis Foligno would certainly be proud of.
When the announcement was made on December 4, the news that the Janis Foligno Foundation was donating $50,000 to the Canadian Cancer Society (CCS), specifically, to its Northern Ontario Campaign – a two-year initiative announced in August designed to raise $2 million in the future of prevention, support and research programs – both Marcus and Nick Foligno knew exactly what their late mother would think.
"I know my mom and she would hate the limelight," said Nick, now in his 15th season in the NHL, and first with the Boston Bruins. "But I think she would be very happy that her kids are carrying on her legacy and shining the light on her name and her story."
Although she bristled at being in the spotlight for her charitable efforts or sincere generosity, the woman who lost her life to breast cancer on July 27, 2009, always went out of her way to help others, even during her courageous battle against the disease.
It's something her family saw firsthand on countless occasions. If someone was in need, Janis Foligno was always there.
She volunteered her time in various capacities, including Meals on Wheels, and participated in the Walk for A Cure in Toronto and The Relay for Life in Sudbury, Ontario, helping raise money and awareness for women to get screened and championed the fight against Breast Cancer.
She was also on the Sudbury committee for the Canadian Cancer Society's annual Luncheon of Hope and assisted as a contact person for women who had been diagnosed with cancer.
"She loved giving, just being there for people," recalled Marcus, now in his 11th season in the NHL, and fifth with the Minnesota Wild. "I remember when I was younger and my dad [former NHL forward Mike Foligno] was playing in Buffalo, she would volunteer at places like Meals on Wheels, and I would go around with her for the milk run, and drop off meals for the elderly, sick people, and others in need. She just did it. I think I was the only one in school at that time, so I would tag around with her in Buffalo. For her, it was always about giving back. I know she'd be happy with this donation and what the foundation has done so far."
Established in 2010, the Janis Foligno Foundation has supported numerous charities, medical facilities and organizations since it was launched, including the Advanced Medical Research Institute of Canada, Angels in Pink, the Children's Hospital of Eastern Ontario (CHEO), the Sudbury Regional Hospital Foundation Breast Cancer Equipment Fund, the House of Kin, the Independence Centre and Network in Sudbury, the Maison Vale Hospice, Meals on Wheels, the Northern Cancer Research Centre and the Northern Cancer Research Foundation.
Among its many objectives, the foundation invests the money it raises into research projects, treatment care, support efforts and innovative studies, while working closely with local organizations to ensure the funding is directed to further cancer research and help those affected by the disease.
As noted on its website, the Janis Foligno Foundation 'believes in promoting cancer awareness to aid in early detection and prevention, while also recognizing that working together offers the best opportunities to ensure a bright future for everyone.'
The foundation's latest collaboration is a perfect example of helping those and their families who are affected by cancer.
The Foligno family, who called Sudbury, Ontario, home and still have strong ties to the city of over 161,000 people, wanted to ensure the $50,000 donation went directly to a part of the province that is in dire need of help in the fight against cancer.
As noted on the Canadian Cancer Society's website, an estimated 5,600 residents from Northern Ontario are diagnosed with cancer every year. Although the region represents 5.7% of all Ontario residents, the rates of cancer incidence and death are proportionately higher per capita. An aging and rural population, lower levels of income, and lack of easy access to medical care all contribute to the high cancer rates found in Northern Ontario.
CCS will be donation a portion of money raised through the Northern Ontario Campaign – currently the amount stands at over $684,000 – back to communities in the region, working with hospitals based in both the northeast and northwest areas of the province.
"The family really understands the challenges of getting very specialized healthcare in the North," said Amy Desjardins, a Regional Director with the Canadian Cancer Society. "Our Northern Ontario Campaign that the Folignos are supporting really amplifies the programs we already do as part of the Canadian Cancer Society, and it really elevates the level of care in the North. It makes more people aware of what we do and enhances the services we have available. Transportation is a good example. You can just imagine the hundreds of kilometres people have to drive to get treatment. I have one donor who is currently battling cancer and has to drive 18 hours to Hamilton (Ontario) to get his treatment."
The Foligno brothers want to see those types of scenarios change.
"It's just that feeling of what the money can do, especially in Northern Ontario," offered Nick. "The Northern initiative is very important to us. Sometimes you don't know where your money is going, but this is going to people in our neck of the woods in Northern Ontario, people that could really use the support. Research, day-to-day things – there is so much that goes into cancer care. This donation, the fact that it can help so many people who have endured a tough time navigating the pandemic, we're very fortunate and humbled to be able to help."
Marcus echoed his older brother's thoughts.
"We've teamed with CCS before, but to be able to donate $50,000 to such a worthwhile cause is exciting for our foundation to be able to do that, but also at the same time, it's wonderful to know that the money will put to good use right away. It's nice to get this done, and to be able to see it benefit and help people in Northern Ontario, if we can help people in Sudbury and the surrounding areas, this money will go a long way. It's nice to be in a position to do that, and to help people in their fight against cancer."
All of it, including the efforts of the foundation beyond this donation, is truly a family affair with each member of the Foligno clan playing a major role within the foundation.
That type of team effort is nothing new for the family.
Support, however, extends far beyond the inner circle.
"My brother and my sisters [Lisa and Cara] do a great job with the foundation, and so does my dad," said Marcus. "Nick and I have a platform to raise money and help with support from the hockey community. We're lucky to be in a league that does so much to raise awareness and money for cancer. We're also fortunate to have so many giving players in this league, people who want to help, too. We want to pass this along to our own kids and carry on that tradition of giving back."
It's exactly what Janis Foligno would have wanted.
"I think that's probably the thing we love the most about it, that it isn't about hockey, but everything to do with our mother," offered Nick. "This is a pure family initiative, something that we wanted to do because of our mother's name, her legacy and what she has meant to so many communities that she lived in, and the impact she had as a charitable person. It's therapeutic to be able to do something in her name, to help others, which was what she was all about. She was always one to lend a helping hand, to make sure people were being thought of and cared for. So, it's special for us to be able to do this."
The foundation's work is far from over. Inspiration to continue to have a positive impact on others is never forced.
Each player speaks glowingly of their mother, not only for her valiant battle against breast cancer, but also in what she taught her children about helping others through her volunteering efforts
"I think what was so neat about her doing these things when we were at such a young age was you could see how happy she was and how much it meant to her," remembered Nick. "You wanted that same feeling, and you realize the importance of what doing something for others does for you as a person. She epitomized that and you could see the joy she took from it, whether it was big or small.
"A lot of times, these days, things get publicized, but she did so many things behind the scenes," he continued. "That's what we love. When you are making a difference not for the publicity but for the right reason and those you are helping, I think it's so gratifying. "We are a family that is always happy to lend a helping hand. We've gone through some hardships, but we've learned from it, and we want to offer that help to others. That's what the Janis Foligno Foundation is all about, to help make people's life better in every aspect."
Desjardins has seemingly endless praise for the Folignos.
"I am in awe of the family," she said. "The love amongst all of them is so obvious. The expression on Mike's face when he joins a Teams call and his family is on there is priceless. This is a labour of love for them. It's so evident that this is a passion for every single one of them. It's so wonderful how Mike has instilled his and Janis' philanthropic spirit in each and every one of the kids. It's so wonderful working with them. Each one has a role with the foundation. It's really adorable. They have their own lane, they stay in it and it works. It's extremely important to Mike and kids that through this donation they make people aware of how to get help, access to our hotline, what our website is and how they can access information they need.
"They never brought up to me, 'How are you going to recognize this gift,'" continued Desjardins. "That came from our end. It wasn't a factor in making the decision to donate the money. They truly just want to make a difference and help people in their community and beyond who receive a cancer diagnosis, and they want to honour a wonderful woman."
Someone is who is never far from her family's thoughts.
"This is a way for us to thank her for all that she taught us and instilled in us," Nick added. "We were taught so much good by her, to think of others and to care for others. That was the Janis Foligno way."
Established in 1998 by the NHLPA and NHL, Hockey Fights Cancer unites the hockey community in support of cancer patients and their families. The initiative is supported by players, coaches, officials, equipment managers, front office staff, corporate partners, and fans. November was Hockey Fights Cancer Month across the NHL. This season, all donors to Hockey Fights Cancer will be entered to win a trip to the 2022 NHL All-Star Weekend in Las Vegas. Click here for more information.