Kendall Coyne Schofield follows her dreams with new memoir
Kendall Coyne Schofield has added published author to her growing list of accomplishments with her new book, "As Fast As Her."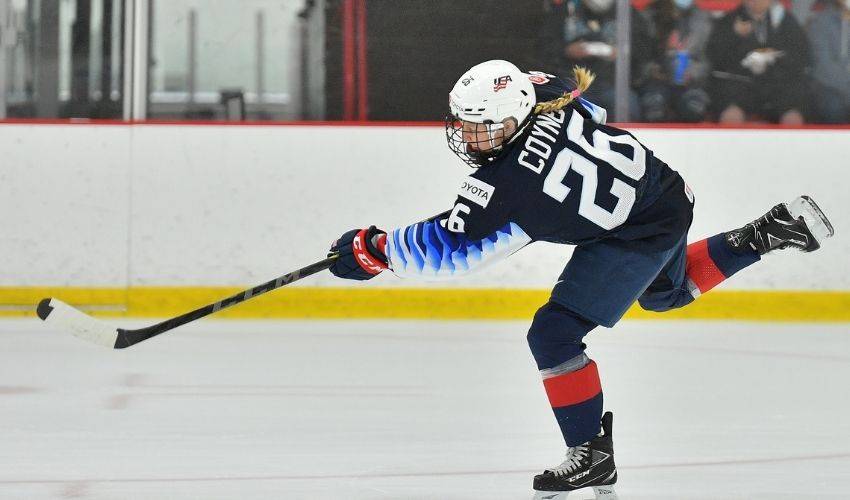 Feature Photo: Getty Images
---
Whenever Kendall Coyne Schofield signs her newly written book, "As Fast As Her," she will write the three words that continue to motivate her: 'follow your dreams.'
It's what anyone, young or old, hockey player or otherwise, can expect the game-changing hockey star will pen on the first page of the book that's scheduled for release this January.
For Coyne Schofield, those three simple words are much more than a saying.
"I remember the first time I saw that written down," she told NHLPA.com. "[Former NHL standout] Pierre Turgeon signed a card for me when I was young. He wrote, 'Kendall, follow your dreams.' I still have that card to this day. Elizabeth [Turgeon's daughter who was a member of the U.S. U-18 women's team in 2008, and tragically passed away in 2010] being a beloved friend and former teammate, it really means a lot to have that. Every time I came home from school and I sat down at my desk to do my homework, I looked up and all I saw was, 'Follow your dreams.' That's something that I want to share because that's exactly what I did."
In the pages of "As Fast As Her," Coyne Schofield goes beyond the headline moments the game has afforded her. The 29-year-old already has a growing list of accomplishment to her name, from her on-ice success at Northeastern University, to her Team USA gold medal haul, earning a spot in the faster skater competition at the 2019 NHL All-Star Weekend, working for the Chicago Blackhawks as a player development coach and youth hockey growth specialist, being a co-owner of the Chicago Red Stars women's professional soccer team, representing her peers as a board member of the Professional Women's Hockey Players' Association, and to now, a published author.
The speedy forward provides honest insight into the path that ultimately led her to hockey success, a journey that was far from uneventful or uncomplicated.
For as much as the book is about Coyne Schofield's inspiring story, it's equally, if not more, about encouraging others to create their own.
From the moment she chose hockey skates over figure skates, to the eye-rolling she received when she tried out for the boy's team, the self-doubt and insecurities she battled, the Illinois native made a conscious decision to share both the ups and downs that shaped her career.
The result is a memoir blended with ample amounts of helpful advice, on and off the rink, for young people.
"That's a big part of the book, wanting to inspire others. There is a piece of inspiration in each chapter called the Golden Coyne, which is something I took away from my own experiences, words the reader can hopefully relate to. I hope that my journey can act as a source of inspiration for someone else. Whether they want to play hockey, they want to be a musician – whatever it is the reader is aspiring to be, I hope they can take my story and realize they can do it. I wasn't born to be a hockey player. I was a little girl that wanted to do what her brother was doing. But this game has taken me to so many incredible places, including becoming an author."
"At the same time, I am excited to give the readers insight into my life … it hasn't been a straight line. There have been a lot of obstacles along the way that I don't think many people know about. I think people might read it and realize, 'Oh, wow. She didn't just play in the Olympic Games. This is the path that it took to get there.' I would tell people to believe in themselves because you're going to have to if you want to accomplish what you're setting out to do. There were times I didn't believe in myself because it was hard to see that there was a path forward. But I leaned on those who did believe in me, who did know me and did support me, and that got me to the point where I did believe in myself, and that I could accomplish whatever I was setting out to do."
Perhaps the biggest surprise of all is that Coyne Schofield was able to find time to write the book with her growing to-do list at the rink and beyond.
That said, the book had been in the works for years, long before her rise to hockey's highest levels.
"It's always been a goal of mine to do a book since I was a kid. I was always looking for books that had women in hockey in it. I found Manon Rheaume's "Alone in Front of the Net," and Angela Ruggiero's "Breaking the Ice," and I did every school project I could on those two books. But I wanted more. When I look back on my childhood and especially those young adult years where I was at such an impressionable age, wherever I was, in school or in the car with my family for long hockey road trips, I wanted more books that had women in hockey in them. As I got older, I still felt there weren't enough, and I felt like I could provide more representation for women in hockey by doing a book. It was a goal of mine and I'm really excited it's here.
"The advice that I provide in the book is a reflection of a lot of the coaches, friends, family and so many people I've encountered along the way. In the book, I write that you have to put in the work to accomplish whatever you are chasing. I always tell kids that there are two things they can control, which is their work ethic and attitude. That message is strong throughout the book."
With the release date (January 18, 2022) less than two months away, Coyne Schofield, who is working on preparing for the Beijing 2022 Olympic Winter Games with Team USA, is counting down the days.
For now, thanks to a nomadic life, she has had to live vicariously through her family when it comes to being the first to see and hold a physical copy of the book, which includes behind-the-scenes photos in a full-color eight-page insert.
"It's been a hectic year and it feels like I'm living in eight different places. When they asked what address they should send the book to, I had no idea what answer to give them. They sent it to my home in Chicago – my parents go to my house and get my mail every week. A box came, and my brother Jake was with my mom and said, 'I think it's Kendall's book!' My mom would never open my mail, but she asked if she could. So, they broke it open and saw it first. It's the advance reader copy and I did voice the audio book, so that was really special as well."
The first time Coyne Schofield does see the book in stores, she'll be reminded of the journey she's taken from wobbly-legged skater to Olympic gold medalist, to hockey pioneer and author.
"When I put on those skates for the first time, I had no idea where this game would take me, and the platform that it would provide me to instill change in it forever. I want young boys and young girls to grow up being able to see they can have the same dream in this game because it is the greatest game on earth, and everyone deserves the same opportunity to play it and have a career in it. I'm hopeful I can be part of that change and I'm driven to work on creating that change every day."
That is why she continues to live by, and share, those three simple words.
"First and foremost, for me, I'll always tell people, 'Follow your dreams.' It's what I've always done."