Colton Parayko launches Project 55 to assist sick children and their families
The goal of the non-profit organization is to bring comfort and relief to hospitalized children and their families.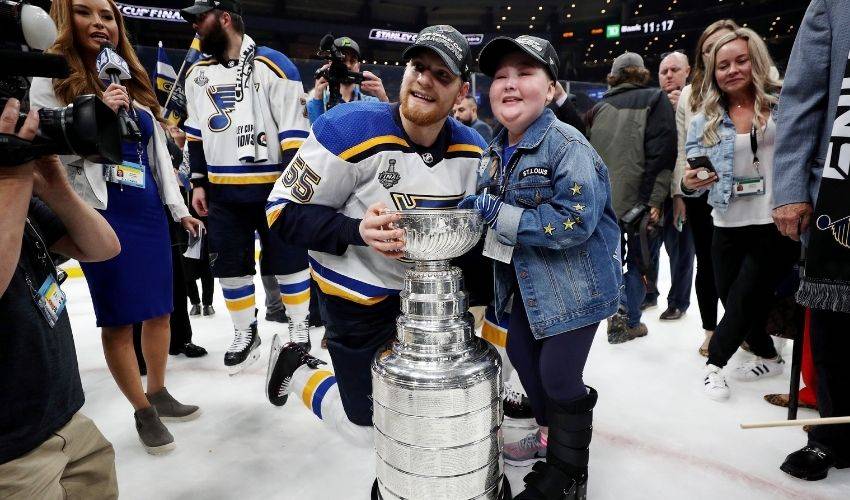 Feature Photo: Getty Images
---
There's no shortage of inspiration and motivation behind Colton Parayko's Project 55 Foundation.
Now in his seventh NHL season, the St. Louis Blues defenceman has taken part in several team charity events, fundraisers and hospital visits.
Those experiences are what prompted Parayko to start thinking more and more about starting his own charitable endeavor, one that would focus on helping kids and families in need.
Those thoughts became a reality in mid-November with the launch of Project 55 (a nod to his jersey number).
The goal of the non-profit organization is to bring comfort and relief to hospitalized children and their families by alleviating their emotional, physical and financial burdens.
Although the original launch date for the foundation was planned for two years ago, there was a very heartfelt reason behind the decision to delay the announcement until recently.
"We had it all put together two years ago, but a lot of what I want to do with the foundation is in-person, so we had to hold off on things," Parayko told NHLPA.com. "It's very important for me to meet with kids and families, so with everything going on, that was kind of difficult to do. So, we put it on pause and waited for a good time to launch. It was hard because we had all the sponsors in place, but we wanted to make sure it was done the right way."
In its first year, Project 55 will support the St. Louis Children's Hospital, the Ronald McDonald House of St. Louis and Blues for Kids, all of which work to help children and their families navigate the issues faced with hospitalization.
The foundation will enable patients and their families from St. Louis Children's Hospital and Ronald McDonald House to attend a Blues home game. Patients coming to the games will have the chance to watch warm-ups from the penalty box, ride the Olympia (Zamboni) during intermission and receive a jersey.
"Seeing the smiles on the kids' faces really stands out for me," said Parayko. "Whenever we've done team visits to the hospital, seeing those smiles stays with you. And you also take a lot from meeting the families. When they tell you they haven't seen their kid smile in a month and now they have, that really sticks with you. All of those experiences are different. That's what I really enjoy the most, giving kids an experience they are missing out on and taking their mind off what they're going through for a little while. That's what gives me a good feeling."
Parayko, whose mother and sister work in the medical field, has heard from both about the many hurdles that families face, both emotionally and financially, when their child is faced with an extended hospital stay.
He's also seen it up close himself.
"You hear a lot of different stories and see a lot of different situations that people find themselves in. The more you become familiar with that, the more connections you make. I feel each person and each family is different, too. You gain a lot of different perspectives, but all of it is very humbling. For me, I wake up and go play a fun game every day. When you go to a hospital, it really does put everything in your life into perspective, that there is a life outside of hockey."
Those stories and connections, along with his well-documented friendship with Blues superfan Laila Anderson, were all catalysts for the 28-year-old defenceman to want to step up and make a difference.
In 2018, Anderson found out she had Isolated Central Nervous System (HLH), a very rare autoimmune disease. The following year, she received a bone marrow transplant.
When the Blues won the Stanley Cup in 2019, Parayko was joined by Anderson on the ice after the championship-clinching victory where the pair embraced and then hoisted the trophy together. She was also given a Cup ring by the team, delivered by Parayko and Alexander Steen.
Anderson, who is playing hockey through Blues 'Learn to Play' program, and Parayko continue to stay in touch.
"She's been a huge inspiration for me," said Parayko. "Laila is an amazing person and I feel so fortunate to have made a connection with her.
The Alberta native is hoping to make many more connections through Project 55.
As for who takes away more from those interactions, it just might be the player with 436 NHL regular season games on his stat sheet.
"I truly do enjoy it. When you hear some of the things that these parents tell you and what they are all going through, it's a life-changing experience. Listening to these stories and meeting so many great people means so much to me. And everyone has a different story they share with you. With the Children's Hospital in St. Louis, I've met kids and families from Poland, from Germany, pretty much all of the states in the U.S. Every story is different from the other."
But the end goal for Parayko is always the same.
"The main thing is to always give kids and their family a memorable experience."