Hockey Hall of Fame inducts Class of 2020
Marian Hossa, Jarome Iginla, Kevin Lowe, Doug Wilson, Kim St-Pierre, and longtime league executive Ken Holland will be inducted as the latest members.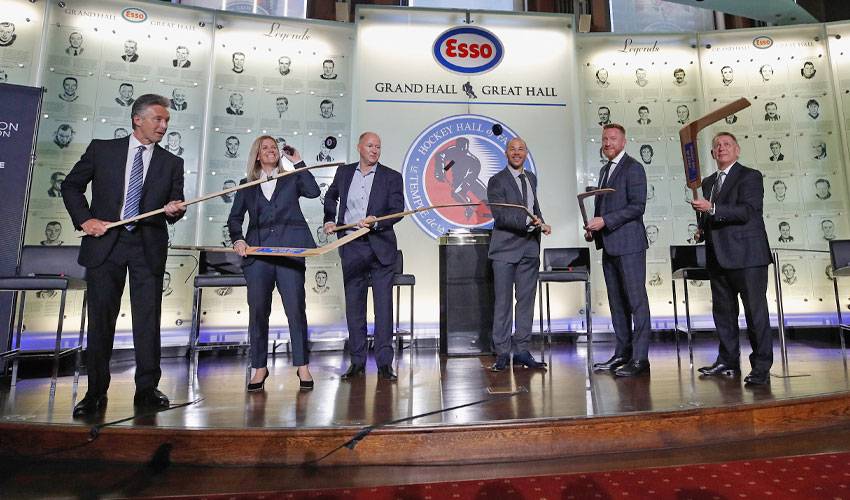 .Feature photo: Getty Images
---
The Hockey Hall of Fame will welcome five players into its hallowed halls on November 15 as part of the Induction Class of 2020.
Former NHL standouts Marian Hossa, Jarome Iginla, Kevin Lowe, and Doug Wilson will be joined by Olympic gold medalist and world champion, Kim St-Pierre, as well as longtime league executive Ken Holland (builder category) as the latest members to be immortalized in the iconic Toronto building.
Marian Hossa
One of the game's finest two-way players, Hossa was selected 12th overall in the 1997 NHL Draft by the Ottawa Senators. The Slovakian native made the 1998-99 NHL All-Rookie team and placed second in Calder Trophy voting. Hossa played the first seven campaigns of his NHL career in Ottawa, going on to suit up with with Atlanta, Pittsburgh and Detroit over the four subsequent seasons, before skating in his final eight seasons with Chicago. Hossa hoisted the Stanley Cup on three occasions, in 2010, 2013 and 2015, all with the Blackhawks. He appeared in 1,309 regular-season NHL games, netting 525 goals and recording 609 assists.
"I remember telling you guys, probably about 10 years ago, the story of when I used to play all day on the rink outside of the apartment where I grew up in," recalled Hossa, in a 2011 interview with NHLPA.com. "Even when I was sick, too sick to go to school, I'd sit at the window and ask my mom if I could go play for a little while. I just wanted to be out there as much as I could.
"I respect people and hopefully, I have the respect of others. When I was younger, all I did was dream of playing in the NHL against the best players and it happened for me."
Jarome Iginla
On or off the ice, Jarome Iginla always gave his best effort. The Edmonton-born forward was a force over the first 15 seasons of his NHL career with the Calgary Flames (1996-2013), including nine seasons as the team's captain and one trip to the Stanley Cup Final (2004).
Selected on three occasions to the NHL First All-Star Team, Iginla also played with Colorado, Pittsburgh, Boston and Los Angeles over his time on hockey's biggest stage. Overall, he posted 1,300 points in 1,554 NHL regular-season games. His contributions to the sport were also displayed on the international stage. Iginla donned the Team Canada jersey at three Winter Olympics, winning gold medals in 2002 and 2010.
Iginla's impact continues to be felt throughout the NHL today.
"I had a chance to meet Jarome when I was a kid," Josh Morrissey of the Winnipeg Jets told NHLPA.com in a 2017 interview. "We had a few connections and we were lucky enough to go to some Flames practices. I remember the one time he came out after the skate. I was probably 11 or 12 and my brother is a couple of years younger than me. And there we were in our Flames jerseys. I'm sure Jarome had a lot of other better things to do than stop and speak with us, but he came over and talked to us for a couple of minutes. He signed hats, jerseys – everything we had to be signed."
Kevin Lowe
The first player ever selected by Edmonton in the NHL Draft, selected 21st overall in 1979, Lowe skated in the most regular-season games (1,037) and Stanley Cup Playoff games (172) with the Oilers than any other player in franchise history.
Playing alongside some of the greatest players to have ever performed on NHL ice, Lowe was an integral part of six Stanley Cup-winning teams, five with Edmonton and one with the New York Rangers. He was named captain of the Oilers for the 1991-92 campaign after Mark Messier was traded to the New York Rangers, the team Lowe would join after a trade from the Oilers on Dec. 11, 1992. He retired after the 1997-98 season with 432 points (84 goals, 348 assists) in 1,254 NHL games, and 58 points over 214 playoff games. Upon retirement, Lowe stayed with the Oilers organization, taking on several different roles, including stints as coach and general manager.
Kim St-Pierre
One of the most decorated goaltenders the game has ever seen, St-Pierre played boys' hockey until she turned 18. She then suited up with the women's team at McGill University from 1998 to 2004 – the start of an outstanding career, in the Canadian Women's Hockey League (CWHL), and internationally with Team Canada.
Tending the twine for the Canadian Women's National Team, the Quebec native earned three Olympic gold medals (2002, 2006, 2010) and five gold medals at the Women's World Championship. Over her career wearing the red and white, she posted a brilliant 1.17 goals against average, accompanied by a .939 save percentage.
She is the first female backstopper to be inducted into the Hockey Hall of Fame.
Doug Wilson
A gifted performer at both ends of the ice, Ottawa-born Doug Wilson was the sixth overall pick of Chicago in the 1977 NHL Amateur Draft. Awarded the Norris Trophy in 1982 as the league's top defenceman, Wilson played 14 seasons with the Blackhawks, leading all Blackhawks blueliners in scoring for 10 straight campaigns.
Dealt to the San Jose Sharks in 1991, he played his final two NHL seasons with the club (and was selected as the team's first captain) before joining the Sharks in a management role.
Wilson made seven NHL All-Star appearances and he was voted once to the NHL First-All-Star Team (1981-82) and twice to the NHL Second All-Star Team (1984-85, 1989-90). He played in 1,024 NHL regular season games, recording 237 goals and 590 assists for 827 points. In 95 playoff appearances, he scored 19 goals and totalled 80 points.
Ken Holland
Although Ken Holland played in a grand total of four NHL games with Detroit, the former goaltender, who joined the team as a scout in 1985, became a key figure in the team's playoff successes. He was elevated to the role of the Assistant General Manager of the Red Wings, while also acting as General Manager of their American Hockey League affiliate. Holland was named as Red Wings General Manager in 1997, going on to spend 22 campaigns in the position and winning three Stanley Cups. During his time in Motor City, Holland's teams won more combined regular season and playoff games (1,044) than any other NHL franchise.