Survivor Brian Boyle spreads message of hope during Hockey Fights Cancer month
Cancer survivor Brian Boyle on his diagnosis, recovery and return to the ice.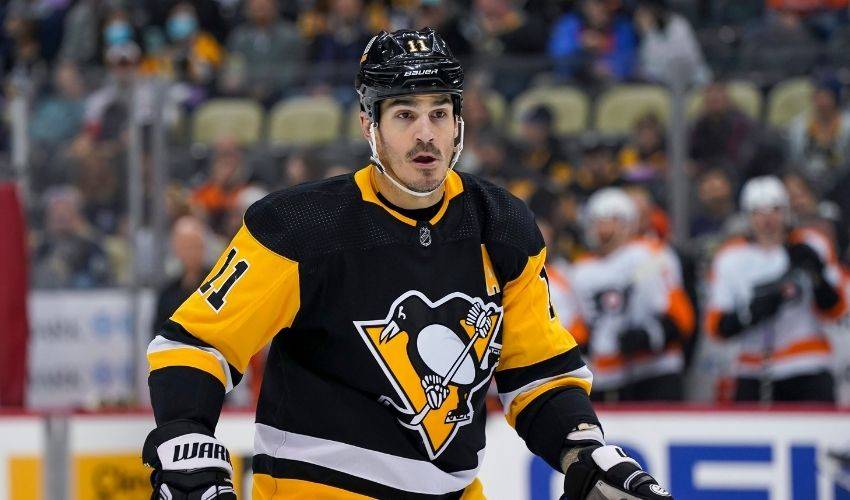 Feature photo: Getty Images
---
Even if his cell reception is a little spotty at times, Brian Boyle's message of hope comes through loud and clear.
"Let me go outside," started the 36-year-old Pittsburgh Penguins forward. "The service out here in the woods in Pennsylvania can be hit and miss."
When Boyle, a 14-year NHL veteran, husband, father, and cancer survivor, steps outside, every word is easy to comprehend.
And the words he shares are both heartfelt and inspirational.
It was just over four years ago when Boyle, then with the New Jersey Devils, was diagnosed with chronic myeloid leukemia (CML).
"The first people you tell bad news to are those you are closest with," said the Massachusetts-born Boyle. "Those people have a strength in them that they might not even realize that they have but that they gave to me. They helped motivate me and comfort me on some dark days."
Two weeks after his own diagnosis, there was more bad news.
Originally, it was feared his then two-year-old son, Declan, might have Ewing's Sarcoma, a rare tumor that forms in bone or soft tissue. After a battery of tests and scans, it was revealed he had a malformation of the jaw, where arteries become tangled and blood flow is disrupted.
The condition required multiple surgeries that were performed in Boston.
"It was tough because at the same time I was going through things, my son was also dealing with some serious issues," recalled Boyle. "The doctors thought it was cancer. I learned how vulnerable you are when you have kids, how much you can truly love someone … all I wanted to do was trade places with him."
Boyle, originally drafted 26th overall by Los Angeles in the 2003 Draft, found a welcoming environment from the moment he stepped back onto the ice, having missed just 10 games after his diagnosis. From teammates to fans in the stands, to fellow players, the support for Boyle, and for his son, was widespread.
His return to action, he mentions now with a laugh, was not quite what he anticipated, given the 6-foot-6, 245-pounder's penchant for a rough-and-tumble physical style of play.
"It's scary. You try to hop back on the ice and resume that normal feeling. I remember those first few months playing again and it was kind of awkward because of the way the game is normally played. You have something happening to you that's bigger than the game, and the support I had from other guys, especially when I came back, it was just awkward, but wonderful. It was very thoughtful of how everyone treated me. Everyone had empathy and was very supportive, and I wasn't surprised because of the character of people in our game, but it was weird to play the game physically and the way I normally like to play because everyone was being so nice during timeouts. That faded after a little while and then you play the game as we all know it."
Which is precisely what Boyle did.
He completed his 2017-18 campaign with 13 goals and 23 points in 69 regular-season games and was named the 2018 Bill Masterton Memorial Trophy recipient for his perseverance and dedication to hockey. In a little over a year, Boyle had welcomed his first daughter, Isabella, into the world, found out he had cancer, and learned about his son's medical issue.
"It was a really difficult time, a lot of ups and downs," said Boyle.
In typical fashion, the former Boston College standout never considered throwing in the towel.
He continues to take the same approach with his NHL career.
On November 5, 2018, he scored three times for his first career hat trick, leading the Devils to a 5-1 victory over the Penguins. Fittingly, Boyle got his natural hat trick on Hockey Fights Cancer night.
The centre, who prior to this season last played in the NHL with Florida in 2019-20, joined the Penguins during training camp on a professional tryout (PTO) ahead of the 2021-22 campaign.
On October 12, he signed a one-year contract with Pittsburgh – a team he knew well from his playing days in the Eastern Conference.
"It was tough not playing, but having a chance to come to a team that's had so much success and the window is still open, it's been a huge opportunity for me, a great opportunity to play. I still have goals and I want to win. This is a perfect franchise, a great organization with guys that have done it and still have that desire to do it. With what I bring, it's pretty straightforward and mapped out for me. I'm really fortunate for it and thankful for it."
His Pittsburgh teammates are no doubt thrilled to have Boyle in the lineup.
"Over the past few seasons, it felt like we played Pittsburgh every week," said Boyle. "They were some very intense, emotional games, including the playoffs. The talent that they had, their will to win, it was always something you respected. It's great to call them teammates now."
There's one teammate who stands out above all the rest.
"If you add up all the things that were going wrong for us in that span – we were in New Jersey – and I didn't miss many games. That's a miracle in itself and that's because of the work my wife (Lauren was the 2018 Hockey Fights Cancer ambassador) did and the help we got from the Boston Children's Hospital. There was a lot more to handle than we originally thought we could handle. We came out of it on the other side, a little beat up but we stuck together. I realized how lucky and how blessed I was to have a teammate in my wife who was willing to do everything for her family first, no matter what. That was the greatest gift of all. We had some horrible months and she held down the fort so that everybody could live as normally as possible.
"Declan was just a happy kid, despite everything he was going through, because my wife kept him happy and kept him occupied. My wife also found time to give our daughter the necessary attention as well, and same for me. There was a lot that happened over those months, but when you come out of it, you count your blessings."
And Boyle certainly does. Every day.
The month of November heightens his thankfulness.
"I love letting people know how it went for me. The different challenges that people are going to go through, if people want to pick up the phone and call me because I've been through some stuff, I'd love to talk. That's why I offer it when people want to ask me. Some people don't know if I want to talk about it, but I'm always willing to share my story."
He also has thoughts to share with those affected by cancer.
"I've always said it … it's awful news and it's okay to be upset. It's okay to grieve a little bit and it's okay to feel a little bit sorry for yourself, but you have to put it behind you at a certain point and you have to have faith. I have my own faith, faith in my doctors. They are going to give you a plan and you have to stick with that plan.
"Stay positive because it can get better and it will get better – you have to have that mentality. In my experience, cancer patients don't want to feel like … people feel sorry for them. It shouldn't define you as a person. It's part of your life now, unfortunately. You don't want to be in that club, but now that you are, you have an opportunity to do some good with it. Show the world what you have, what you're made of, and be brave. And never quit. Never, ever give up."
Boyle's message couldn't come through any clearer.