NHL and NHLPA 'Future Goals Virtual Science Fair Presented by SAP' opens today
Students in Grades 4-8 Encouraged to Submit Sustainability-Themed Hockey Projects.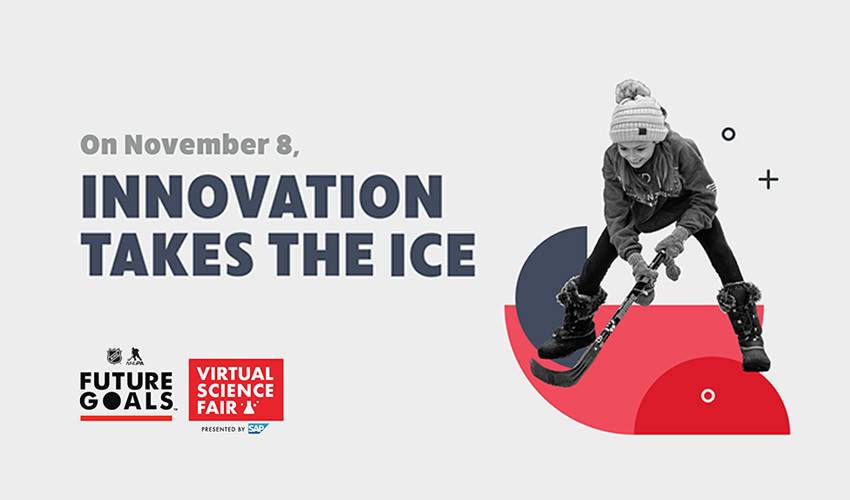 NEW YORK/TORONTO (November 8, 2021) – Today on National STEM (Science, Technology, Engineering, Math) Day, the National Hockey League (NHL) and National Hockey League Players' Association (NHLPA) announced that the second annual Future Goals Virtual Science Fair presented by SAP will begin accepting submissions at FutureGoals.NHL.com/Virtual-Science-Fair.
The STEM-based Virtual Science Fair, which is the first and only competition of its kind among major sports leagues, is open to all students in grades 4-8 across the U.S. and Canada. In line with NHL Green's ongoing commitment to promote green business practices, and SAP's global efforts to help its partners and customers drive sustainable change, this year, students are encouraged to showcase their STEM skills and submit a project redesigning one element of a professional-level hockey arena to make it more environmentally sustainable. Areas of focus may include facility components, arena operations or a fan activity.
"Armed with valuable STEM skills, this generation of students is going to drive impactful change in the future and it's critical to support their development, especially in areas they are passionate about such as sports," said Amy Schulz, Sr. Director for SAP Sponsorships. "We're proud to support this extremely important program and look forward to seeing creative ideas that can improve sports arenas by putting an emphasis on sustainability."
"We saw in the first year of the Virtual Science Fair how thoughtful and inventive this younger generation is. The projects we received included clear hockey boards to make the puck easier to follow; reusing the carbon fiber of broken hockey sticks to make cars lighter and more fuel-efficient; and finding ways to give fans at home a live game experience through virtual reality," said Rob Knesaurek, NHL Group Vice President, Youth Development and Industry Growth. "We're thrilled to have innovative tech giant SAP, a committed NHL partner, on board this season. We can't wait to hear from the next generation of changemakers and leaders."
To celebrate National STEM Day and the Future Goals Virtual Science Fair presented by SAP, several NHL Players are featured in videos encouraging students to submit their best ideas, all for a chance to win exclusive prizes for themselves and their school. These videos, which feature NHL Players including Auston Matthews (TOR), Sidney Crosby (PIT), Nathan MacKinnon (COL), and Jason Robertson (DAL), will be posted across digital and social platforms throughout the submission period, which is open from November 8, 2021 until January 31, 2022. Finalists and winners will be announced in April 2022.
"The Virtual Science Fair is such an incredible way for children to express themselves critically and creatively through the game of hockey," said Rob Zepp, NHLPA Director, Strategic Initiatives. "We are thrilled to have SAP on board this year as this program continues to grow, and are excited to see the unique and engaging ways that the participants use hockey to expand and demonstrate their knowledge of STEM skills."
"Providing students with the opportunity to take STEM concepts and bring them to life in a meaningful way is an integral part of our work with the NHL and the NHLPA," said Jon Chapman, EVERFI Co-Founder and President. "The Virtual Science Fair is the perfect extension of the work we already do together while also helping to further promote sustainability and green initiatives. We can't wait to see what incredible projects students come up with again this year."
In collaboration with EVERFI, the Virtual Science Fair is part of the NHL and NHLPA's Future Goals initiative which is funded by their joint Industry Growth Fund (IGF). In 2013, the NHL and NHLPA established the IGF to support NHL and Club business initiatives and projects which are designed and intended to promote long-term fan development, grow the game of hockey, and provide educational resources. Future Goals – Hockey Scholar is a free online program that uses hockey to teach STEM concepts, inspiring boys and girls to develop their STEM-based skills in a fun and engaging way. Since 2014, more than 3.5 million students have participated in the program, with students seeing STEM skills increase by 82-percent.
To join the conversation, use the hashtag #HockeyScholar or follow @FutureGoalsSTEM on Twitter. For more information and official rules, visit FutureGoals.NHL.com. No purchase necessary to enter.