Marian Gaborik announces retirement after 1,035 NHL games
Born in Trencin, Slovakia, Gaborik scored 407 goals and accumulated 408 assists for a total of 815 regular-season points in his NHL career.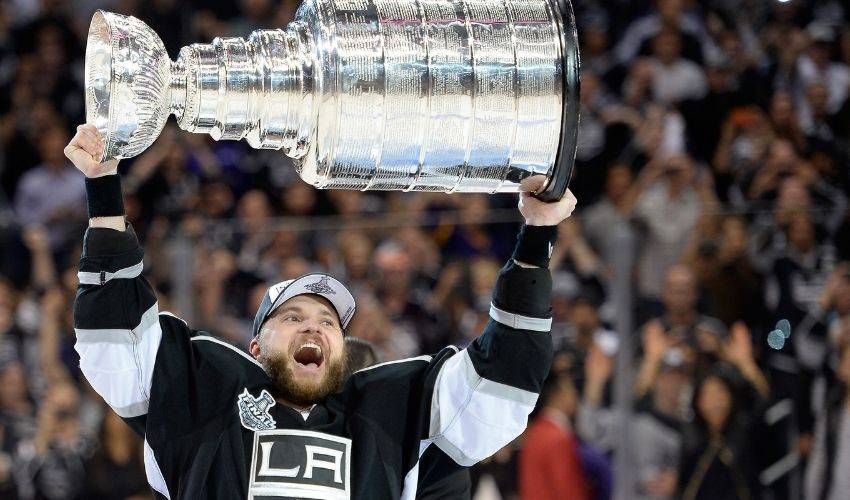 Feature photo: Getty Images
---
TORONTO (Nov. 4) – Through the National Hockey League Players' Association (NHLPA) Marian Gaborik has officially announced his retirement from the National Hockey League (NHL) today following 1,035 regular-season games in 17 seasons.
Born in Trencin, Slovakia, Gaborik scored 407 goals and accumulated 408 assists for a total of 815 regular-season points in his NHL career. His career spanned five NHL teams – Minnesota Wild, New York Rangers, Columbus Blue Jackets, Los Angeles Kings and Ottawa Senators. Gaborik played a key role on the Stanley Cup-winning Kings in 2013-14 when he scored 14 goals in 26 playoff games.
"It's been a great honour and privilege to play in the best league in the world since I was 18 years old. The journey has been nothing short from spectacular, amazing and unbelievable. Many times, it's been a roller coaster, but I always found the way back. Saying that, I'm so grateful and thankful to my family, my agent, teammates and coaches," said Marian Gaborik. "I'd like to thank the Wild for drafting me and giving me a chance for my dream come true to play in the NHL. To my teammates, coaches and fans, thanks for helping me mature on and off the ice. Thank you to the Rangers for the experience of Sweet Caroline and living in the energy heaven of the world. Thank you to Columbus for a short stop, being supportive, helping me overcome injuries and trading me to Los Angeles to achieve my ultimate goal: Winning a Stanley Cup. Thank you to the Kings – my teammates, coaches and fans – for believing in me and for memories that I will never forget. Thank you to Ottawa for the respect you showed me and helping through tough times."
The talented forward was drafted with the Wild's first ever draft pick, third overall in the 2000 NHL Draft, making him the highest drafted Slovak player in NHL history. Gaborik scored in his NHL debut on Oct. 6, 2000 – the first goal in Wild history. In the 2000-01 season, he finished fifth among all rookies in goals (18) and tied for fifth in points (36) while playing in 71 games. The six-foot-one, 200-pound forward enjoyed his first 30-goal season in 2001-02, which he matched the following season. In 2002-03, Gaborik led the Wild in goals (30), points (65) and game-winning goals (8), while being named to the NHL All-Star Game – the first Wild player to earn the nod. In their first ever playoff appearance that spring, Gaborik scored nine goals and 17 points to help lead the Wild to the Conference Finals. He led the team in goals (38) and tied for first in game-winning goals (7) in 2005-06, prior to helping the Wild return to the playoffs in the two subsequent seasons. During a 42-goal season in 2007-08, Gaborik had a five-goal game versus the Rangers on Dec. 20, 2007.
Gaborik played the first 502 regular-season games of his career with the Wild, along with three trips to the playoffs, and he remains the all-time franchise leader in goals (219) and game-winning goals (43). On July 1, 2009, he signed as a free agent with the Rangers. Gaborik was highly productive right away in New York, leading the team in points (86) and assists (44) – both setting career highs – and goals (42), which matched his personal best. In 2011-12, the high-scoring forward once again led the Rangers in goals (41) and points (76), and he was named MVP of the 2012 All-Star Game before he later scored 11 points during the Rangers' trip to the Conference Finals.
After beginning the lockout-shortened 2012-13 season in New York, Gaborik was traded in April to the Blue Jackets where he played for parts of two seasons. Another trade in March 2014 sent him to the Kings. Following 16 points in 19 regular-season games, Gaborik was outstanding in the Kings' Cup run – leading the league in playoff goals (14), tied for third in power-play points (8) and finished fourth in points (22). Gaborik scored 27 goals in 2014-15, and he later helped the Kings reach the playoffs again in 2015-16. After playing in parts of five seasons in Los Angeles, he was traded to Ottawa in February 2018 where he scored four goals in 16 games with the Senators. While he remained under contract through the 2020-21 season, injuries prevented him from playing beyond the 2017-18 season.
Internationally, Gaborik represented Slovakia several times, highlighted by two appearances in the Olympics (2006, 2010) and six appearances in the World Championship (2001, 2004, 2005, 2007, 2011, 2015), while he played twice in both the World Cup (2004, as well as 2016 with Team Europe) and the World Junior Championship (1999, 2000).
A dynamic, playmaking forward, Gaborik recorded 58 points in 84 playoff games, and he was a three-time All-Star (2003, 2008, 2012) who recorded seven 30-goal seasons, including three 40-goal seasons, while placing fifth among his countrymen in NHL career goals and points.