Dominic Moore honoured to be 2021 Hockey Fights Cancer ambassador
The 2014 Bill Masterton Memorial Trophy recipient joins some elite company as a Hockey Fights Cancer ambassador.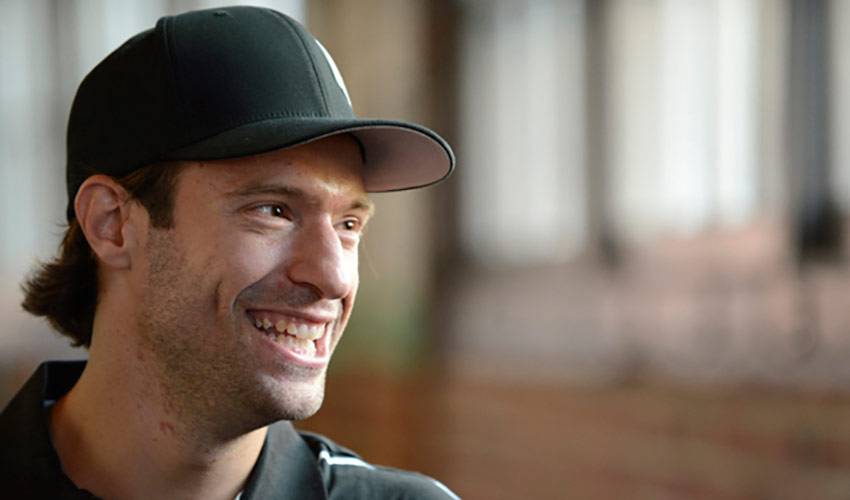 ---
It's a role perfectly suited for Dominic Moore.
When asked if he would like to take the reins as the Hockey Fights Cancer Ambassador for 2021-22, Moore, who played 897 regular-season games and 101 playoff games in his NHL career, eagerly and humbly accepted the offer.
"It's a huge honour and I'm extremely grateful to be asked to be a part of this," Moore told NHLPA.com. "It's a program and an initiative I believe wholeheartedly in and in the importance of it. To be able to be the spokesperson for it this year and continuing the tradition of those who have done it in the past is a really big honour."
Moore, the 2014 Bill Masterton Memorial Trophy recipient, joins some noteworthy company with his Hockey Fights Cancer ambassadorship role. Recent names to have held the position include former NHL standout, current hockey analyst and cancer survivor, Eddie Olczyk, along with Lauren Boyle, wife of Pittsburgh Penguins forward Brian Boyle, a cancer survivor himself.

Established in 1998 by the NHLPA and NHL, Hockey Fights Cancer unites the hockey community in support of cancer patients and their families. The initiative is supported widely across the hockey community, with everyone from players to fans taking part.
November is officially Hockey Fights Cancer Month across the NHL. Each of the 32 NHL clubs holds festivities through their own themed Hockey Fights Cancer Night. Lavender dasher boards (to represent all cancers) are showcased across NHL rinks, coaches and broadcasters will wear campaign branded ties, and players will wear Hockey Fights Cancer jerseys along with lavender stick tape during warmups on their respective club night.
This year's campaign will once again support and spotlight the American Cancer Society and Canadian Cancer Society.
Moore is proud to be a part of something that brings together the entire hockey community.
"It's really a wonderful thing to see the unity around the cause. Everyone, for the most part, has had their lives touched by cancer directly or very closely, indirectly. I think this is something we can all share in and be motivated to do our part. November is a very special month, to see the way we unite around a common cause and draw strength from it."
Moore, who recorded 282 career points with 10 different teams over his NHL career, following four years at Harvard, points to fellow players affected by cancer, past and present, as inspirational voices in the fight against the disease.

"I played with Brian Boyle," he said of the veteran forward, now with Pittsburgh, who was diagnosed with chronic myelogenous leukemia (CML) in 2017. "He was my linemate and is just a tremendous guy. I know cancer has touched his family, so seeing him get through that and continue to play and play so well – I'm cheering for him big time."
Through his ongoing efforts with the Katie Moore Foundation – created in 2013 to honour his late wife, Katie, who passed away from Fibrolamellar Hepatocellular Carcinoma, a rare liver cancer – and Smashfest, the annual player-driven charity ping-pong event he established in 2012, Moore remains committed to raising money and awareness for rare cancers.
"Again, it's the respect around the league and it's the respect for the cause that is all an amazing testament to the hockey community. That's always been the case. Smashfest is an excellent example of that. The support I have had from the players and the hockey world, that's what makes it special. I can't say enough about the generosity and the camaraderie of the players and the hockey community."
Smashfest, which has now eclipsed $1.1 million in funds raised, along with the foundation, continues to work with the Broad Institute of MIT and Harvard to support the institute's Rare Cancer Cell Line Factory, which aims to accelerate the study and treatment of rare cancers. The project works to establish a research platform that, when systematically applied, could empower researchers worldwide; and works with patients, advocates, and foundations to improve access to tumor samples for research.
"It really is amazing, the progress that we've been able to make in treating cancer in general. Over the last 10 years or so, there have been amazing improvements across the board on cancers. Rare cancers continue to lag behind the common cancers, so that's something that all of us attached to the Katie Moore Foundation are trying to help improve. We've been very proud of some of the successes we've been able to have. It's a very day-by-day process. But in terms of cancer in general, it's a tremendous time for optimism and hope, but at the same time, we can't forget that as much as we celebrate that progress, as much as we celebrate those that are beating the disease, we can't forget the fact that many out there aren't. That's why we're doing what we we're doing. We want to celebrate those people and their strength as well and continue to work to one day find a cure."
Hockey Fights Cancer, noted Moore, is an important player in that goal.
"Whether you've dealt with cancer yourself or someone close to you, sharing that experience while trying to make some incremental steps forward is a pretty powerful initiative."