Passion for the game on full display in El Paso
The largely Hispanic city along the United States-Mexico border earned the title of Kraft Hockeyville USA 2020.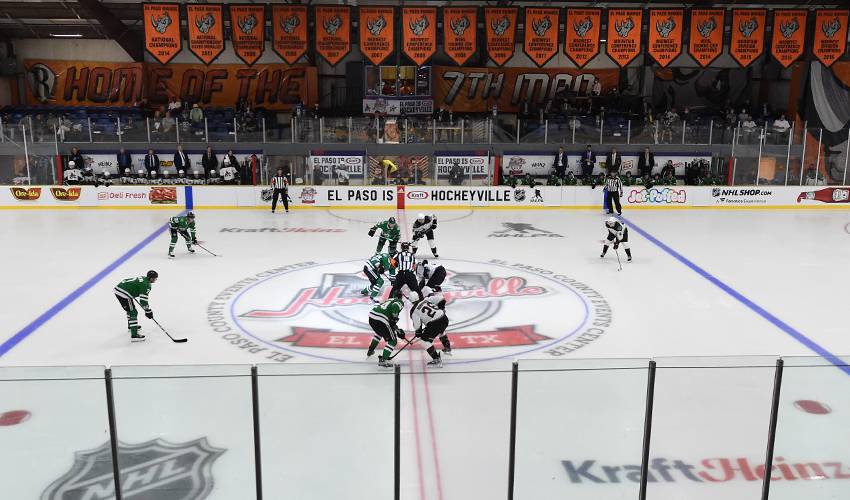 Feature photo courtesy of Getty Images
---
Welcome to Hockey Night in El Paso, Texas, courtesy of Kraft Hockeyville USA.
On Sunday night the El Paso County Events Center, home of the El Paso Rhinos, played host to an NHL preseason game that featured the Dallas Stars and Arizona Coyotes.
"El Paso was a great time. It's been a while since we've had fan interaction like that, so I definitely missed it and am happy it's back," offered Tyler Seguin, who with a goal and assist was one of many Stars players to find the scoresheet in front of over 1,000 fans that witnessed a 6-3 victory for the home state team.
"El Paso was fun," added Stars forward Joe Pavelski. "It was one of those trips where you don't really know what to expect, but we had a good time. You could see the excitement from the people there. It was fun to see the culture and you got a really good vibe that there are a lot of really good people there. We had fun."
"In our first preseason game at home, you could see how excited the fans are to be back and we're happy to have them back."
It was a game that has long been anticipated by hockey fans in El Paso.
Hundreds of communities had entered the Kraft Hockeyville USA 2020 contest – an annual competition sponsored by Kraft Heinz, the NHLPA, and NHL – which asks communities to demonstrate their passion and commitment to the game. El Paso, a largely Hispanic city along the United States-Mexico border in west Texas, earned the title as 2020's most spirited hockey community in America after amassing the most votes online. The game, originally slated for 2020, was postponed due to COVID-19.
Along with the preseason game, the city was presented with $10,000 worth of equipment from the NHLPA Goals & Dreams fund, and the El Paso County Events Center, originally built to host rodeos and livestock shows, won $150,000 in rink upgrades.
Arizona defenceman, Shayne Gostisbehere, opened the scoring in the first period for the first NHL goal scored in the history of the city of El Paso.
"Hockey is a great game and we want to allow as many people to play it as we can," said Coyotes forward Lawson Crouse. "Kraft has done a great job of doing this."
"It's humbling," said Tyler Deloach, Director of Operations with the North American Hockey League's El Paso Rhinos and a member of the El Paso Kraft Hockeyville USA organizing committee.

"When we won Kraft Hockeyville, I was overwhelmed by the support we received from El Pasoans and hockey fans around the world. Our main goal is to keep hockey in El Paso and make the sport accessible to our community, so hosting an NHL game in our own rink means we're succeeding. Additionally, hosting an NHL game in a facility that our organization has essentially built from scratch is a testament to the hard work, dedication, and perseverance that many members of the El Paso hockey community have demonstrated over the past 20 years – and I'm extremely proud and grateful to be part of that community."
The NHLPA Goals & Dreams fund, the largest grassroots hockey program in the world, was proud to provide an assist to El Paso hockey youth and their families through the equipment donation.
Devin Smith heralds the city as an ideal example of what the player-driven NHLPA Goals & Dreams fund is all about.
"The NHLPA is proud to support the growth of hockey in El Paso and, in doing so, help more kids enjoy the opportunity to play the game we all love," said Smith, the NHLPA's Senior Director, Marketing and Community Relations. "The cost of equipment is a major obstacle to participating in hockey. Through the players' NHLPA Goals & Dreams fund, our goal is to make the game more accessible for kids and their families."
Kraft Hockeyville festivities officially kicked-off on Thursday, with the Stanley Cup making an appearance at the Events Center, Fort Bliss – a United States Army Forces post headquartered in El Paso – and a community celebration at San Jacinto Plaza attended by former Coyotes players, including former captain, Shane Doan.
Other highlights included a pair of Learn To Play sessions at the Events Center, with Stars and Coyotes alumni taking part as instructors.
The game and surrounding festivities were a win-win for all involved and lived up to the hype.
For Deloach, the game, the hockey equipment and the arena upgrades, are all a testament to the city and its hockey fan base, including supporters of the Rhinos.
"Hosting an NHL game and winning Kraft Hockeyville USA means that we, as the Rhinos, were able to put El Paso on the hockey map," said Deloach. "Despite being a non-traditional hockey market, we've shown that there is a passionate and supportive hockey community in the west Texas desert. It's a wonderful feeling to know that our community has embraced our organization so much so that they rallied to help us bring an NHL game and the Stanley Cup to our rink."
The arena, which didn't have traditional locker rooms when the Rhinos first called it home 15 years ago, has also had to contend with other issues since that time. Gaping holes in the building's roof meant no ice when the mercury hit high numbers, and out-of-date lightbulbs wreaked havoc on the playing surface.
Despite the hurdles the Rhinos endured, the team went on to capture consecutive Thorne Cup Championships in 2017-18 and 2018-19 as members of the Western States Hockey League (a league the Rhinos were part of before joining the North American Hockey League for the 2021-22 season).
Through the prize money from Kraft Hockeyville, significant upgrades, including LED lighting and roof repairs have been made. The building was also able to have ice for the first time during the summer months this year.
"We're most excited about the passion El Pasoans have for hockey," offered Deloach. "Hockey in the desert is unique and so are our fans. When you come to a Rhino game, there is always an unbelievable atmosphere of raucous, rowdy fans. We even have fans that make their own noisemakers out of hockey sticks and pucks. Many of the families in our youth hockey program are at the rink every day of the week and always willing to take more ice time when possible. For a place where most locals don't grow up skating, playing or even watching the sport, it's humbling to know we've created a passionate community that's fanatic about hockey."
They've also helped lay the foundation for young players to get involved in the game.
Deloach believes the best is yet to come for El Paso hockey.
"After this game, we believe our hockey program will grow. Since the inception of the El Paso Hockey Association in 2001, it's been the Rhinos' goal to make hockey accessible to local families. Now, because of this Hockeyville USA win and hosting an NHL game, El Paso families will get to see and experience hockey at one of its highest levels. For our younger players, it's a chance to see their hockey role models up close and it's a reminder that becoming an NHL player is possible. This game and the Kraft Hockeyville USA events surrounding it also created excitement that has extended past our hockey community. We're hopeful that means we'll soon be able to welcome new families and new hockey players into our rink."
Grateful is a word Deloach understandably uses often.
"We are so grateful to the NHL, the NHLPA and Kraft Heinz for giving us the opportunity to host this game. When we campaigned in the height of COVID, winning Hockeyville and the prospect of hosting an NHL game brought us all together despite the isolation the pandemic imposed."