Healthy Nico Hischier excited to lead the way with Devils
Taking neither his captaincy nor health for granted, Nico Hischier is raring to go for a fresh season with the New Jersey Devils.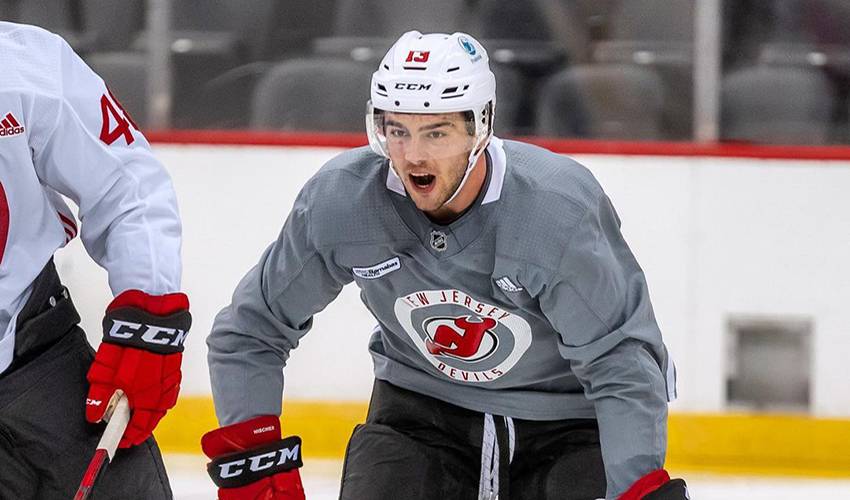 Feature Photo via @NJDevils
---
There's one thing in particular that Nico Hischier always reminds himself of whenever he slips on his New Jersey Devils jersey adorned with a "C".
Whether it happens to be the upcoming NHL campaign or any of the seasons beyond it, Hischier, who was named the 12th captain in Devils franchise history on February 20 of last season, isn't about to change who he is as a player or a leader.
"I have a lot of good people around me, both in hockey and in my life outside of the game," Hischier told NHLPA.com. "I think the best advice, and the most advice that I've heard from a lot of people, is to just be myself. Don't try to change anything and do what you've been doing all along."
The captaincy role is a responsibility that Hischier has happily embraced.
"I try and lead by example, playing the right way, doing the little things right and always putting the team in front of me. That's what I'm trying to do. I always want to do what's best for the team and not for me. That's my mindset."
The 22-year-old is currently the youngest captain in the NHL and the second youngest in team history next to Kirk Muller (at 21 years and 243 days old). Hischier is also only the second Swiss-born captain currently playing in the league, joining countryman Roman Josi of the Nashville Predators.
Hischier, the only Swiss-born player to ever be selected first overall at the NHL Draft (2017), heaps an abundance of praise on his teammates, both past and present, who helped him on the road to becoming a captain.
"The guys, they all support me really well. With Andy Greene [New Jersey's captain prior to Hischier], I remember watching him and learning so much. We've had so many great leaders on this team since I've been here. It's a long list. Watching them has helped me a lot, and you really come to appreciate that. They all have given me great advice. The one thing they all told me is don't be somebody you are not."
He's since heard the same words from his family, including his older siblings – his brother, Luca, a forward playing for EHC Biel-Bienne of the Swiss National League, and his sister, Nina, who was a standout volleyball player. The siblings carried on a tradition of athleticism from their parents – their father, Rino, played professional soccer in Naters, Switzerland, and mother, Katja, was a swimmer.
"I'm really close with my brother and sister," said Hischier. "Even now, I still feel I can learn a lot from them. I look up to both of them and I always know I can talk to them about anything."
Hischier, who represented the Devils at the 2020 NHL All-Star Game in St. Louis, is hoping to be able to share happy and healthy news with his siblings throughout the season.
Last season, the centre was limited to 21 games after suffering a leg injury in training camp followed by a sinus fracture from being struck in the face with a puck.
In all, Hischier tallied 11 points, including six goals while the Devils failed to make the playoffs for a third-straight season. For Hischier, who has 146 NHL career points in 230 regular-season games, to say he is motivated heading into the 2021-22 season would be a huge understatement.
"The mental side of dealing with the injuries was tougher than the injuries themselves. Not being out there was tough, but I think you can learn from that too. I think there are always positives you can take. Now coming into training camp, from day one, I do appreciate it more than I used to, being healthy and ready to go ... That's a big thing I took away from last year, to appreciate my health and to take care of my health. It's one of the big reasons why I'm really excited about this season."
A season that will see Hischier being true to himself, captain or otherwise.
"I always keep in mind what so many people have told me and that really helps me. I've been so fortunate to have great people around me, people who are always there for me. I'm going to do my best and do whatever I can to help the team. That's my approach."