NHL and NHLPA celebrate Hispanic Heritage Month
As part of their Hockey Is For Everyone initiative, the NHLPA and NHL will celebrate Hispanic Heritage Month from September 15 to October 15.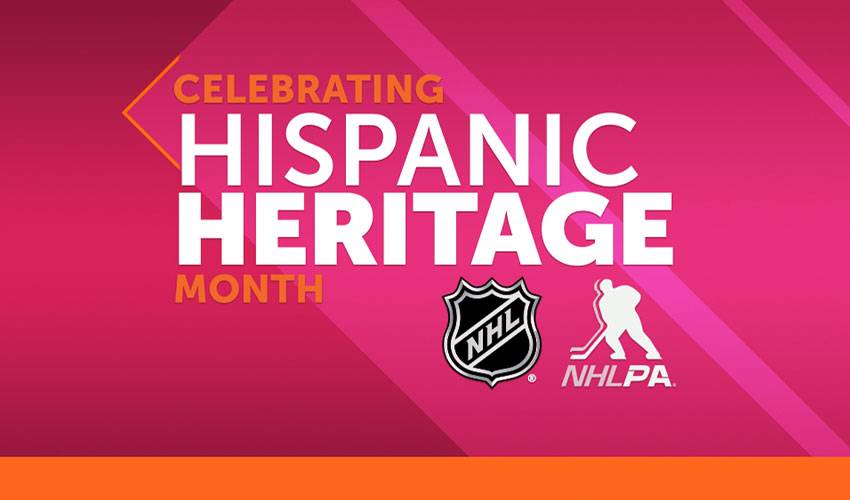 ---
NHL AND NHLPA CELEBRATE HISPANIC HERITAGE MONTH ACROSS SPANISH AND ENGLISH-LANGUAGE PLATFORMS

Highlights Include Community Events Kraft Hockeyville™ USA 2020 in El Paso, Texas, And 2021 Amerigol LATAM Cup Hosted by Florida Panthers.

NEW YORK/TORONTO (September 15, 2021) – As part of their Hockey Is For Everyone initiative, the National Hockey League (NHL) and National Hockey League Players' Association (NHLPA) will celebrate Hispanic Heritage Month from September 15 to October 15, honoring and recognizing the contributions of Hispanic and Latinx members across the hockey community.
The League will share stories and special features across its Spanish-language platforms at NHL.com/ES and on Twitter at @NHLEspanol. Stories will also be featured at NHL.com/HispanicHeritage and on the League's English-language social media channels.
Special features include a profile on alumnus and goaltender Al Montoya, the first Cuban American drafted in the NHL, who is working with the Dallas Stars to increase access to hockey for Hispanic youth; and San Jose Sharks forward Matt Nieto, a Mexican-American whose love of the game began at the age of three when his grandfather bought him a hockey stick. This month will also feature interviews with Arizona Coyotes Owner Alex Meruelo and President & CEO Xavier Gutierrez, the first Latinos in NHL history to hold those positions; Minnesota Wild General Manager Bill Guerin, the NHL's first player of Hispanic heritage; as well as Toronto Maple Leafs forward Auston Matthews and Detroit Red Wings prospect Donovan Sebrango.
Stories of the contributions of Hispanic and Latinx players from the wider hockey community will include special interviews with Diego de la Garma, Mexico's National Hockey Team head coach; and Luisa Wilson, a youth hockey player who is also the first athlete from Mexico to win a gold medal in an Olympic winter sport. The month will also highlight Gustavo Diaz Ordaz, a small border town that was home to many of Mexico's national team players in the 1990s and 2000s.
The League and Players' Association will provide extensive onsite coverage from two community events: Kraft Hockeyville™ USA 2020 from El Paso, Texas, on Oct. 3 and the 2021 Amerigol LATAM Cup, which will be held at the Panthers IceDen from Oct. 14-17.
The community of El Paso, Texas, winner of Kraft Hockeyville™ USA 2020, was named America's most spirited hockey community because of voting and rallying efforts led by the El Paso Rhinos junior hockey team. Announced earlier today, the community will host a preseason game on October 3 when the Dallas Stars face off against the Arizona Coyotes.
The Florida Panthers will host the third annual Amerigol LATAM Cup, a tournament that provides hockey players in Latin America and the Caribbean the opportunity to showcase their talent while also raising awareness of hockey in their countries. This year's tournament will bring together teams from 19 countries including Argentina, Brazil, Chile, Colombia, and Mexico, with 29 teams in five divisions and approximately 500 players participating, making it the largest tournament to date.
Many NHL Clubs are celebrating the Hispanic and Latinx community with activations at themed game nights; campaigns supporting local Latinx businesses and artists; and hockey clinics at local community events.
To join the conversation, use the hashtag #NHLHispanicHeritage or #HockeyIsForEveryone.