Norris Trophy winner Adam Fox keeping his game on par
It seems that Adam Fox is at the top of his game wherever he happens to find himself.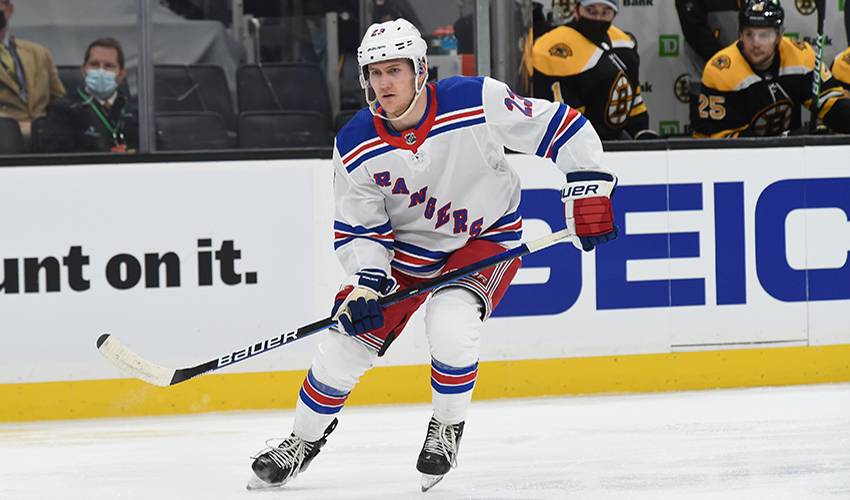 Feature Photo: Getty Images
---
It seems like everything is coming up aces for Adam Fox these days.
While his finesse on the fairways and precision with the putter can sometimes be a question mark, a recent vacation that saw Fox spending some time on the links with close friends had the New York Rangers defenceman feeling pretty good about his golf game.
"It was good. It was a lot of fun," Fox told NHLPA.com of the getaway that reunited the former USA Hockey National Team Development Program teammates.
"There were about eight or nine of us. My game was good. I can say I was pleasantly surprised by it. The short game was good. I was good with the wedge. I kept it in play and hacked my way to a decent score."
That he was able to drain some long putts and play more than a few decent rounds shouldn't come as a shock.
Fox is at the top of his game wherever he happens to find himself.
In late June, the native of Jericho, New York, was awarded the Norris Trophy as the NHL's top defenceman. The 23-year-old placed second among all blueliners with 47 points (five goals, 42 assists), fashioned a plus-19 over 55 games and led the Rangers in average ice time per game (24:42).
His impressive numbers don't end there.
Fox led Rangers defenceman in power-play ice time per game (3:45) and all Rangers players in shorthanded ice time per game (2:36). He also notched 23 power-play points, tying with Tyson Barrie of the Edmonton Oilers for second in the league among defenceman – just one point behind Norris finalist, Victor Hedman of the Tampa Bay Lightning. Fox joined elite company as the fourth Rangers player to receive the Norris Trophy, and first since Hockey Hall of Fame inductee Brian Leetch (1996-97). Doug Harvey (1961-62) and Harry Howell (1966-67) are the others, with Leetch earning his first for his 1991-92 season.
It's those names – along with the other 2020-21 Norris finalists, Hedman and Cale Makar – that quickly put the enormity of the humbling honour into perspective for Fox.
"The two guys that were also up for it … Hedman has a resume that speaks for itself. I played against Makar a little bit and you can see what he's done in a short time already. And then you look at the guys who have won it before and it's definitely special company for me to be in.
While humbled to have his name connected with some of the game's top defenceman, past and present, Fox is also quick to heap praise upon his teammates.
"This award – teammates, coaches, equipment staff, trainers – everyone plays a role in it. I play with a lot of great players. My defence partner, Ryan Lindgren, really helps me out. He probably doesn't get the recognition he should. It's an individual award, but a lot of people play a role in it."
Congratulatory text messages from current and past teammates, and a slew of others, came pouring in after the Norris announcement was made.
Fox crafted a game plan to answer every one of them.
"There were a lot of texts that came through. I really appreciated everyone that took the time to do that. I put my phone away that night and waited until the next day to go through all of them."
Drafted by the Calgary Flames in the third round of 2016 NHL Draft, Fox was traded to the Carolina Hurricanes on June 23, 2018, and subsequently sent to the Rangers on April 30, 2019 in exchange for a pair of draft picks. Fox felt right at home on Broadway the moment he arrived.
And now, after receiving the highest honour for an NHL defencemen, Fox is determined to raise the bar for himself.
"I think the next step for us is team success. It's nice to get recognition, but I'm still early in my career and there's more that I want to do and want to accomplish. It [the Norris] isn't something I want to rest on and say, 'Okay I got this.' There's a lot of work to do going forward."
When he's not on the greens working on his golf game, Fox has been reacquainting himself with one of his all-time favourite shows, although hockey is never far from his mind.
"I think you're always thinking about the next season during the summer, trying to work on things to be the best you can be. Golf is a little bit of escape for me. I like to play a little Xbox too. I just watched Breaking Bad again. I thought I'd re-watch it because you tend to forget some of the things that you saw first time around. But in the back of your mind, you're always working on the next season."
It's simply par for the course for one of hockey's top blue-line talents.