Seguin turns difficult rehab into paws-itive new business venture
Inspired by his three best friends, Tyler Seguin made the most out of a difficult time in his career by pursuing his passion project, The Chew Club.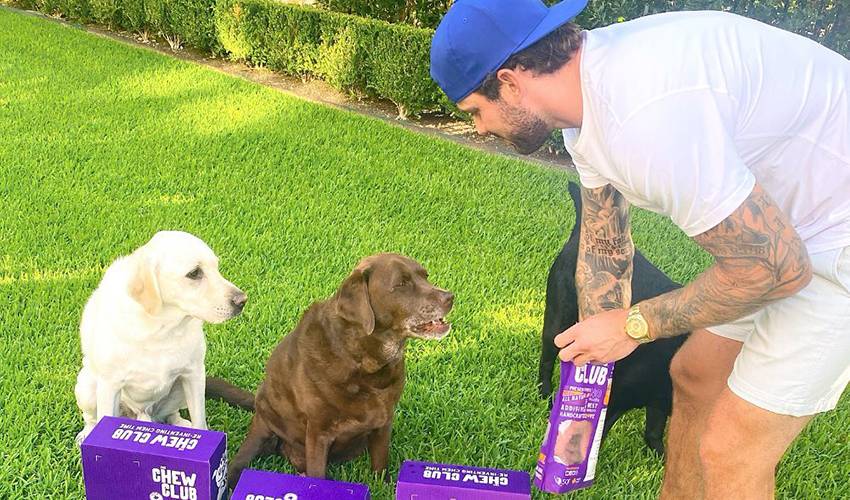 Feature Photo: IG / @tseguin92
---
In one of the most difficult of times in his career, Tyler Seguin knew he could count on three of his best friends for unwavering support.
To this day, the Dallas Stars forward wonders how different things might have been without the help of his Labrador retrievers, Gerry, Marshall and Cash. It still gives the veteran of 744 regular-season NHL games, forced to the sidelines after right hip arthroscopy and a labral repair procedure last November, pause for thought. Or, in this instance, paws for thought.
"Like most dog owners, you understand how special they are to you and how loyal they are," started Seguin, who also underwent knee surgery in December. "No matter how bad the times are, or what you are going through, when you walk through that front door, there's no one more excited to see you than them. They brighten up my day every time. Through those tough times – the pandemic, the two surgeries and all of the rehab – I definitely got closer than ever to the dogs. They helped get me through a lot, physically, emotionally and mentally. They were always by my side."
Although they sport vastly different personalities, the canine linemates all get along well with one another.
"Marshall is kind of the OG. He's 10 now. He's laid back, the one who has been through it all, through everything in my career. Cash is seven. A lot of times, he's people's favourite. He's very easy-going and he's obsessed with getting attention and petted. When you rub his belly, when you start, he'll put his paw on you and ask for more. Gerry is 'Mr. Personality.' He always wants to have fun and is still a puppy at heart. He's around four and he's definitely the most obedient out of the three."
Seguin had ample time during his recovery period – a situation that prompted him to pursue a passion project he had been thinking about for years. It also happened to be a perfect way for the 29-year-old to pay back his four-legged pals for their companionship, especially through his rehabilitation process.
Working with his business partners, Seguin recently unveiled his new company, The Chew Club.
Established at the beginning of the pandemic, the business, as noted in a press release announcing the initiative, "… is a direct-to-pet parent, next-generation brand, focused on dogs who want and need to chew and their parents who want to satisfy that desire with healthy and fun solutions."
The Chew Club comes with a guarantee that includes processing transparency and sourcing of ingredients exclusively from North American farms.
"This is a passion project for me," said Seguin. "I really put my heart into this. I started getting into the business side of things when COVID hit, right before the bubble. I had a lot of free time and had this idea in my head. I never really thought it would come to fruition. I talked to my team and had told them I was looking for an easy route to get dog treats and dog toys, especially once I'm busy. So, we came up with this idea of, 'Why don't we do it ourselves?' I looked at it through the lens of someone who needs something like this."
Seguin, a five-time NHL 30-goal scorer, is thrilled with the positive response and feedback he's received about The Chew Club.
"It's close to my heart and I'm really happy with how it's all come about. It's something where I want dogs – and I was looking at my life with them – to have something new, something to look forward to each month. It's really cool how this all came together. It's literally provided what I was looking for in my life and if I'm looking at it that way, I'm sure a lot of other people are too. It's been a great start and I can't wait to see what the future holds."
The second overall pick from the 2010 NHL draft has a pretty good idea of what's in store for him on the home front once the 2021-22 NHL season gets underway.
"You don't take their love and companionship for granted, but sometimes you have to sit back and take that in. It's then when you realize how amazing it is to have dogs. Fortunately, for me, I'm lucky to have three great dogs. I absolutely love it. It's tough when you are with them for so many days, especially during the pandemic. … they have this new thing where when I'm gone, they are more excited than ever when I return. When you're on the road, there's more of a routine and structure, so now they do this crying thing, especially the youngest one, after I've been gone four or five hours."
The sadness, fortunately, doesn't last very long.
"We're always happy when we we're reunited."