Ninth annual and first-ever US Smashfest a roaring success
In total, Smashfest IX raised $130,000 for concussion and rare cancer research while Alexander Kerfoot proved to be the titan of the tables.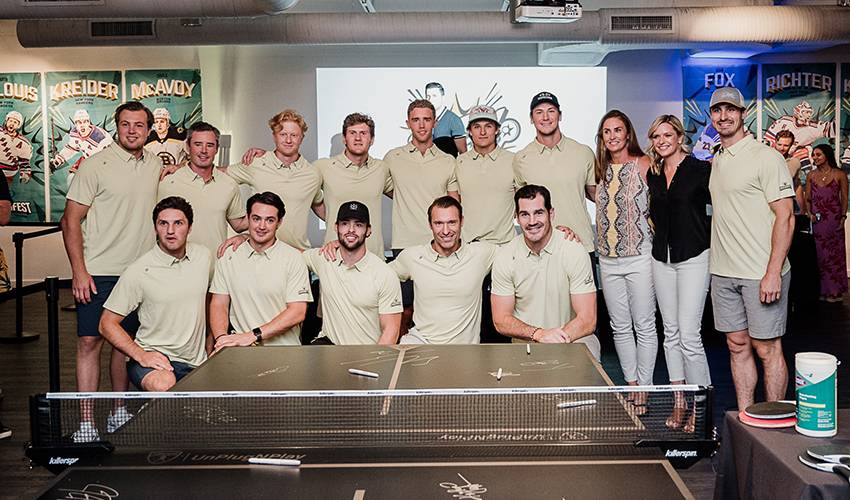 SMASHFEST MEDIA RELEASE:
9th Annual and First-Ever US Event A Roaring Success
NHLPA & NHL-supported Charity Ping-Pong Challenge helps further concussion & rare cancer research and awareness
---
STAMFORD, CT (August 17, 2021) – After two years away, nearly 20 NHL players and celebrities and over 300 guests returned for another year of Smashfest® in Stamford, CT on August 12. In total, the evening of ping-pong and fun raised $130,000 for concussion and rare cancer research. With 5-time defending champion Patrick Eaves unable to defend his title, Alexander Kerfoot was the titan of the tables, capturing the Pro-Am doubles title with his team, as well as being crowned the new Smashfest® Singles Champion.
"Being able to put on an event like this, after what we've been through over the last 2 years, makes it all the more special," said Dominic Moore, Smashfest® creator and host, 13-season NHL veteran, and current NHL broadcast analyst. "Smashfest is all about bringing people together, and I think we all have a new appreciation for what that means. To be able to do that, while raising money for important causes is something I'm grateful for, and to everyone involved who made this night possible."
Eighteen current and former players and celebrities took part in the event: Dominic Moore, Adam Fox, Charlie McAvoy, Mike Richter, Martin St. Louis, Alexander Kerfoot, Jack Rathbone, Trevor Zegras, Spencer Knight, John Hayden, Brian Boyle, AJ Mleczko, Kathryn Tappen, Patrick Sharp, Connor Clifton, Chris Kreider, Ryan Shannon, and Colin Blackwell.
Smashfest® continues to work with the Broad Institute of MIT and Harvard to support the institute's Rare Cancer Cell Line Factory, which aims to accelerate the study and treatment of rare cancers. The project works to establish a research platform that, when systematically applied, could empower researchers worldwide; and works with patients, advocates, and foundations to improve access to tumor samples for research.
Find all of the highlights from this year's Smashfest® with #SmashfestIX on Twitter, Instagram and Facebook!