Scott Mayfield reaches new heights and speed alongside brother on F-16 trip
One is a respected NHL defenceman, the other is a revered Captain in the U.S. Air Force.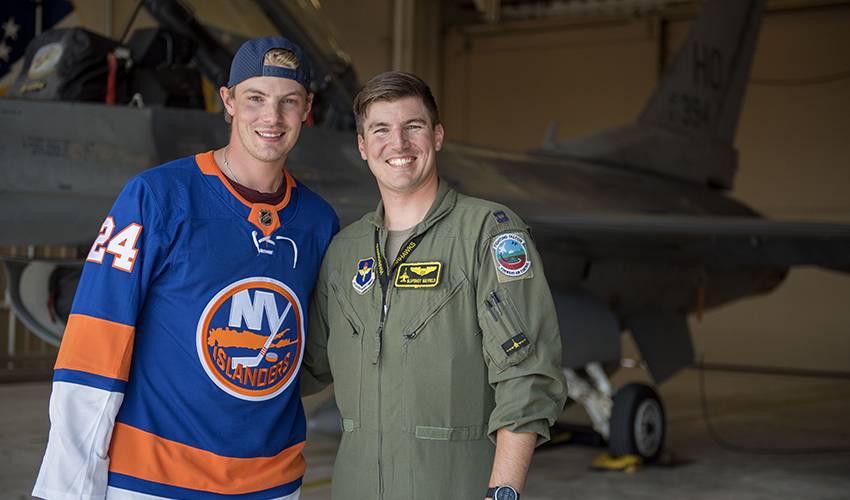 All photos courtesy of Holloman Air Force Base
---
Scott and Patrick Mayfield have had plenty of sibling adventures over the years, but none compare to the one they recently experienced.
Scott is a respected NHL defenceman for the New York Islanders, while Patrick is a revered Captain in the U.S. Air Force. The two brothers, who have the deepest admiration for one another, have a bond as strong as it has ever been.
On August 4, after one week of training at Holloman Air Force Base in Otero County, New Mexico, the pair enjoyed a once-in-a-lifetime thrill ride when they took to the skies in an F-16 Viper together.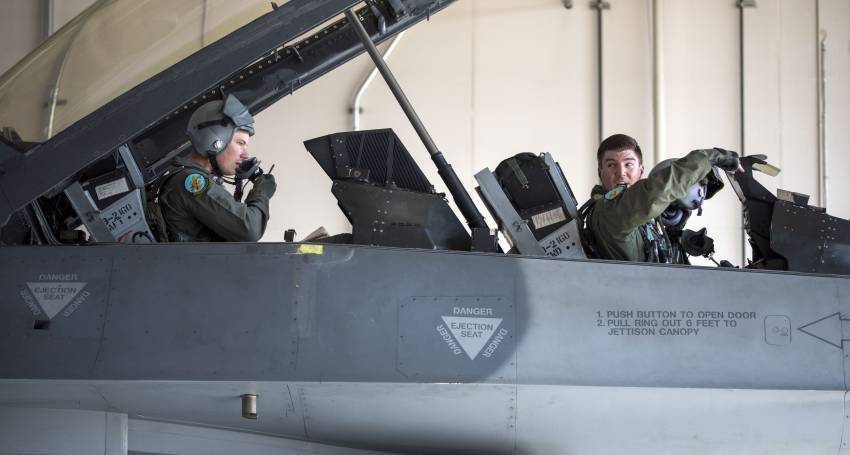 Not long after the flight, one that reached Mach 1.11, approximately 852 mph, faster than the speed of sound (761.2 mph), the two spoke glowingly of their aerial adventure.
"I was a little nervous," admitted Scott. "We talked about different issues that could arise and just getting myself ready for the G-forces, ways to make sure your body is in the best position. There was a little bit of training. All of that emergency stuff can be a little nerve wracking, but I was really excited, and I was in pretty good hands. I trusted him to take me up and we had a lot of fun."
It was a sentiment echoed by Captain Mayfield, who prior to arriving at Holloman, had served in Afghanistan, Italy and South Korea.
"Right when we were taxiing to the runway, he gave me a little, 'Now I'm starting to get nervous.' He ended up handling all of the Gs and the physical side of it fine, which I'm not surprised with the shape that he's in, obviously. He didn't get sick and we had a great flight. Everything went according to plan. We got to go over the speed of sound, go low through some of the mountains out here and see the Trinity Site, inside of the White Sands Missile Range. I hit pretty much all of the objectives I wanted to hit and he held on for the entire thing and had really positive things to say from the back seat. It was awesome."
Although their respective occupations mean they rarely get the chance see each other in person, there have been times, recently, when they've been able to reunite – including when Patrick was honoured by the Islanders on Military Appreciation Night in February 2020.
The entire Mayfield clan will be together again in Colorado next week for the wedding of Scott and his fiancée, Emily.
No doubt the brothers will have plenty of stories to share from their F-16 adventure, now and for years to come.
"I think the whole experience of getting do this with my brother is probably the first, most special thing," said Scott, who played a large role in helping the Islanders make it to the 2020 Eastern Conference Final and 2021 Stanley Cup Semifinals. "Not too many people get to fly in one of those, so the feeling of being able to look out, the takeoff, the Gs on you – it's really special. It was a lot of fun."
"There was a lot of trust put into me to allow me to do this and actually fly with him," added Patrick. "That is extremely rare, on top of the rarity of having a non-military member in the back of an F-16."
Duplicating a hockey-themed version of the flight, as a way to reciprocate, might not be easy, admitted Scott.
"I'm going to try," said the 34th overall pick of the Islanders in 2011. "I'm going to line him up at centre ice. That's what I think I need to do. I'm going to try to get down here to set something up next offseason where I can take some of the guys out where we can skate and have a good time. The Islanders were able to do something for him last year when he was in town for one of the games – that was a really nice thing we were able to set up – and he's always been probably my biggest supporter. He's a goalie, so I guess I could take a couple hard shots. We could figure out something."
Despite the playful jab, Scott has a deep respect for his brother's service and the demands of his role, something he was reminded of five years ago when he visited Patrick in South Korea at the demilitarized border that separates North Korea and South Korea.
"What they do is definitely on another level. It shed light on, 'Yeah, hockey's just a game.' They have a dangerous job. They do something for real that helps a ton of people."
The respect is mutual for Scott.
"The work ethic is something – especially when people bring up the pay of professional athletes – you immediately remind them of the countless hours of work and sacrifice that they have done, honestly more in certain cases, than I have ever had to do. He left at home in 16 to play in Ohio, living with a different family out there. The focus and goals he set for himself there, realizing that, and eight years after the draft playing every game for the Islanders – it's something I'm really proud of him for. I try to watch as many of his games as I can."
Although it was on an entirely different level from anything they ever did together growing up, the flight served as a perfect example of the connection the pair continue to share.
"I don't think anyone really gets the chance to feel what it's like to be in a fighter jet," said Scott. "So that's something I'll take away, and just doing it together."