NHLPA G&D, Grindstone Award Foundation finding a way to help girls play
In May, NHLPA Goals & Dreams donated 25 sets of equipment to Grindstone, which continues to be a difference-maker in growing youth female hockey.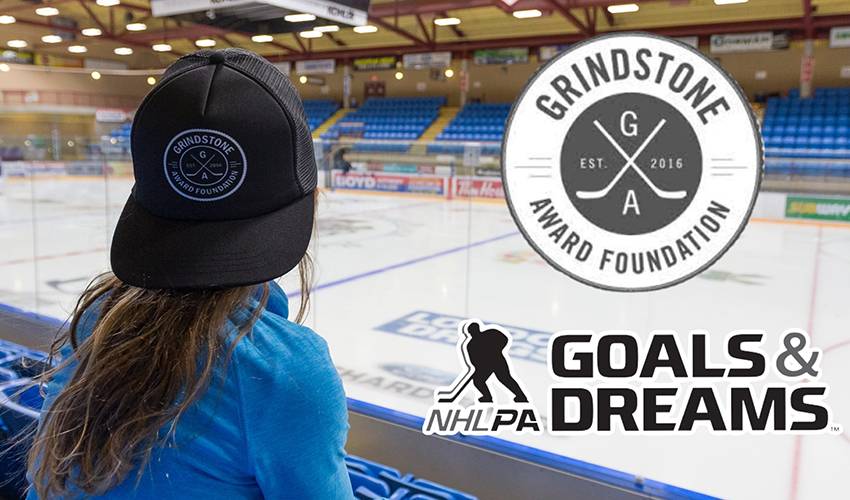 The mantra is always the same for anyone who volunteers with the Grindstone Award Foundation – find a way for them to play.
The goal, in theory, is a simple one. Seeing it become a reality, however, isn't always easy. But for the nearly 30 volunteers who dedicate their time and efforts into helping young female hockey players across Canada realize their dream, they believe anything is possible.
This philosophy is one that Laura Oliver, Jehan Jiwa and Kristi Patton bring to the Grindstone table every day and what helped guide the trio to a connection with NHLPA Goals & Dreams.
Established in March 2015, the Grindstone Award Foundation provides grants annually to Canadian female hockey players under the age of 19 who have a desire to play the sport, but are unable to do so due to financial reasons. The foundation is currently accepting equipment grant applications as well as financial grant applications until July 31.
Since awarding its first grant in 2015, to its 100th grant in 2020, Grindstone continues to be a difference-maker in growing youth female hockey across the country, and the success stories are plenty.
"We're hearing just how much hockey means to them," said Jiwa, Grindstone's Vice President. "Many of these families are saying that if they didn't get this opportunity through Grindstone, they'll have to tell their girls that they can't play. And they tell us they don't know how to do that because they are so excited to get on the ice, especially after how the pandemic has affected everything. For Grindstone, what that means is that we don't want to turn grants away. In an ideal world, we say yes to everyone that applies. That's what motivates us to get more funding and more support."
Conversations on how to grow the scope of the foundation and expand its support base are frequent. A more recent topic of discussion is the high costs associated with participating in the sport.
"One of the conversations we're starting to have more of is the cost of hockey," said Oliver, Grindstone's President. "It's not often spoken about – the cost that it takes to get a kid on the ice. We had an application last season where someone was describing that it's not just the cost of the hockey, but it's the cost of getting to hockey. This person lived in a rural area of Alberta and to get to hockey was almost two hours. It really is an expensive sport. One of the ways we're trying to get girls in the sport is by having that conversation, the expenses, and having people become involved to help girls play."
In May, the NHLPA Goals & Dreams fund, the largest grassroots hockey program of its kind in the world, donated 25 sets of equipment to Grindstone.
Oliver came up with the idea of contacting the NHLPA while she was tuning into to an NHL game from her home.
"I was watching hockey on TV and I saw the Goals & Dreams commercial with Sonnet," started Oliver. "I saw all these kids' faces lighting up and how excited they were to be on this virtual call and talking to these NHL players. … I immediately got in touch with the NHLPA and mentioned that this may be a way we can work together. The NHLPA expressed extreme interest in wanting to help girls play and wanted to do that with us."
"The NHLPA Goals & Dreams program is excited to support the Grindstone Award Foundation's efforts in assisting more Canadian youth female hockey players participating in the game," said Devin Smith, NHLPA Goals & Dreams Chairman. "The cost of equipment is a big obstacle in hockey and the NHLPA's goal is to bridge the gap for less fortunate children by donating full sets of new equipment through the players' program. … We are very proud of this new partnership." ​
That type of assistance is crucial to Grindstone's stated mission: "Every day, we work towards helping more girls get into hockey and ensuring that any girl who wants to play can play – regardless of their financial situation. We love what we do and we can't wait to continue to provide many opportunities to young female hockey players for years to come."
Oliver, Jiwa and Patton have seen first-hand, just how meaningful donations are for the recipients and their families. The benefits to those who receive the grants extend far beyond the rink.
"We hear stories all the time from grant recipients' families talking about the power of their girls playing hockey," said Oliver. "It's more than just being able to play a sport. They're going out and developing friendships, their grades are improving – we hear that a lot. We were able to hear from one of our recipients at our annual general meeting this past spring and it was all of these stories that she's not being bullied any more, that she has friends, she's playing hockey and she's staying fit. The families are seeing a big increase in their personal development."
"That's generally it ... that these girls are getting an opportunity they wouldn't normally get to create these friendships and become leaders," added Jiwa. "That's something we're hearing a lot of lately, that the girls are able to go out and demonstrate their abilities to go out on the ice and be leaders. They're developing a whole lot more than just playing the sport."
Seeing the reactions from grant recipients (the Grindstone website features videos of "The Moment") are always emotional for foundation members. Each one is a reminder of how Grindstone is making a difference for women's hockey in Canada.
"It makes me tear up thinking about the stories," said Patton, one of Grindstone's directors. "When you hear stories of kids being bullied or not doing well in school because they aren't making the friends or connections they should, and then because of a grant, that whole situation changes – it's very emotional. I'm really proud to know we can help those kids."
Oliver echoes the same thought.
"To picture 100 girls standing in front of you, that got to play hockey last year because of Grindstone and its supporters, is remarkable. There are so many more families out there that need us. We would love to see that number jump to 1,000 in the next few years."
Or perhaps even higher.
"Every year, we go through an exercise of how many grants can we give out," said Jiwa. "Due to the pandemic, we haven't been able to go out and fundraise in person like we normally do. We've had to revamp how we bring in funds in the future. One of the most heartbreaking things for us is that there is so much demand out there for funds to cover hockey. Right now, we aren't able to give out grants to everyone that applies. Our goal as a board is to get to a place where we don't have to turn any family away and every girl can play that applies."
The hope is that the foundation's efforts can help grow the women's game on a national level. Jiwa sees plenty of opportunity for Grindstone to play their part in that goal.
"I think it's so important because of where women's hockey is going. We know the ultimate goal – hopefully, sooner rather than later – is a pro league. Once that happens, a feeder system is critical. Right now, maybe these girls don't have a place to go post-collegiate, but they will. That's the goal. And that's where Grindstone becomes very critical because we don't want girls who are very talented to miss out on that opportunity to grow to her highest potential simply because their family didn't have the funds."
It's what pushes the Grindstone team every time an application comes through.
And it also reminds them just how special it is when they can share in "The Moment."
"When we let the player and their family know that we are able to provide that grant, it's a wonderful feeling for all of us," said Jiwa.
---
To donate, sponsor or apply for a grant application, click here.