Matt Calvert announces retirement after 10 NHL seasons
After 566 regular-season NHL games, Matt Calvert has announced his retirement due to a career-ending injury.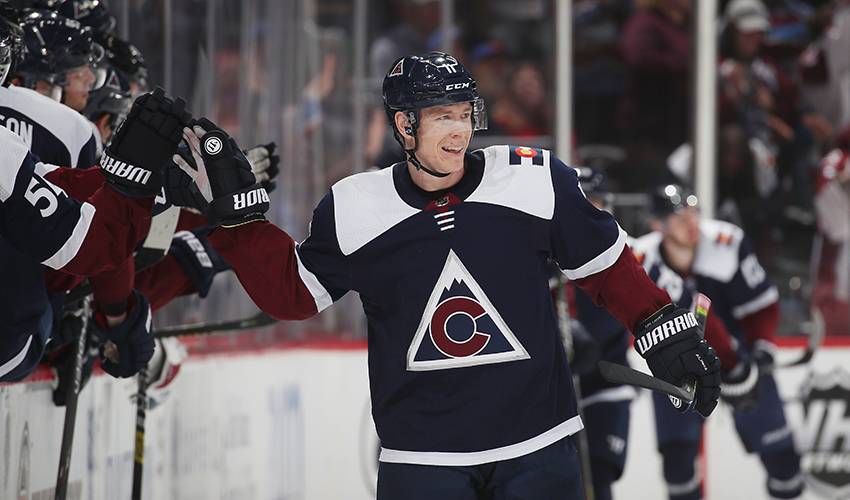 Feature Photo: Getty Images
---
MATT CALVERT ANNOUNCES RETIREMENT
AFTER 10 NHL SEASONS
… After playing in 566 regular-season NHL games, the forward is retiring due to a career-ending injury
TORONTO (July 22, 2021) – Matt Calvert has officially announced his retirement from the National Hockey League (NHL) today following 10 NHL seasons and 566 regular-season games.
Calvert was drafted in the fifth round, 127th overall, by the Columbus Blue Jackets in the 2008 NHL Draft. He played for two NHL franchises – appearing in eight seasons with the Blue Jackets before playing his final three seasons with the Colorado Avalanche. A reliable competitor, Calvert scored 95 goals and recorded 203 regular-season NHL points (95-108–203) along with 17 points in 32 playoff games. His 2020-21 season was limited to 18 games due to a career-ending injury.
As a junior hockey player, Calvert enjoyed three successful seasons with his hometown Brandon Wheat Kings of the Western Hockey League. During his final season, he led Brandon in scoring with 47 goals and was named to the Memorial Cup 2010 All-Star Team. On Jan. 7, 2011, Calvert made his NHL debut with the Blue Jackets against the Anaheim Ducks, and he quickly scored his first career goal the following night versus the Los Angeles Kings. One month later, on Feb. 25, 2011, he scored a natural hat trick in a 5-3 win over the Phoenix Coyotes. The forward scored 11 goals and recorded 20 points in 42 games as an NHL rookie. After spending most of the 2011-12 season with the Springfield Falcons of the American Hockey League, Calvert scored nine goals – including two game-winning goals – to tie for fourth in the category on the Blue Jackets during the lockout-shortened 2012-13 NHL season.
During his 2013-14 campaign, Calvert matched his prior season's nine-goal output and set a career-high in assists (15) – a total which he would reach two more times in his career as he helped the Blue Jackets reach the playoffs for only the second time in franchise history. Calvert put forth an exceptional performance in the second game of their first-round series versus the Pittsburgh Penguins, scoring a shorthanded goal along with the game-winning goal in double-overtime to help lead the Blue Jackets to a 4-3 win – the club's first playoff victory in franchise history. Despite the Blue Jackets ultimately being eliminated in six games, Calvert contributed four points and averaged 17:35 minutes of ice time per game for the series.
The 5-foot-11, 186-pound forward scored a career-high 13 goals in 2014-15, tying for fifth on the team in the category while recording three game-winning goals – tied for third most on the team. In 2015-16, Calvert scored 11 goals to extend his run to four consecutive seasons of finishing in the top-nine among Blue Jackets scorers. He recorded his third straight season of 10 or more goals when he scored 10 in 2016-17 – and tied for the team lead with three shorthanded goals – while helping the Blue Jackets return to the playoffs. Calvert recorded 24 points and scored a team-leading two shorthanded goals in 2017-18, his final season in Columbus, while helping the team reach the postseason where he scored a team-leading three goals in their first-round series – including his second career playoff overtime goal.
On the opening day of 2018 free agency, Calvert signed a three-year contract with the Avalanche. The forward went on to set a career-high in points (26) in 2018-19, and he added four assists in eight playoff games. He scored 25 points in 50 games the following season, before adding three points in another eight playoff games. Calvert played 18 games in 2020-21, but injuries truncated his final NHL season.
The two-way forward averaged 14:07 TOI, while he helped his teams reach the playoffs in five of his 10 NHL seasons. Calvert was relied upon as a tough, hardworking, relentless player who provided secondary scoring, contributed on the penalty kill, and filled many roles throughout the lineup.
Calvert resides in Brandon, Manitoba, with his wife, Courtney, and their two sons Kasey and Beau.
Statement from Matt Calvert:
"I've been lucky enough to play the game I love since I was five years old. I never played to make it to the NHL. I played to compete. I played for my teammates. I played for the fans. I played for my family. I played because I loved to battle, and I played to win. I dreamt of becoming an accountant when I was 18 years old and three years later, I was playing in the NHL. My favourite parts of the ride were the locker room and the fans. It wasn't the same without the fans cheering us on this last year. We feed off of them. The fans make the game special. It was an absolute honour to wear the Columbus Blue Jackets and Colorado Avalanche jerseys throughout my career. I would bleed for those organizations any day. Thank you to the best parents in the world. You sacrificed everything to give me the opportunity to play in the National Hockey League. You mean the world to me and I wouldn't have played a game without you. Thank you to my brothers for pushing me to be the best I could be. Thank you to my beautiful wife Courtney, and my boys Kasey and Beau for being my biggest fans. Thank you to my extended family for all the support. Thank you to every coach and GM that pushed me to be my best. Thank you to the Wagons. Thank you to all the special people I met along the way. What an amazing journey. I feel like the luckiest person in the world to have had this opportunity. I look forward to skating on the outdoor rinks with my boys in retirement. I love you all!"