After the Buzzer | Veronique Larosee Fleury
Veronique Larosee Fleury shares more about husband Marc-Andre's biggest supporters, the goaltender's special good luck ritual and more!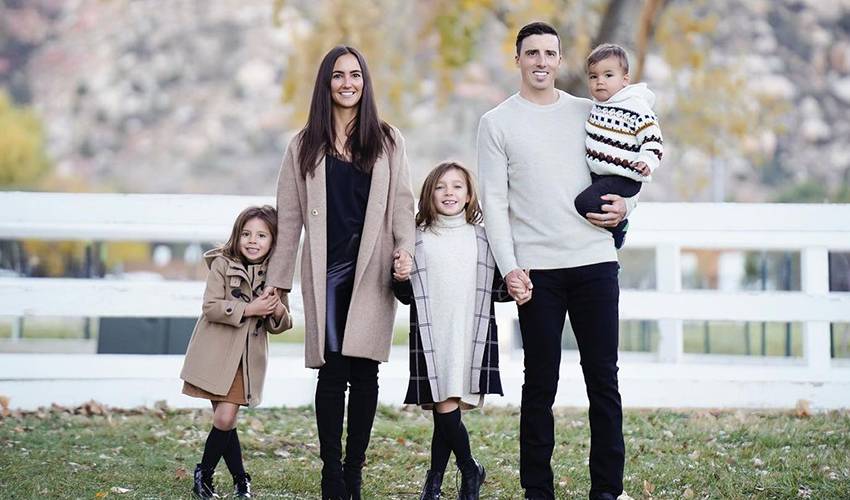 Feature Photo: Instagram / @vlaroseefleury
From their bond with fans to their efforts in the community – and everything in between – 'After the Buzzer' is a weekly series taking readers beyond the rink to shine a light and provide insight on players' lives away from the game.
---
Veronique Larosee Fleury, wife of Vegas Golden Knights goaltender Marc-Andre Fleury, stopped by NHLPA.com to chat about a heartwarming letter that went viral, playing second fiddle to her husband on certain mornings, giving back to the community and a surprising favourite player reveal.
NO. 29 IS A NO. 1 DAD
While his accomplishments between the pipes are Hall of Fame-worthy, that's not what makes Marc-Andre a star in the eyes of his three kids – eight-year-old Estelle, five-year-old Scarlett and two-year-old James.
"He is an amazing dad. I think the hardest part with the playoffs is that our kids miss him so much when he leaves, especially the younger one. He's just two, so he doesn't understand that when he wakes up some mornings, dad isn't there. We just enjoy spending time together as a family. Sometimes we'll go on hikes with the kids, but it's really just about being able to enjoy family time."
INSTA SENSATION
When Veronique recently took to Instagram to share a letter and drawing Scarlett made for her father, the reaction to it was well beyond anything she had expected. The young author and artist is now certainly enjoying her newfound fame.
"I was just so impressed with it. She draws for him and writes for him every day. This one is just so cute. I never thought it would be such a viral thing. Everyone is talking about it. It was just so cute and positive, that with the all the negative stuff going around, I thought it would be something nice to share. It was the cutest thing and she's loving all of the attention. When we go to the rink, people tell her that they saw her letter and you can see how much she likes that. It's been great. I couldn't believe it. I definitely didn't expect it to get so much attention."
FACE-TO-FACE
Whenever the Golden Knights hit the road – during the regular season or playoffs – Marc-Andre takes to FaceTime to keep in touch with his family.
"Thank God for FaceTime. Thankfully the trips aren't that long these days, so it's not as bad. When he was in the bubble last year, it was good we had that so we could at least see him. Every day, a couple of times a day, before he goes to the game, he goes on FaceTime with us. It's his ritual. When the kids talk to him, if he wins, their ritual stays the same – but if they lose, we have to switch it up. The newest one – my daughter plays soccer and he always tell her to have fun – is her saying the same thing to him, 'Have fun.' It's been working lately."
HE'S BACK!
Whenever Marc-Andre gets home late from a game, the kids are usually fast asleep. When they wake up the next morning and realize he's there, it's always the happiest of scenes.
"Usually, he gets home when they are sleeping, but the next morning, it's hard to keep them away from the bedroom. He wants to have his sleep, but when he wakes up the kids are very excited and I'm like chopped liver, which I am totally fine with. It's so nice to see everyone smiling and happy to be together."
WE KNOW THAT GUY
Whenever a Golden Knights game is on the television, the kids – decked out in their Vegas jerseys – get a big thrill when they see their father on the screen. For one of the kids, however, Marc-Andre takes second billing to another Golden Knights player.
"The girls love watching him. Our oldest [Estelle], she's really into it. The funny thing is that her favourite player is Shea Theodore and that just started this year. Dad is already in the doghouse. Playoff hockey is always on the TV in our house, and James, he thinks that it's dad playing no matter what the teams are. He hasn't quite grasped what team his dad plays for yet. But he wants to come to every home game and he definitely knows where he is on the ice."
FINAL THOUGHT
"It's something that I had been talking with the team about for a few years, but with everything going on in the world, we waited. We wanted to create a few items for kids at the team store. I love to be involved with Olive Crest, which is for children that are in the foster system here in Vegas. They do extra services for foster families and families in need. I like to help them out and it's been doing great. I'm very grateful. My oldest daughter has been helping too." – Veronique, on how the Flower's Friends initiative is helping the Las Vegas community.