After the Buzzer | Cale Makar
In the middle of making playoff memories with the Colorado Avalanche, Cale Makar reflects on his favourite post-season moments and more.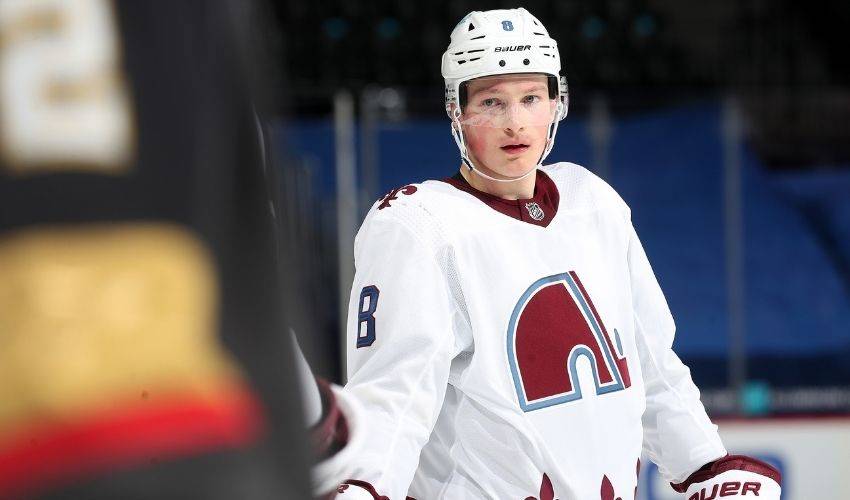 Feature Photo: Getty Images
From their bond with fans to their efforts in the community – and everything in between – 'After the Buzzer' is a weekly series taking readers beyond the rink to shine a light and provide insight on players' lives away from the game.
---
Coming off a four-point outing in Game 1 of Colorado's second-round series against the Vegas Golden Knights, Cale Makar can often be found taking in as much playoff hockey as he can when he's not busy chasing Stanley Cup glory with the Colorado Avalanche.
The Calgary native recently stopped by NHLPA.com for a chat about football, being a hockey fan, playoff memories and more.
TIME FOR CALE TO EXHALE
Makar, who posted 44 points in 44 regular-season games during his 2020-21 campaign, appreciates any time when he can unwind away from the stress of the playoffs.
"For me, it's just about finding a way to relax, whatever it may be. It's been such a strange season. I've basically been in Denver by myself this whole time. Whether it's going for a walk or going to the grocery store, it's just about finding little things to do. I like to cook as well, but with the condensed schedule, it was tough to get motivated to do a lot of cooking. I'll also watch a few TV shows."
MORE HOCKEY, PLEASE
When he's not directly in the middle of all the playoff action, the hockey fan in Makar can't help but come out. The 22-year-old is thrilled to grab his own front-row seat and watch his fellow players compete for hockey's biggest team prize.
"When we aren't playing, I'm watching a lot of hockey. I definitely consider myself a hockey fan. I love watching hockey, so I definitely tune in whenever I get that chance."
GRIDIRON GUY
He's a big supporter of the CFL's Calgary Stampeders, but is Makar feeling ready for some NFL football this fall? With a little help from his teammates, Makar has been watching a lot more football since he came to Denver, home of the NFL's Denver Broncos.
"I watched some NFL. I'm starting to get into the NFL. I was a pretty big CFL guy coming out of Calgary. The guys here are pretty persuasive and I've enjoyed watching some of the NFL games with them. It's more interesting when you're in the same city as the team. We went to a Broncos game as a group and that was a really cool experience."
PAST PLAYOFF MEMORIES
One of Makar's most treasured playoff recollections is from 2019 when the former UMass Minutemen blueliner helped his team make it to the championship game of the NCAA Frozen Four tournament.
"One that stands out from my career is the semi-final win against Denver when I was playing college hockey [with UMass]. To win that game in OT and go to the finals is a pretty cool memory. It was also a big win for the program, and it's something that will stick with me forever."
IDOL CHAT
The name of Makar's NHL idol won't come as a big surprise to anyone living in Calgary. Makar, like many other Calgarians, remains a huge fan of Hockey Hall of Fame inductee Jarome Iginla, who played 1,554 NHL games, including 1,219 of them with Makar's hometown Flames as well as 225 games with the Avalanche.
"Growing up in Calgary, one of my big idols was Jarome Iginla. I was pretty set in playing as a D-man, but I liked Jarome for who he was on and off the ice. He was someone I looked up to. When I was really young, I was a big Mario Lemieux fan. Then you start looking at D-men, guys you try and model your game after, players like Nicklas Lidstrom, Duncan Keith and Drew Doughty. But growing up in Calgary, just like a lot of Calgarians, Jarome Iginla was my idol, for sure."
PARTING SHOT
"There is definitely a lot of FaceTime and a lot of texting. Whether it's with family or the boys back home in Calgary, or a lot of the UMass guys I stay in contact with, it's just trying to fill that void." – Makar, on keeping in touch with family and friends during the playoffs.