NHL and NHLPA celebrate Pride Month
This June, the NHL and NHLPA are celebrating Pride Month as part of their joint Hockey Is For Everyone year-round initiative.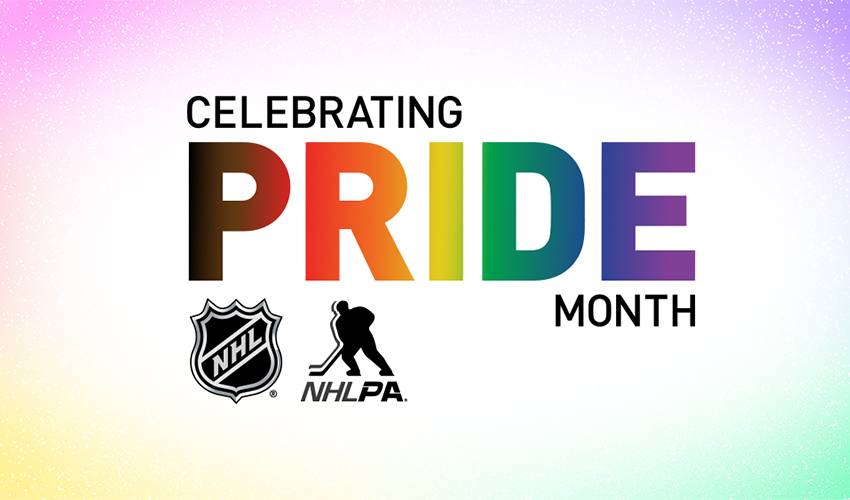 NHL AND NHLPA CELEBRATE PRIDE MONTH SHARING STORIES FROM ACROSS THE HOCKEY COMMUNITY OF 'WHY PRIDE MATTERS'

Hockey Community to Celebrate Virtual Pride Day on June 25; Visit NHL.com/Pride
---
NEW YORK/TORONTO (June 1, 2021) – This June, the National Hockey League (NHL®) and National Hockey League Players' Association (NHLPA) are celebrating Pride Month as part of their joint Hockey Is For Everyone™ year-round initiative.
The focus of this year's initiative will be 'Why Pride Matters,' with people from across the hockey community sharing personal stories on the importance of fostering a welcoming environment in the locker room, front office, and in the stands. These stories will be shared across the League's social and digital platforms throughout the month.
"We are fortunate to have incredible members of the LGBTQ+ community as fans, Players and employees in the game of hockey today," said Kim Davis, NHL Senior Executive Vice President of Social Impact, Growth Initiatives and Legislative Affairs. "The NHL's celebration of Pride has gained strength and meaning over the years, and while we take this month to honor those who are accelerating inclusion in the sport, our aim is to continue to improve hockey experiences for all who identify as lesbian, gay, bisexual, transgender and queer."
Also this month, NHL.com/Pride will feature a series of stories highlighting members in the community who are actively being inclusive allies and working to break down stereotypes. One feature this month will highlight the New York City Gay Hockey Association, an organization that is looking to create a scholarship fund to help members who have been impacted by the pandemic pay for ice time and fees. And later this month a story will feature the Seattle Pride Classic which will become the first-ever game hosted by the Seattle Pride Hockey Association, just a few months before the NHL's 32nd franchise drops the puck.
The stories shared this month will culminate on June 25 when members from across the hockey community are invited and encouraged to celebrate NHL Pride Day, a virtual day on social media focused on uniting the entire hockey family, both LGBTQ+ teammates and allies. Fans are encouraged to participate and follow the conversation using the hashtag #NHLPride.
"While the Players proudly celebrate Pride Month together with the NHL, it is important that we work to ensure hockey is inclusive and welcoming to everyone, including all members of the LGBTQ+ community," said Mathieu Schneider, NHLPA Special Assistant to the Executive Director.
NHL Pride Day will also feature content from NHL teams who hosted Pride Games this season. For nearly a decade, teams have been hosting Pride Games with participation from Players, Club executives, local LGBTQ+ organizations, and fans. Earlier this season, the Pittsburgh Penguins and Buffalo Sabres co-hosted the first-ever joint Pride Game, with Players stepping onto the ice for warmups wearing the Progress Pride Flag on their sleeve. The game brought together two cities, sharing stories of inclusion, hope, and allyship.
The NHL and NHLPA's ongoing partnership with the You Can Play Project and Pride Tape continues this season. Since 2013, the League and Players' Association have been partners with the You Can Play Project, an advocacy organization fighting homophobia in sports. The partnership was You Can Play Project's first with a North American professional sports league and has evolved into a growing community with more than 100 professional hockey players voicing their support for gay teammates.
Pride Tape, an unmistakable badge of support across the hockey community, continues to be used on Players' sticks. Since it was introduced in 2016, the rainbow-colored tape has been used by Players from all NHL teams. The simple gesture aims to send a clear message to the LGBTQ+ community that hockey is an inclusive environment, and everyone is welcome. Proceeds from the purchase of Pride Tape support LGBTQ+ youth outreach and educational initiatives, and is available for purchase on shop.NHL.com.