After the Buzzer | Alex Tuch
It's a small world after all. Alex Tuch discusses his family's Vegas connection, their playoff mood and more in After the Buzzer.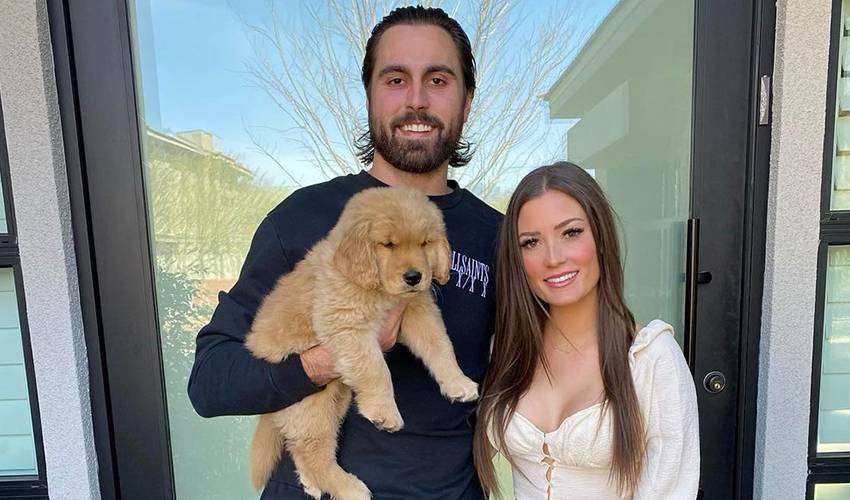 Feature Photo: Instagram / @alextuch89
From their bond with fans to their efforts in the community – and everything in between – 'After the Buzzer' is a weekly series taking readers beyond the rink to shine a light and provide insight on players' lives away from the game.
---
Who is Alex Tuch's new best friend? The Golden Knight now has a new golden pal at home.
Ahead of the playoffs, Tuch stopped by NHLPA.com to talk about life as a new dog dad, how his family and friends react to the postseason, the teammate he plays video games with and more.
STRESSFUL TIMES
Although Tuch is the one in the middle of all the playoff action, his family and friends are the ones on edge watching the Golden Knights chase Stanley Cup glory.
"They're pretty stressed out, honestly. It's a great time of the year and it's lot of fun to be in the playoffs, but it's never the easiest thing on you. My parents lose sleep, all my family and friends back home lose sleep, but that's just how it goes. Everyone really enjoys it, but it can definitely bring out a lot of stressful moments."
FAMILIAR FACES
Luke Tuch, Alex's brother and the 47th overall draft pick of the Montreal Canadiens in 2020, is coming off a standout season with the Boston University Terriers. One of his Terriers teammates happens to have a Vegas connection.
"Luke actually went to school this year with [Golden Knights head coach] Pete DeBoer's son, Jack. Luke also grew up playing against Pete's other son, Matt. My dad knew Pete before I came to Vegas. A week prior to him getting the job with Vegas, my dad ran into Pete at a USTDP game against Boston U. My dad went up to him and said, 'Hey, Pete. I just want to let you know you're a great coach and you'll get a job soon.' Little did they know Pete was going to get the Vegas job a week later. It's kind of a small
world."
MIND AT EASE
Tuch, who had eight goals and four assists in 20 games in last season's Stanley Cup Playoffs, does his best to unwind away from the rink, especially at this time of the year.
"When you just want a little time to rest your mind before you put the focus on hockey, you just find the little things to do to relax. For me, that's trying to find new shows to watch. When we've been on the road, I've been crushing all kinds of TV shows. Really, it's just about staying healthy and being relaxed before you head to the rink."
DOG DAYS
The latest addition to team Tuch comes in the form of a golden retriever named Teddy. The forward and his girlfriend, Kylie, have been enjoying life with their new pup.
"I love hanging out with him. He's almost five months and he keeps us busy. They're beautiful animals, but they are way too smart for their own good sometimes. Man's best friend… they call them that for a reason."
DUTY CALLS
When Tuch gets down to a little gaming, it's all about Call of Duty for the 25-year-old forward, and he's found a teammate who is happy to join forces with him.
"I play Call of Duty: Warzone. I've been playing a lot with Mattias Janmark ever since he got traded here. I found out from my old buddy Malcolm Subban [Chicago Blackhawks goalie] that he's a gamer, so we got along right away. We play on the same team when we're gaming. We both have our different strong suits and abilities. It's always a good time."
PARTING SHOT
"Having Teddy with us now, he always makes you smile. Whenever you're having a tough day, he always brings you up. He's always happy to see us, but I think we're even happier to see him every day." — Tuch, on living the good life with his golden retriever.