Ovechkin joins Washington Spirit ownership group
Inspired in part by his mother Tatyana, a 2x Olympic gold medal basketball player, Alex Ovechkin is all in on supporting female soccer and the D.C community.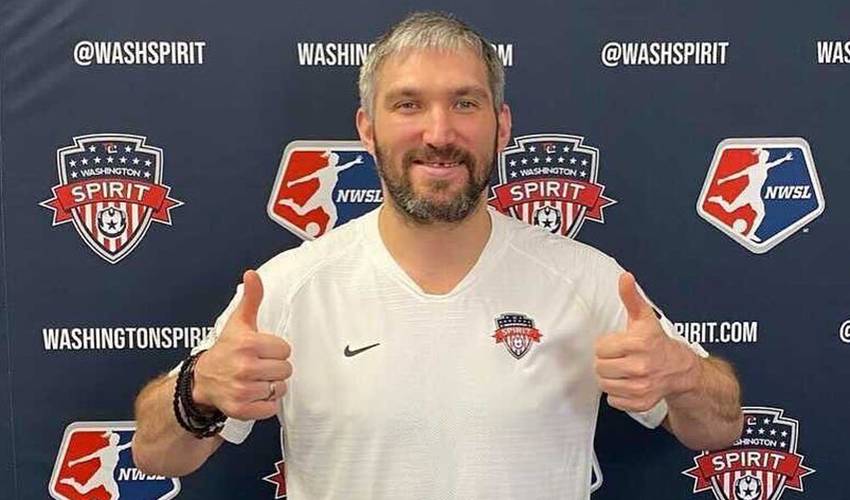 Feature photo: IG / @WashingtonSpirit
---
When the Washington Spirit of the National Women's Soccer League (NWSL) recently announced that Alex Ovechkin and Nastya, his wife, had joined the club's investor group, it was hard to tell who was more excited about the big news.
In soccer parlance, it would be a draw.
"I'm excited to help grow women's soccer in Washington, D.C.," said Ovechkin, captain of the Washington Capitals. "Being a huge soccer fan that I am, I can't wait to attend games and practices and help promote these great players."
Established in 2012, the NWSL is a 10-team Division-I women's professional soccer league featuring national team players from around the world. Based in Chicago, the NWSL is supported by the Canadian Soccer Association and the United States Soccer Federation.
Tori Huster, midfielder for the Spirit, can't wait to get the 'Great Eight' out onto the pitch.
Huster has enjoyed soccer success at the collegiate, international and pro ranks, and is thrilled to have Ovechkin aboard. As for the thought of the three-time Ted Lindsay Award recipient joining the Spirit for practice, Huster already has some ideas in mind.
"We'll go easy [on Ovechkin] since there's less pads in our sport. It would be fun to watch him take a penalty against Aubrey [Spirit goalkeeper, Bledsoe]."
The playful challenge aside, Huster, who was elected president of the NWSL Players Association in 2020, believes the backing of Ovechkin and other celebrity Spirit investors has the ability to be a game-changer for not only the Spirit and the league itself, but female soccer as a whole. Ovechkin adds to a list that includes former first daughters Chelsea Clinton and Jenna Bush, Olympic gold-medal-winning gymnast Dominique Dawes and National Soccer Hall of Famer Briana Scurry.
"I think it's encouraging to see male athletes take an interest in female sports. To have Alex join our investor group draws attention to our club from a community we potentially wouldn't reach otherwise. Having his status and investment naturally makes people begin to ask questions and in the answers, they'll find out there's a women's professional soccer team in D.C. It's going to take a large group of individuals who genuinely value what we do and expand others' views on female sports. This is a really good place to start."
As a Stanley Cup champion with an ever-growing list of awards and all-time lists he's climbing, 35-year-old Ovechkin continues to prove himself as one of hockey's all-time greats.
But it's not just what he does on the ice that impresses Huster. The Cincinnati native believes the impact of an athlete of Ovechkin's stature will benefit the NWSL on numerous levels.
"I think it has the potential to open some doors, start conversations that otherwise wouldn't be had. Having an owner/investor who is a player himself will allow him to advocate for player needs and better standards, which in turn will attract better international players and so on. The possibilities really are endless and I'm excited about where this can go."
In fact, supporting equality in sport is something that hits close to home for Ovechkin, whose mother Tatyana is a former basketball player and two-time Olympic gold medalist.
"I've been involved in women's sports since I was a little kid," Ovechkin told NHL.com. "My mom was a professional athlete, and I know it was hard to get attention [for] that. Just to support women's athletes, I think, is very important in the community and I'm happy to be a part of it."
Also a noted soccer fan himself, Ovechkin's father, Mikhail, was once a professional soccer player too. A supporter of Barcelona and Liverpool, the younger Ovechkin can now add the Washington Spirit to his list of favourite clubs.
"I'm proud to be a part of a league that is arguably the most competitive and best league in the world top to bottom – and also as far as talent is concerned," said Huster. "In the U.S., we have a depth of talent that cannot be matched in any other country. If you can find a way to be successful in our league, it's safe to say you'd be successful anywhere."
Finding a way to turn aside an Ovechkin penalty kick would be a success story in itself, though we'll have to stay tuned on that front.
In the meantime, Ovechkin is looking forward to first meeting the players and getting as involved as he can.
"If I have the chance, I have the time, I'd love to go to a practice, would love to go to the games," told ESPN.com. "I'm looking forward to meeting the players. I think it's critical to be involved with those kind of things. To support women's soccer, I think it's pretty cool."