After the Buzzer | Brandon Tanev
From boy bands to comedy classics, Brandon Tanev goes all-out '90s in picking his pop culture favourites.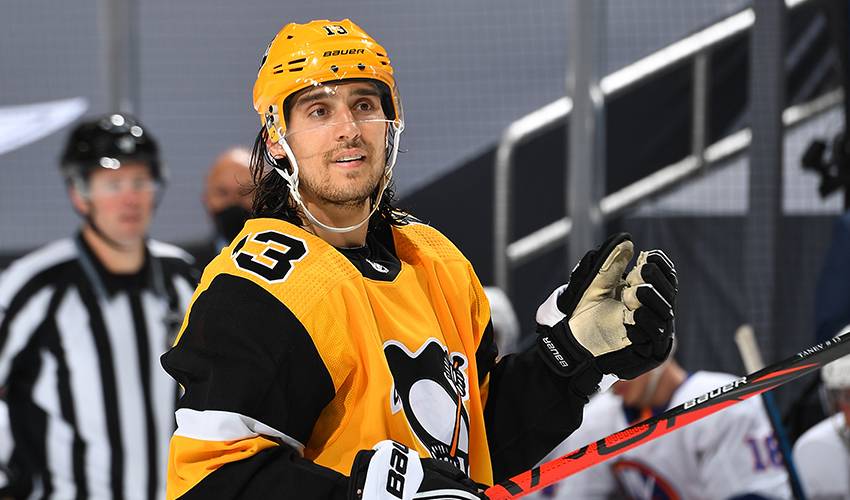 Feature Photo: Getty Images
From their bond with fans to their efforts in the community – and everything in between – 'After the Buzzer' is a weekly series taking readers beyond the rink to shine a light and provide insight on players' lives away from the game.
---
Whenever Brandon Tanev needs a chuckle, the versatile Pittsburgh Penguins forward turns to a comedy classic to help deliver a few laughs.
The 29-year-old stopped by NHLPA.com to talk about that, the concert he wasn't embarrassed to admit he liked and more.
YADDA YADDA YADDA
Award-winning comedy sitcom "Seinfeld", which ran from 1989 to 1998, is a go-to for Tanev whenever he is battling a little boredom.
And he is not the only one in his family who enjoys going retro for his comedy fix.
"I'd have to go with Seinfeld. We used to watch it all the time when we were growing up. Our dad is a huge fan. Chris [his older brother and Calgary Flames defenceman] and I are really into the show. The characters are all great and it's always good for a lot of laughs. Whenever I'm bored and need something to watch, I'll put on a few episodes, sit back and enjoy it."
HE WANTS IT THAT WAY
Formed in 1993 in Orlando, Florida, the Backstreet Boys have produced many Top 40 hits, while their self-titled debut album was an international success.
Did we mention that they had a young fan and future NHL player in the crowd at one of their concerts?
"As a kid, I was a Backstreet Boys fan. I think going to see them was one of the first concerts I went to as a kid. When you're a kid, you're just happy to get to go to a concert, but I really liked it."
VIVA ITALIA!
Tanev, who is a big fan of Italian food, served up his ideal dinner menu.
Spoiler alert: it features pasta.
"I love a Caprese salad followed by a nice chicken parmigiana. Throw in some angel hair pasta and some oil and garlic and that makes for a really nice dinner. That's definitely one of my favourite meals. I really enjoy Italian food."
TABLE FOR FOUR, PLEASE
If he had the opportunity to sit down for a chat with three famous people, Tanev would choose a famous golfer, an NBA legend and a rock & roll star.
"I'd go with Tiger Woods, Michael Jordan and Steven Tyler from Aerosmith. They would all have some very cool stories to share and it would be nice have the chance to ask them about their lives and all the success they've had."
JUST VISITING
If Tanev had his pick of one place to visit – a spot that he's never been to before – he would opt for the Maldives, a nation of islands in the Indian Ocean that spans across the equator.
"I'd love to go to there. I've heard great things from people I know that have been there. It's a tropical oasis – the beach, relaxing, the weather, being away from everything – and I'd love to go there one day. It would be pretty cool to experience all of that."
PARTING SHOT
"There are times you want to relax and have a good laugh. Any time I'm in that mindset, I usually put on a few episodes of Seinfeld. I always know that I'll get a few big laughs out of it." – Tanev, on his favourite sitcom.