From the diamond to the rink, softball stage fed Soucy's hockey career
Prior to his professional hockey career, Carson Soucy was representing his country on the national stage in a different sport.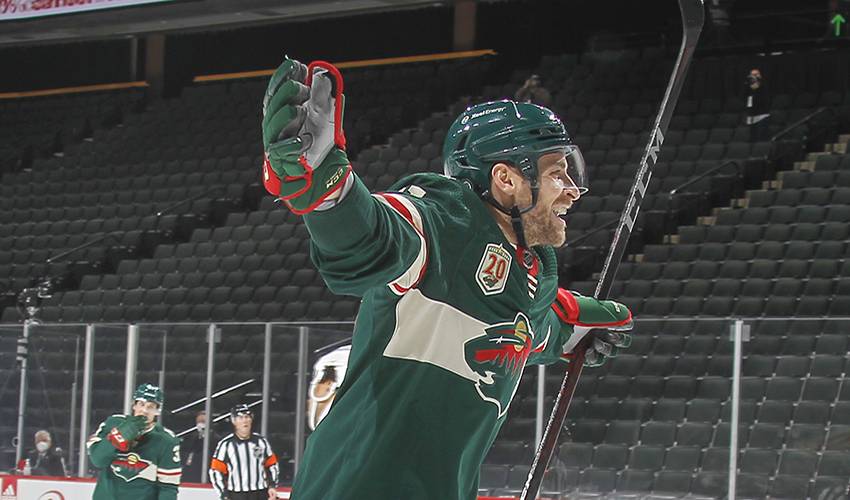 Feature photo: Getty Images
---
Carson Soucy is no stranger to coming up clutch with the game on the line. Producing a big hit, pumping up the home crowd or recording a timely assist – he's done all of that in the NHL, and on the diamond too.
It should really come as no surprise that the 6-foot-5, 211-pounder who patrols the blue line for the Minnesota Wild is a do-it-all type of defenceman.
Prior to his professional hockey career, Soucy, a fifth-round selection in the 2013 NHL Draft, was an accomplished softball player. Primarily an outfielder, he also played the infield and took to the mound on occasion.
One of the biggest highlights on the diamond, no doubt, was representing Canada at the 2012 International Softball Federation's world junior men's fastpitch championship in Argentina.
"It's just always good to look back on those memories," said Soucy, who calls Irma, Alberta, home. "Softball was always my favourite thing to do in the summer. It was awesome to get over to Argentina, for sure. Just that experience in itself – playing in a different country, getting to play for your country and playing with friends from your hometown – was something you don't ever forget. It was a great time.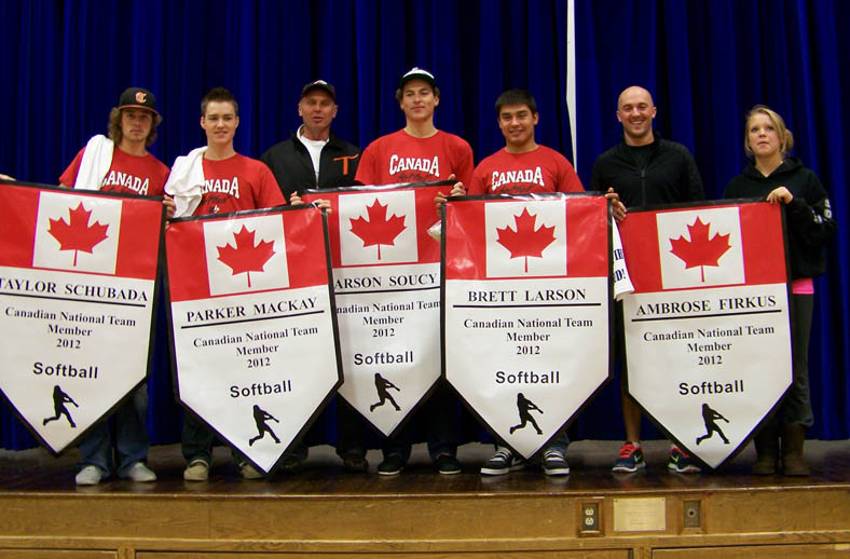 Not bringing home a medal was the only downside.
If the timing of the tournament had been earlier on the calendar, Soucy believes it could have been a different result for Team Canada.
"Unfortunately, it was in November, so we hadn't been playing much ball at the time. I wish it was a middle-of-the-summer tournament for us and maybe we could have done a little better. But all in all, just to be in that position was an awesome feeling."
Another big moment for Soucy was winning the U21 Men's Canadian Fast Pitch Championship in his hometown.
What made the triumph even sweeter was how he and his teammates managed to do it.
"Our small town of Irma hosted the nationals [in 2014] and we won it. We had a great group of pretty much local guys that grew up together. We won in front of our home crowd, our families and our friends. That was awesome. I think it was the sixth inning, where we were down 2-1 and came back and made it 3-2. We just held them off from there, but it was really close the whole way."
Beyond those experiences, simply being able to play the game, wherever he happened to find himself on the diamond, has always been a thrill for Soucy.
"I really played everywhere, which was great. It gave you a lot of different perspectives of the game. Whether it was pitching, second base, outfield, designated hitter – it was always fun for me."
And, in some ways, it also helped Soucy with his hockey career.
"I think with playing softball, it was more about the mental side, in that you were able to get a break from playing hockey year-round. That was the biggest thing about playing multiple sports. It also did help with your hand-eye coordination and being athletic, but mentally it was great to do something outside of the arena, having different teammates and making new friendships. For me, playing softball made me that much more excited to get back on the ice again. I always looked forward to it."
These days, Soucy's off-season sport of choice is golf. In the summer, he'll hit the course several times throughout the week.
His talent on the greens and fairways, admittedly, doesn't come close to measuring up to his softball and hockey skills.
"I don't think anyone on the PGA Tour has to worry about me making it to that point. I just really like the chance to get out there and have a little fun."
For now, the focus will be on helping the Wild carry their strong regular season play into the Stanley Cup Playoffs.
Ready for the challenge, Soucy even managed to throw in a baseball term without realizing it.
"Before the games and during the games, we're excited to be in the position we're in. It's fun and it helps when you're winning but it started right off the bat this year, just having fun as a group. And that's something we've carried with us throughout the season."