Norris leaving it all on the ice
Josh Norris is bringing his all to NHL ice and taking a clear mind home amid a strong rookie season.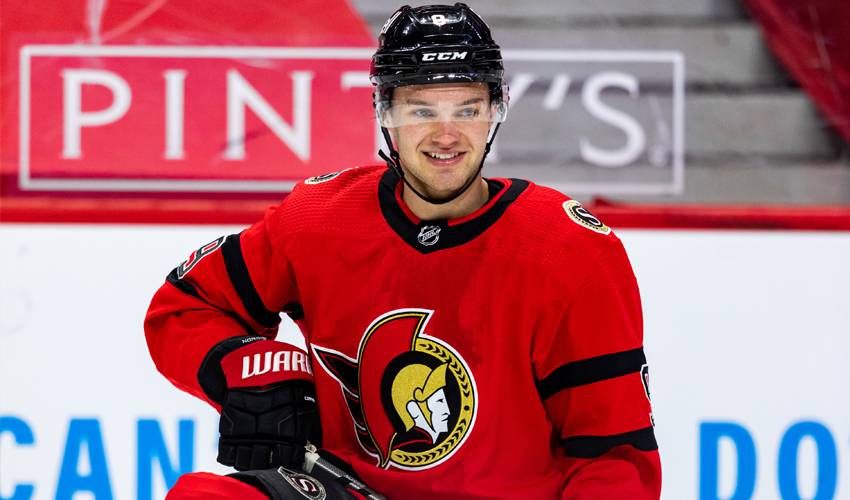 Feature photo: Getty Images
---
Two keys behind Josh Norris' NHL success? Big-time talent and an unfettered mind.
It's only fitting that a call with one of the league's top rookies takes place in Vancouver, where Norris and his Ottawa teammates recently played back-to-back games against the Canucks.
The picturesque scene outside his hotel room isn't lost on the 21-year-old centre.
"I actually have this amazing view," started Norris. "There's a little waterway I can see and it's a perfect day. It's one of my favourite cities to play in. It's been nice to walk around the city a little bit and take in all the scenery."
Getting out and about has been a big thing for the rising young star.
Whether it's on Canada's west coast, in his NHL home city of Ottawa, or in his Michigan hometown, Norris is anything but a homebody, preferring instead to spend as much outside as he can.
Win or lose, the Senators forward has found a way to strike the ideal hockey-life balance.
"I think it's so important to feel comfortable away from the rink so that you can be at your best when the puck drops. I've definitely become more comfortable with myself and my game as the season has gone along. I remember there was a stretch of games where we playing a ton, and maybe I didn't have my best for a few games. I just regrouped and tried to keep a more day-to-day focus, so I could keep fresh, mentally, and not try to look too far ahead. I've grown a lot, mentally, and because of that I think I'm playing my best hockey of the year."
The numbers, along with his strong overall performance, certainly back Norris' assessment.
He currently ranks third in rookie scoring with 31 points, and his 14 power-play points lead all rookies. Recently, he had a six-game point streak.
Add in a strong percentage in the faceoff circle, along with a steady increase in ice time, and Norris has become a go-to player for the Senators.
Norris, who came to Ottawa in a trade with the San Jose Sharks in September 2018, credits veteran forward Derek Stepan in helping him with his on-ice growth.
"It wasn't necessarily one thing that he said, but he was so good for me. He is such a positive guy and has a great attitude. I really look up to him. Unfortunately, he's out for the season, but one thing I do remember him telling me was not be too hard on myself, that you are here for reason, and to believe in your abilities."
Norris, selected 19th overall by the Sharks in the 2017 NHL Draft, has listened to Stepan's words.
Rather than letting the sting of a loss or bad game linger, the 6-foot-1, 201-pounder deals with it in the moment and then turns his focus to the next challenge.
That's where the great outdoors comes into play.
"It's something that I've had to learn over time, not just this year, about being too hard on myself. When I'm at the rink, I'm fully engaged 100 percent and my mind is focused on whatever it is – practice, workout or a game. The moment I walk through the door at the rink, I'm a hockey player. Once I'm home, I try to enjoy myself and do the things I want to do.
"Since the weather has been great, I've really liked to get out and go for walks. I enjoy walking around the neighbourhood in Ottawa. That's something that Brady [teammate and close friend, Tkachuk] and I will do a lot. I'll also watch movies and television, nothing in particular. I cook as well. But I really enjoy being outdoors."
Although he's less than 60 games into his NHL career, Norris has some advice for players who might get the chance to skate on the big stage one day.
"I think I would tell them to separate life from hockey – to do your best the moment you get to the rink and to make sure you're happy and content away from it when you're not playing. Be confident in yourself and carry that to the rink. Once you're home, have fun. Enjoy life and don't take things too seriously."
It's a big factor in why the former U.S. National Development Team program member, who won gold for his country at the 2017 IIHF World U18 Championships, continues to up his NHL game.
An unburdened mind has been a huge assist.
"I don't like sitting around all day thinking about hockey and maybe being too hard on myself. I find when I go to the rink and give my all, that I don't have to worry about that when I get home. It's a little cycle that has really helped me."