After the Buzzer | Brandon Montour
Newly landed in the Sunshine State, Brandon Montour provides an important pupdate from Florida reveals his childhood hockey idol, and more.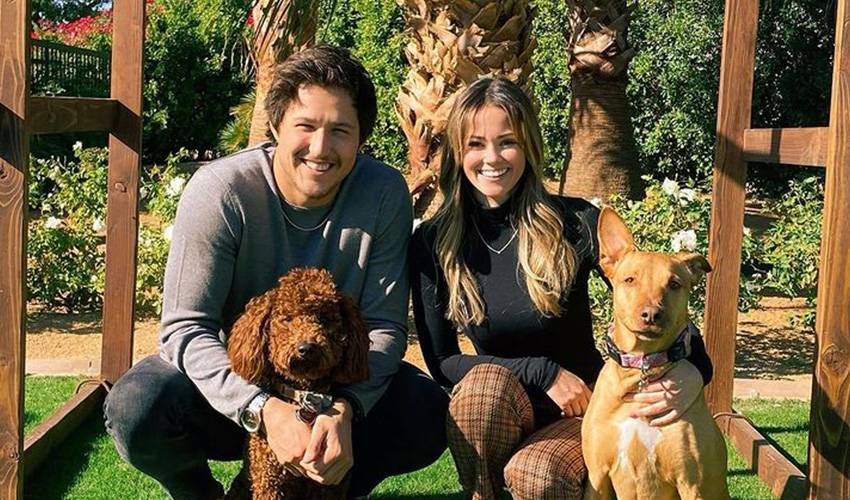 Feature Photo: Instagram / @montour
From their bond with fans to their efforts in the community – and everything in between – 'After the Buzzer' is a weekly series taking readers beyond the rink to shine a light and provide insight on players' lives away from the game.
---
Which Hockey Hall of Famer would Brandon Montour like to have gone one-on-one against?
The 27-year-old defenceman for the Florida Panthers who was traded from the Buffalo Sabres on April 10 chatted with NHLPA.com about that, lacrosse, LeBron, dogs, and more.
SLAM DUNK
Montour's favourite athlete is NBA legend LeBron James. The 55th overall draft pick of the Anaheim Ducks in 2014 has seen the four-time NBA champ and MVP hoop it up live on a few occasions.
"I think he's just a freak of an athlete, how big and powerful he is. His success and how dominant he is, I think any athlete can take that and learn something from it. He's obviously been at such a high level for so many years. When I was playing in California, I got to see him play a handful of times. That was pretty cool to see. He's unbelievably powerful."
LACROSSE BOSS
A talented lacrosse player growing up Ohsweken, Ontario, Montour has been able to add some of the skills he learned from the sport to his NHL repertoire.
He was part of the Six Nations Arrows team that won the 2014 Minto Cup, the Canadian junior men's lacrosse championship.
"I think the pace comes to mind in comparing lacrosse and hockey. Lacrosse is a fast-paced sport and it's also very intense. There are a lot of battles that go on throughout the course of a game. The competition level is strong too. I think all of those things have helped me with hockey. There are probably a few more penalties than I'd like – cross-checking or slashing – but that just comes with the territory of playing both sports growing up."
HOT DOGS
When Montour got the news he had been traded to the Panthers, he made sure that his two pooches, Libby and Ginger, would come along for the ride.
So far, the dog duo is doing their best to acclimatize to the warm Sunshine State weather.
"The whole crew showed up in Florida. Whenever you have a bad game or are having a bad day, you go home and your dogs don't care if you win or lose. They're just happy to see you. That brings you some joy every time."
"They're going to have to transition to the weather. So far, the little guy [Libby] doesn't like the heat much. Ginger is the older one… she's about 50 pounds or so. She's a California dog, so she's used to the warmer weather. Libby, I got him just outside of Buffalo, so he's not used to it yet."
NO. 62 VERSUS NO. 19
If Montour had the chance to go head-to-head with an NHL legend in his prime, he'd choose former Detroit Red Wings superstar and three-time (as a player) Stanley Cup Champion, Steve Yzerman.
"I'd go with Stevie Y. He's an idol of mine. I grew up watching him and I was a big fan of the Wings when they had those high-end players."
SPECIAL GUEST STAR…
If Montour were given the chance to star on any TV series, which one would he go with?
"That's a tough one. I've recently watched Suits and Animal Kingdom… that's a pretty good one. I might have go with Billions. I'm kind of all over the place with what I'm watching. I'd probably go for one of those. It would be pretty fun to have a small part in a TV series."
PARTING SHOT
"Playing your first year and you see of some of the guys you grew up watching, it puts you in awe of them. But I think if I played against him, it would be a whole other level." – Montour, on the thought of sharing the same ice as Steve Yzerman.