Not cut out for the family business, Vatrano carries on a tradition of hard work
Putting in a 20-minute shift may sound like a memorable moment for a hockey player, but Frank Vatrano is sheepish discussing this particular off-ice outing.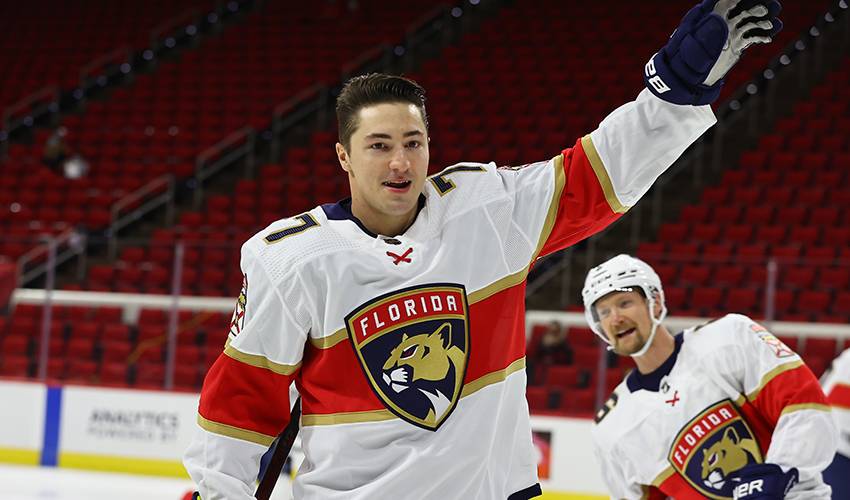 Feature photo: Getty Images
---
It was a shift that lasted 20 minutes, but it was anything but a memorable one for Frank Vatrano.
"Actually, it's a pretty funny story," started Vatrano. "I did work at my dad's restaurant when I was a kid, but it wasn't for very long."
His time at Antonio's, a popular grinder and pizza spot in Springfield, Massachusetts, actually lasted the same length as one hockey period.
There is a slight tone of embarrassment in the Florida Panthers forward's voice when he recalls his brief gig.
"I went in and I really didn't know what I was doing. My dad [Greg] told me to go out and sweep the parking lot, and I told him I didn't want to. So, my mom [Clara] told me to leave and that was the end of my job there."
While things didn't pan out at Antonio's, they eventually did with Vatrano's pursuit of an NHL career.
Vatrano played with the Boston Junior Bruins before joining the USA Hockey National Team Development Program for two seasons. He played another season with the Junior Bruins before moving on to the University of Massachusetts-Amherst.
After 18 goals in one campaign with the Minutemen in 2014-15, Vatrano, then a redshirt sophomore, went undrafted. He went on to sign a three-year entry-level contract with the Boston Bruins organization March 12, 2015 and soon after announced his arrival that same year by scoring his first NHL goal in his Bruins debut November 7.
Vatrano played 108 games with his hometown Bruins before a trade brought him to the Florida Panthers on February 22, 2018. In his first full season with the Atlantic Division club, he recorded a career-best 24 goals and 39 points.
Vatrano has become a mainstay in the Panthers lineup, earning widespread praise from coaches and teammates alike for his dependable all-around play.
The left winger credits his parents, and Antonio's, for helping him to understand the importance of being committed to his craft.
"My mom worked at my grandfather's restaurant, and that's how my mom and dad met," said Vatrano, whose grandfather Sammy (now in his 80s) owns another Antonio's location about a 10-minute drive away in Springfield. "My dad, he took over the restaurant when he was 26. He's been doing that ever since and he works hard every single day. I really look up to him and my mom, the way they put my three brothers [Sammy, Greg, and Mike] through school and hockey. If it weren't for them, I wouldn't be where I am today."
Life is indeed good for the Vatranos these days.
Frank has been a big contributor to Florida's strong 2021 NHL season. Despite the widespread impact of COVID-19 on restaurants, business has been steady at both Antonio's locations.
"My parents and my grandfather, they all work hard every day to see the restaurants do well. My dad, he's got the American International College scene because he's right across from it, and my grandfather is right downtown, near the casino and Basketball Hall of Fame. He's right off the highway. We're lucky, in terms of both places being busy."
As for what he'd suggest on the menu, Vatrano, an admittedly picky eater when he was younger, has a couple of personal favourites.
"The cheeseburger grinder is really good. Obviously, the pizzas are great too. I'm a big fan of the slices. You go in there, pick your toppings and they pop it into the oven and it gets nice and crispy. Those are always good."
Vatrano has become somewhat of a grinder himself, a player with the ability to impact a game in a multitude of ways.
Equally adept at scoring goals as he is in preventing them, he's developed into a premier shot-blocker, a strong two-way forward and solid presence on the penalty kill.
"I'm very lucky to be in the situation I'm in. It's a great group here. We've had a good year, showing that we can compete with the best teams in the league. We're keeping things loose and we're just having fun. We're a close-knit group and hopefully, we can have a long run when the playoffs come around."
Whenever he does head back home after the NHL season comes to a close, he'll be a regular presence at both Antonio's locations. If he's not grabbing a slice, he'll drop in to see how his parents and grandfather are doing.
And if he's asked to sweep the parking lot, what would his answer be this time around?
"If they need the help, I'll do it," he said, adding with a laugh, "Not sure how long I'd last though."