Firmly in the Calder Trophy conversation, Kaprizov has been money for Wild
Kirill Kaprizov has been money for the Minnesota Wild while assembling an impressive rookie season.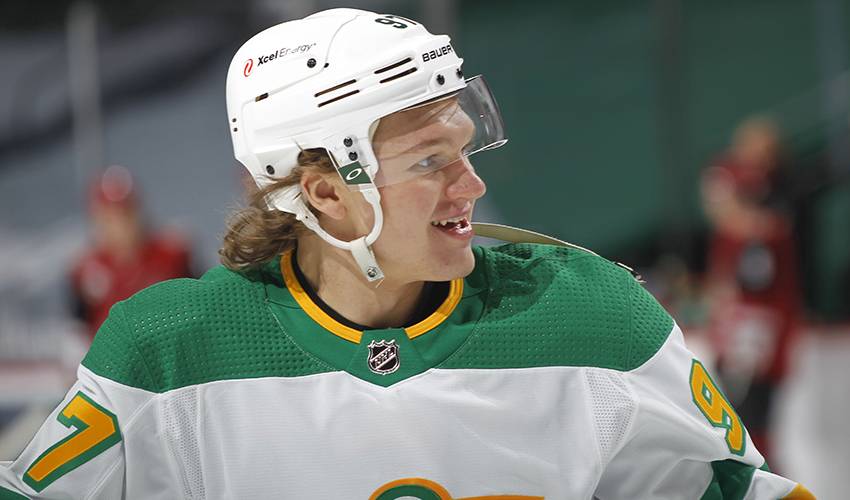 Kirill Kaprizov has been money for the Minnesota Wild, just ask his teammates.
Dubbed 'Dollar Dollar Bill Kirill' along an impressive rookie campaign, the moniker and the forward's play have combined for more than enough reason to put smiles on the faces of those he plays with. His popularity, however, isn't solely defined by his offensive output.
He doesn't quite have command of the English language yet but one thing that doesn't get lost in translation is the praise his teammates can't help but shell out.
"He's super fun to be around because he's not only trying to always get better and win every time he steps on the ice, but he does it in a very lighthearted way," said two-time Stanley Cup Champion and teammate Ian Cole. "It's more of an internal drive to be great rather than an external drive."
The aforementioned nickname was bestowed upon him by Wild defenceman Matt Dumba and has created some serious buzz on social media. It also spawned a t-shirt, one that Wild players are happy to wear in support of No. 97.
"He's a good kid," praised goaltender Cam Talbot. "... there's a big language barrier, but you can tell he's tried really hard at that. There is still that language barrier, but he's so happy to be at the rink every day. He works hard and he's just so happy to be there. He's a great teammate, he's always smiling… that's really nice to see."
Although Cole liked the look of the shirt, it wasn't necessarily a perfect fit for a different reason.
"I put it on at the rink one time. The colour, it's kind of an off-white, like cream, and it basically matches my skin tone to a tee. It's not exactly a go-to t-shirt for me. The pasty white isn't a great colour for me. But all of it has been great. He's a fun kid and this is a fun team."
Before taking the NHL by storm, Kaprizov was making a name for himself in the KHL.
He was third in KHL scoring with 62 points in 2019-2020 and finished with 51 points the season before. He was a top contributor for Russia at the 2017 World Juniors, 2018 IIHF World Championship and led his squad with five goals at the 2018 Winter Olympics, where he scored the gold medal-winner in overtime against Germany for the Olympic Athletes from Russia.
Since launching his NHL career this season, the 23-year-old left wing from Novokuznetsk (the largest city in the Kemerovo region of Russia) has dazzled on a near nightly basis.
He announced his NHL arrival in style, becoming the third player in NHL history to score an overtime goal in his first career game played January 14, joining Tim Sweeney (1990-91) and Nick Knott (1941-42) as the only others to achieve the feat. He also had a pair of assists in the 4-3 win.
The 5-foot-9, 201-pounder hasn't missed a beat since. He's stamped himself as a dynamic player and a budding superstar with a serious threat to take home the Calder Trophy for the player deemed most proficient in his first year of competition.
On March 12, Kaprizov netted his first career hat trick, which coincided with Talbot recording his first shutout as a member of the Wild.
The veteran netminder, who signed as a free agent with Minnesota last October, had high praise for Kaprizov after his three-goal effort.
"Players like that are very special and they don't come around that often," said Talbot. "Having a guy like him on your team in a 0-0 game, you always feel like you have a chance for sure… Anytime he touches the puck, a special play could be coming. It's fun to watch and I'm happy he's on our side, for sure."
Talbot thinks it's only the beginning for the first-year NHLer.
"He definitely does [have reason to smile]", offered Talbot. "But what he does out there also gives us plenty of reason to smile too. Sometimes you look at some of the plays that he makes… I've played with a lot of great players in this league, Connor [McDavid] being one of them, and 'Kappy,' he's something else. He's on another level as well."
Just like the t-shirt implies.