Bell, Briggs-Blake keeping grassroots hockey accessible
This March the NHLPA and NHL are celebrating women from across the hockey community in honour of Gender Equality Month, a Hockey Is For Everyone initiative.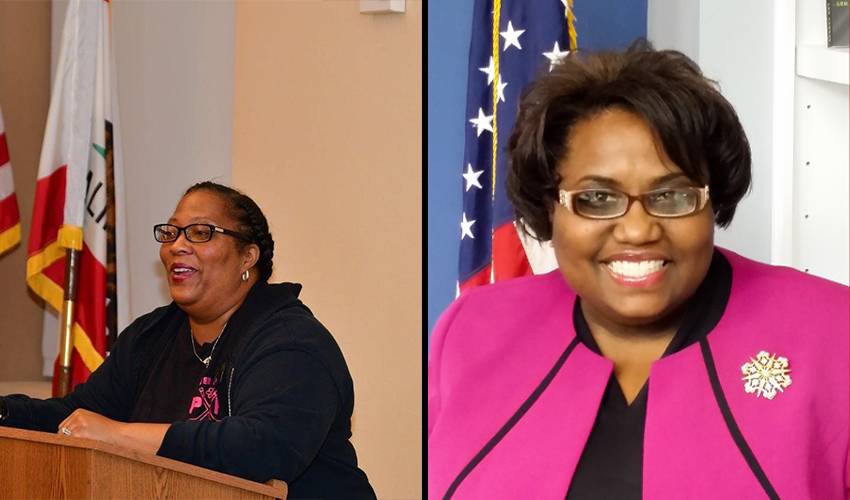 When Lameka Bell started the Power Project eight years ago, there was one thing in particular she wanted it to inspire.
Whatever form her idea took, the one that would help young minority girls in southern California through hockey, the veteran of the Hawthorne Police Department (HPD) wanted the message and mantra of hope to be at the core of it.
How the program became known Power Project is a story in itself.
"I didn't know what I wanted when I first started," said Bell, who works in the HPD's Community Affairs Unit. "Chris [Cognac, Hawthorne Sergeant] and I would sit in our office and talk about ideas. Someone told me to type in 'pro female black hockey players.' Nothing came up and I thought, 'Is my computer broken?' So, I just started doing research around the general area. There were no hockey activities for kids where we were. The more I looked into it, the more I saw how expensive hockey is as a sport. But that didn't stop me. I thought, 'You know what? I'm going to create a hockey program.'"
And that's exactly what Bell, a 27-year veteran of the HPD, set out to accomplish.
In 2013, her efforts paid off with the unveiling of Power Project.
The program provides guidance to girls – between the ages of 8 to 14 – from underserved communities, with the opportunity to grow using mentorship to build self-esteem, positive life imagery, and instilling the belief in the girls they can accomplish any goal they set out to achieve.
For the past eight years, it's been a difference maker in the lives of many.
Hockey, in concert with the contributions of mentors and other positive role models from the community, helps guide and support the girls along their journey with Power Project.
The year-round program includes weekly on- and off-ice training, team building, body awareness exercises, nutritional expertise, and life skills coaching.
Coaches, from various professions, come from across the United States, to speak with the girls. That group includes female hockey players. The players are also guided by head coach Estela Rivas-Bryant, who has been instrumental in helping Bell recruit the volunteer coaches.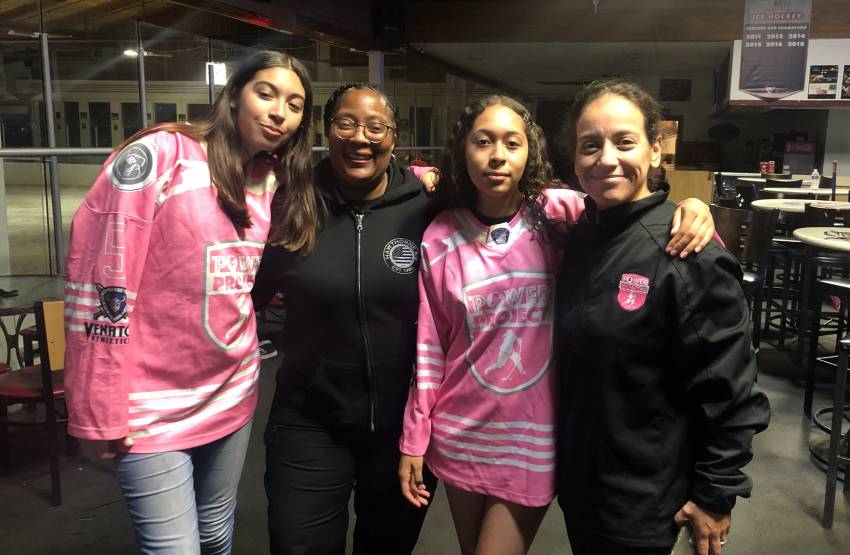 "These girls need to be mentored and they need to see different things that are out there," offered Bell. "They have to think outside the box and know that there is more to life. I also wanted to do a sport that is non-traditional to where we are. Everyone plays football, basketball and baseball where we are, but not hockey. So, that's how it came to be. I wanted to open the door to something different for girls, something that they have never done before."
The results have far exceeded Bell's expectations.
Success stories are seemingly endless.
"These kids have never been ice skating because most of the parents just can't afford it. To be able to open that door for so many girls, it's been epic for me. You have some girls that don't have anything, you have some girls that are in foster care, and some others who are battling depression. There are a lot of tough things you see, but we do whatever it takes to help."
Support for Power Project comes from far and wide, including Blake Bolden, the first Black player to compete in the National Women's Hockey League, and Los Angeles Kings radio analyst Daryl Evans, who have helped coach the girls.
In 2015, the NHLPA's Goals & Dreams program donated 25 sets of hockey gear to the Power Project. Kyle Clifford, Alec Martinez, and Tyler Toffoli – Kings players at the time – were some of the players who were on-hand for the event. G&D made its most recent donation of 25 sets of gear to the program during the 2019-20 season.
"I get tremendous support from everyone, the NHLPA, the parents of these girls… you can change the trajectory of someone's life with a program like this. This isn't just a sport for them. It's so much more. We bring in etiquette coaches, doctors, gynecologists – these girls learn everything. We take them on field trips, including to SpaceX [an aerospace manufacturer and space transportation services company]. One girl in our program wants to be an astronaut. How great is that? I want all of these girls to look forward to their future."
And to always have hope.
"To see them out there on the open ice, to see those smiles… it makes me so happy to know that the Power Project has truly made a difference."
---
Alexandria Briggs-Blake wasn't about to sit on the sidelines when tragedy struck the Tucker Road Ducks.
It was in 2017 when the predominantly Black hockey team based in Maryland lost their hockey arena, the Tucker Road Ice Rink in Fort Washington, after fire tore through the building leaving them without a place to play and the loss of thousands of dollars in donated equipment.
Amid the tragedy, the Tucker Road Ducks soon found inspiration through the actions of a bona fide team player.
Briggs-Blake, President of the Tucker Road Parent Hockey Organization (TRPHO) and mother of former Tucker Road Ducks players, went into action mode almost immediately after the fire.
"It's been a quite journey, but a great journey," said Briggs-Blake. "There were some unexpected detours, but all in all, it was worth it. It's one of those things where it's all about the kids. That's what would drive me throughout this. When the fire happened, my first thought was, 'What are we going to do about this?' We had something to figure something out. It went silent for a while, and my worry was that it [building a new rink] wasn't going to happen any time soon. That's when I kicked into action."
Although the path to building the Ducks' new home wasn't always smooth, Briggs-Blake remained undaunted throughout the process, tirelessly campaigning on behalf of the hockey organization.
Through her leadership, tenacity and advocacy, over $20 million was secured to build a new rink, which is scheduled to open in by mid-summer.
"We have had great partners to work with, including the MNCPPC [Maryland Parks and Planning committee]. They understood where I was coming from and once I rallied the community and everyone together, I was testifying at the State Capitol in Maryland. I got our local city council involved and was emailing people all over the world. We set up a GoFundMe page too."
The Ducks received a big assist from a two-time Stanley Cup champion who played the last five seasons of his NHL career with the Washington Capitals.
#Caps defenseman Brooks Orpik just surprised the Tucker Road Ducks with 25 sets of equipment, provided through the @NHLPA's Goals & Dreams program. The Ducks' rink burned down last January. pic.twitter.com/t9fjQ95Rdq

—

Tarik El-Bashir (@Tarik_ElBashir) January 10, 2018
"Brooks Orpik, he contacted us through our Facebook page," recalled Briggs-Blake. "He connected us to the NHLPA, and through its Goals & Dreams fund, we were able to secure 25 sets of brand new equipment."
The defenceman, who appeared in 1,035 regular season games, was on-hand to give out the equipment and sign autographs at Bowie Ice Arena in Bowie, Maryland, in January 2018.
"We thought, 'No way… Brooks Orpik really didn't reach out to us through our Facebook page.' But he did. He's always been one of my favourite players. We were really surprised and happily so. We had a real NHL player reaching out to us. He was amazing. I still keep in touch with him."
NHLPA Goals & Dreams touched down in Washington today so Brooks Orpik could field questions, personally hand out brand new hockey gear, and sign a few autographs! It's safe to say he and the young players from Tuckers Ducks had an awesome and memorable experience today. pic.twitter.com/rcFpyaIwD6

—

NHLPA (@NHLPA) January 10, 2018
Orpik offered up his support prior to Briggs-Blake being named as one of three finalists for the 2019-20 Willie O'Ree Community Hero Award, given "to an individual who – through the sport of hockey – has positively impacted his or her community, culture or society."
"Last year, when I was nominated by the Capitals for the Community Hero Award, he came out of retirement, so to speak, and wrote a quote about me. I couldn't believe it. I said to myself, 'Brooks, you're the best!' He's really helped me and the Tucker Road Ducks."
The TRPHO's mission is to foster and support youth ice hockey development for the Tucker Road Ducks Ice Hockey Team. Although the organization's assistance takes on many forms, ensuring kids who want to play ice hockey get that chance, regardless of their socio-economic status, is the top priority. Working with the MNCPPC, the Ducks are able to offer low registration fees and accommodations for families who are unable to afford those costs.
Inclusivity and resilience, Briggs-Blake offered, remain pillars of the Tucker Road Ducks identity.
"I'm so proud of our diversity, who we are, and what we represent. When you are faced with the adversity that we have endured, you find a way to push through the tough times, and whatever the issues may be. That's the mindset I had, that's the mentality the coaches had. The parents of the kids were wonderful. For all of us, we just wanted to keep these kids playing hockey. It was just awesome to see that ability to stick together through all the challenges and know that we're stronger together."
Throughout every stage of their efforts to have a new arena built, people associated with the Ducks, past and present, young and old, wanted their voices to be heard.
"My son, who is now 21, started skating at Tucker Road when he was three. We've been in our house for 22 years now, and my daughters have skated there. You hear those stories from other people as well, just how much Tucker Road means to them. It's our rink and everyone was willing to step up.
"I asked some of the kids if they would testify at council, to speak about what the Ducks mean to them. They said yes right away. Parents, my son, and so many other kids, they did that and I'm so proud."
Briggs-Blake is humbled by the outpouring of love both from within the organization and beyond.
"We recruited new kids and new parents, who never skated at the original rink. They started with us during the transition mode. Our kids, I'm most proud of them. I look in their eyes and that's what pushes me. I could never look at them and think that we didn't get a rink for them to play in. I'm also proud of the parents, the community, the parks & rec department, and all the partnerships we've built. This new rink, it's going to mean so much to the kids and our community. There were a lot of tears when the rink burned down, but now there is reason to smile."
---
Lameka Bell and Alexandria Briggs-Blake are two impressive examples of the many women making a profound difference in grassroots hockey.
Dayna Caruso and Allison Norman have also made significant contributions to the game and their programs received a helping hand through assistance from NHLPA Goals & Dreams.
Caruso is the Executive Director at the Northern Ontario Families of Children with Cancer (NOFCC), an independent volunteer-based charity established in 1998.
The initiative serves families who have been affected by childhood cancer, families with a child on active treatment, those off treatment or receiving follow up care, and bereaved families.
One component of the program is dedicated to providing hockey equipment to children who have been diagnosed with cancer, or had a sibling diagnosed with cancer.
Every season since the organization started, G&D has donated 15 sets of equipment to the NOFCC program. In 2014, now former NHLPA member Derek MacKenzie and NHLPA Goals & Dreams teamed up with NOFCC to distribute new sets of hockey equipment for diagnosed children and their siblings. In the first round of NHLPA Goals & Dreams distributions for the 2017-18 hockey season, NOFCC received 15 sets of equipment, which was matched again in 2018-19.
Allison Norman is the General Manager of the JCY Rez Girls 64 Wolves, located in Fort Hope, Ontario, a remote fly-in community roughly 350 kilometres north of Thunder Bay, Ontario.
Established in 2017, the program provides local girls of the Eabametoong First Nation community a chance to play hockey at no charge. All staff members volunteer their time to coach and mentor the participants.
With the help of NHLPA Goals & Dreams, Toronto Maple Leafs star forward Mitch Marner hosted students from Hockey 4 Youth in Toronto last February. They took part in an on-ice session at the Maple Leafs practice facility and were given the opportunity to work on their skills with the help of Marner's brother, Chris, as well as former NHL defenceman and NHLPA Divisional Player Rep, Chris Campoli.
Joining the students were members of the JCY Rez Girls 64 Wolves, a team of girls between the ages of 10-13, who attend John C. Yesno Education Centre.
The group, who was Marner's guest at a Maple Leafs home game against the Calgary Flames, visited the Hockey Hall of Fame, and through NHLPA Goals & Dreams and the Marner Assist Fund, received 25 sets of hockey equipment.
The NHLPA is proud to support the youth hockey organizations and community members who are helping the world become a healthier and happier place to live and play. Click here for more on NHLPA Goals & Dreams and how you can get your team involved.