Player of the Week | Leon Draisaitl
With a hat trick, a four-game goal-scoring streak and nine points, Leon Draisaitl also netted NHLPA.com Player of the Week.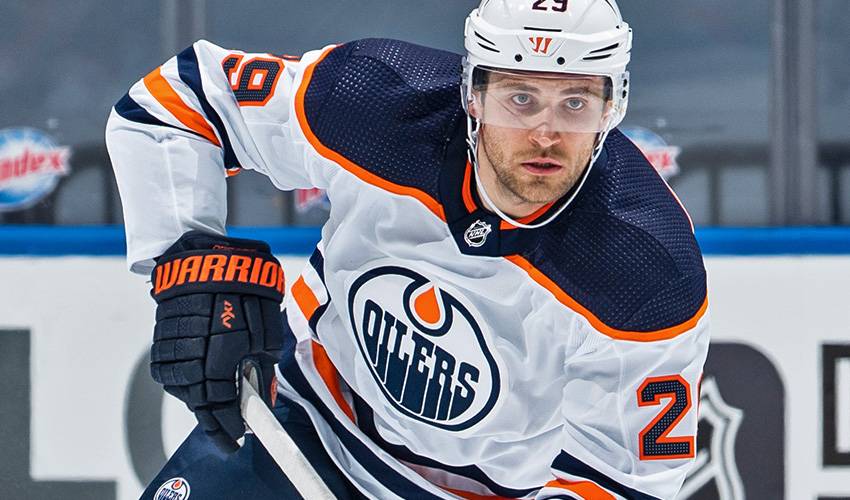 Feature photo: Getty Images
Leon Draisaitl
MARCH 8–14, 2021
6-3

–

9 OVER 4 GP
CO-LED LEAGUE IN POINTS; LED IN GOALS
5-POINT NIGHT VS. SENATORS

4-GAME GOAL-SCORING STREAK EXTENDED POINT STREAK TO 6 GAMES
---
Leon Draisaitl led the league with six goals and shared the lead in points to help the Edmonton Oilers climb up the North Division standings last week.
Draisaitl joined teammate Connor McDavid as the second player in the league to reach 40 points this season and sits second in overall points with 45 (16-29–45). The last time two teammates who had 45 or more points in their team's first 30 games, in consecutive seasons, was back in 1988-89 and 1989-90 when Wayne Gretzky, Bernie Nicholls and Luc Robitaille did so together with the Los Angeles Kings.
The reigning Ted Lindsay recipient and Hart Trophy winner continued his dominant play against the Ottawa Senators by registering his third career regular-season hat trick, improving to 17 points total in seven games against Ottawa this season. The 25-year-old has scored goals in four straight games, extending his point streak to six games with 11 points along that stretch.
"The way he thinks the game and the way he passes the puck on his forehand or backhand, slows the game down and find guys with speed, it's pretty incredible," teammate Tyson Barrie said about Draisaitl's dominant play.

LOOKING BACK

MARCH 8
1-0

–

1, GWG, 24:12 TOI
---
EDM 3
OTT 2
Draisaitl scored the game-winning goal to give the Oilers a 3-2 victory over the Ottawa Senators Monday night at Rogers Place.
Leading 2-1 in the second period, Edmonton took advantage of the Senators' line change as teammate Kyle Turris set up Draisaitl with a pass that he quickly wired past Joey Daccord for his 11th goal of the season.
The second-period marker also ended an eight-game goalless streak for Draisaitl and extended his point streak to three games.

MARCH 10
3-2

–

5, 6 SOG, 18:12 TOI, GAME'S FIRST STAR
---
EDM 7
OTT 1
Draisaitl recorded his third regular-season NHL career hat trick as part of a five-point night to help the Oilers earn a 7-1 win over the Senators Wednesday night on home ice.
Up 2-0 in the first period, Draisaitl got on the scoresheet by cutting through the Senators defence with a great end-to-end rush before beating Sens goaltender Matt Murray for his 12th goal of the season.
Draisaitl's second goal of the game came on the powerplay in the second period as teammate Ryan Nugent-Hopkins set him up with a perfect pass. In the final frame, Draisaitl completed the hat trick after receiving a drop-pass from McDavid between his legs.
With Draisaitl's three-goal performance, the charity of his choice will receive $1,000 as part of the Enterprise NHL Hat Trick Challenge.
"He's just such a strong player," Oilers head coach Dave Tippett said about Draisaitl. "He holds the puck, uses his body well – forehand-backhand, it doesn't seem to matter to him. In tight spots, he's got so much poise with the puck.

MARCH 12
1-1

–

2, 3 SOG, 23:12 TOI, GAME'S SECOND STAR
---
EDM 6
OTT 2
Draisaitl extended his goal-scoring streak as the Oilers' claimed a 6-2 victory over the Senators Friday night, closing the team's homestand.
After assisting on a goal scored by McDavid 10 seconds into the matchup, Draisaitl made it a 4-2 game for Edmonton in the second period by netting his fifth goal in his last three games.

MARCH 13
1-0

–

1, 6 SOG, 25:53 TOI, GAME'S SECOND STAR
---
EDM 1
VAN 2
For the fourth straight game, Draisaitl found the back of the net but the Oilers' four-game winning streak came to an end with a 2-1 loss to the Vancouver Canucks Saturday night at Rogers Arena.
Down 1-0 in the second period, Draisaitl earned his 16th goal of the season on the powerplay as Nugent-Hopkins found him wide open for a one-timer.
Edmonton kept putting pressure on Vancouver but Canucks goaltender Thatcher Demko was sharp in making 34 saves. Draisaitl credited his team's ability to push the pace until the end.
"I thought we played pretty well, for the most part, we definitely had enough chances to win the game," Draisaitl said after the game. "Their goalie was good and at the end, we had a couple of chances where the puck could have easily gone in. They made some good blocks and that's unfortunate."
LOOKING AHEAD
Draisaitl can extend his goal-scoring streak on the road when the Oilers take on the Calgary Flames March 15 and 17 before returning home to host the Winnipeg Jets March 18 and 20.