After the Buzzer | James Reimer
James Reimer has made some outstanding saves in his 11-year NHL career, but there's one legend he wouldn't mind facing on a breakaway.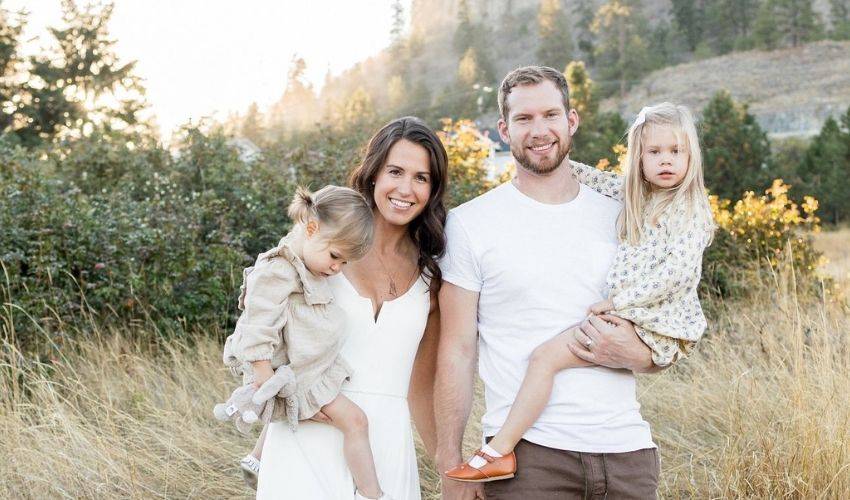 Feature Photo: Twitter / @april_reimer
From their bond with fans to their efforts in the community – and everything in between – 'After the Buzzer' is a weekly series taking readers beyond the rink to shine a light and provide insight on players' lives away from the game.
---
Which era of music gets James Reimer pumped up workouts? Here's a hint: think retro.
The 32-year-old goaltender recently stopped by NHLPA.com and talked curling, cooking skills, family time and the legendary NHL superstar he'd like to go one-on-one against.
BROOMS OUT
Growing up in Manitoba, where curling is a huge sport, it might lead one to believe Reimer has some skills on the sheet.
But the Carolina Hurricanes netminder, in the midst of his second season in Raleigh, is happy to set the record straight.
"My curling skills? Not great. I didn't go curling much as a kid, but actually, last year, we had a couple of days off when we were playing Calgary. We stayed in Banff and we had a curling outing with the boys. I would put myself at right about average, whatever that means. We were supposed to have this big round-robin tournament, but it didn't happen."
Could curling make a return for another one of his team's famous Storm Surge celebrations?
"That's right… we really should do that."
ROCK SOLID!
One of the first things you'll find on the homepage of the Arborg, Manitoba, website, is a list of major attractions. The town happens to be home to the world's largest curling stone, which honours two local teams who made it to the Provincial Curling Championship, one of which went on to win nationally.
"That's right! Arborg is where I played my minor hockey. Canada's prairie provinces always seem to have these odd, but great structures. So, we've got the curling rock in Arborg. I think it's a pretty cool thing."
MAKING THE CULINARY GRADE
In an interview from 12 years ago, Reimer spoke about his lack of cooking skills at the time.
Now, over a decade later, the 99th overall pick of the 2006 NHL Draft has learned a few things along the way.
"If you have no cooking skills, can you improve? Ten times zero is still zero, right? Let's say I've improved a bit, but definitely nothing to boast about at all. I would say my cooking skills have improved, but it didn't take much to improve from where I was at."
HOME, SWEET HOME
Whenever he returns from an extended road trip, Reimer relishes the chance to spend time with his wife, April, and their two daughters, four-year-old Nevaeh and nearly two-year-old Hope.
"We don't do a lot of extravagant things when we get that opportunity to be together as a family. We enjoy – especially when the weather is nice – playing outside on the front yard. Our four-year-old is big into her scooter right now, so she enjoys whipping around on that. We follow each other around and she thinks that's pretty fun. That's one of the main things we do when I'm home."
"I also have all the kids shows pretty much memorized by now. I think April has seen enough of those for a lifetime."
LEGENDARY SHOWDOWN
If Reimer could pick an all-time NHL great – someone he never played against – to face on a breakaway, he'd opt for one of the top scorers of all time, a Hall of Fame legend who scored 690 goals in 915 NHL games.
"That's an easy one for me. I'd go with Mario Lemieux. I was always a big Lemieux fan. He's obviously one of the greatest players to have ever played the game and his hands were nasty, especially for the era he was in. I think that would have been be pretty cool to have faced him."
PLEASE DON'T STOP THE ('80s) MUSIC
He was born in 1988, and missed a lot of the music in the '80s, but Reimer has found his throwback groove thanks to his older family members.
Whenever he's working out, you can bet he's listening to some retro tunes to get him pumped up.
"I guess you can say I'm somewhat of an undercover '80s music fan. I didn't really listen to the music at the time because I was way too young. I grew up with '90s music and should probably be a '90s guy, but I have older sisters and my uncles that got me into that '80s vibe. That's always my workout playlist, '80s rock or '80s hits."
PARTING SHOT
"I'm sure I have an embarrassing music group that I like to listen to, but I can't think of one off the top of my head." – James Reimer on having too many embarrassing songs to choose from on his playlist