Player of the Week | Thatcher Demko
Thatcher Demko is keeping pucks at bay and turning heads as NHLPA.com Player of the Week.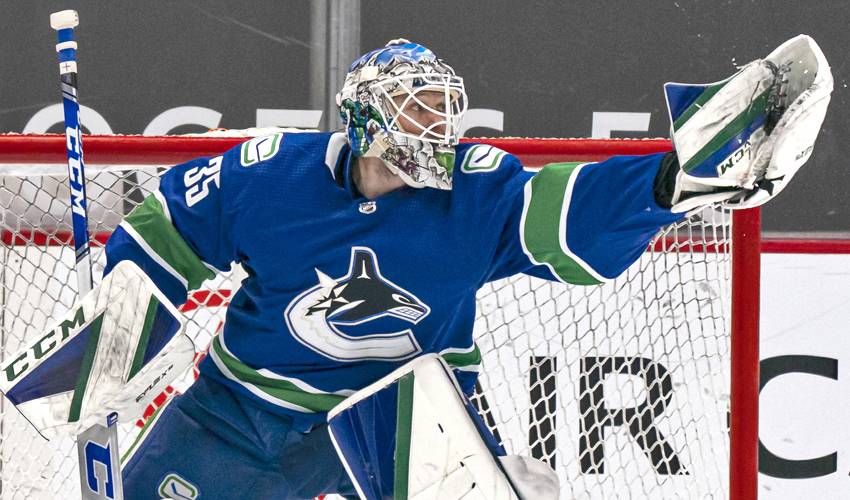 Feature photo: Getty Images
Thatcher Demko
MARCH 1-7, 2021
3-0-0 OVER 3 GP
CO-LED LEAGUE IN WINS
1 SHUTOUT
.969 SV%, 1.00 GAA
95 S, 98 SA
---
Thatcher Demko stood tall between the pipes for the Vancouver Canucks this past week, co-leading the league with three wins and recording his first career NHL regular-season shutout.
Demko went 3-0-0 with a 27-save shutout, a 1.00 goals-against average and posted a .969 save percentage – the latter of which paced netminders with more than one start.
Since January 21, the 25-year-old has made a strong case for the Canucks starting role, recording a .918 save percentage and 2.64 GAA. His recent stretch has earned some attention around the league as former World Junior teammate Auston Matthews, forward for the Toronto Maple Leafs, believes this is just the start for Demko.
"He's big [6-foot-4], takes up a lot of space and ever since the bubble and the playoffs last year he's really come into his own," said Matthews.

LOOKING BACK

MARCH 1
W, 27-SAVE SHUTOUT, FIRST STAR
---
VAN 4
WPG 0
Demko turned aside 27 shots to earn his first NHL regular-season shutout with the Canucks' 4-0 win over the Winnipeg Jets Monday night at Bell MTS Place.
Vancouver scored three goals in the first period, including two in 18 seconds, then relied on Demko to help maintain the lead with the Canucks goalie making 15 saves in the final frame.
Demko's latest shutout comes after a whopping 48-save performance in Game 6 of the 2020 Stanley Cup Playoffs to blank the Vegas Golden Knights for his first-ever NHL shutout.
The victory also ended a four-game losing streak for the Canucks. Demko credited his team's defensive play, particularly in a second period where he faced only five shots on goal.
"I thought the guys played really solid tonight," Demko said after the game. "We've talked about playing a full 60 and first two periods I didn't see much, obviously they're going to push...they're going to try to claw their way back into the game there in the third and I thought we did a good job handling that."

MARCH 4
W, 31 S, 32 SA, SECOND STRAIGHT WIN, GAME'S SECOND STAR
---
VAN 3
TOR 1
Demko made 31 saves for his second straight win in the Canucks' 3-1 victory over the Toronto Maple Leafs Thursday night at Rogers Arena.
Vancouver ended Toronto's four-game winning streak with Demko shutting the door after allowing a goal late in the first period. The Maple Leafs didn't make it easy on the Canucks goalie as he had to make some tough saves.
His best save of the night came in the second period with the Maple Leafs shorthanded on a two-on-one rush, forcing Demko to stack his pads for a big stop on Toronto forward Ilya Mikheyev.
"I just did it," Demko explained. "You're not really thinking in those situations. You're just trying to get in front of it and make a save. Just happy it didn't go in."
The performance from Demko drew further praise from Matthews, who acknowledged the Canucks netminder for his strong late-game efforts.
"(Demko's) a great goalie," Matthews said. "He played really well tonight, he made a couple big saves for them. We had some quality opportunities there, especially at the end. He came up big so sometimes you just have to tip your hat."

MARCH 6
W, 37 S, 39 SA, THIRD STRAIGHT WIN
---
VAN 4
TOR 2
Demko earned his third straight win by making 37 saves in the Canucks' 4-2 victory over the Maple Leafs Saturday night at Rogers Arena.
Trailing 2-1 heading into the third period, Demko made 13 saves to help the Canucks win their first game when trailing in the third.
"He was phenomenal again tonight, he's been great for us," Canucks captain Bo Horvat said about Demko. "You need great goaltending in order to win in this league, so I'm happy we scored enough goals to help him out, because he helped us out."

LOOKING AHEAD
Demko will look to continue his strong play as the Canucks continue their homestand against the Montreal Canadiens March 8 and 10 before finishing the week against the Edmonton Oilers March 13.