Toffoli hat trick turns into assist for Justin Turner Foundation
Tyler Toffoli couldn't support the Justin Turner Foundation in person, but he was able to help from a distance through the Enterprise NHL Hat Trick challenge.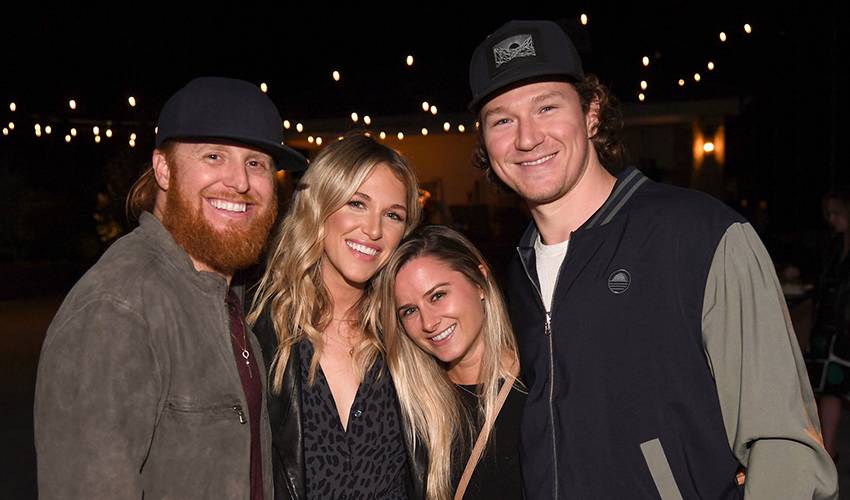 Feature photo: Twitter / @catbtoffoli
---
Tyler Toffoli's first hat trick of the season wasn't just a big hit in the hockey world.
After Toffoli, now in his ninth NHL season and first with the Montreal Canadiens, netted three goals against the Vancouver Canucks January 20, he was given the opportunity to select a charity that would receive $1,000 as part of the Enterprise NHL Hat Trick Challenge.
He didn't hesitate when it came to making his choice.
The 28-year-old, now with four NHL career hat tricks, opted for the Justin Turner Foundation (JTF), the initiative established in 2016 by the Los Angeles Dodgers third baseman and his wife, Kourtney.
Toffoli and his wife, Cat Belanger-Toffoli, who he met on LA Kings Night at Dodger Stadium in 2014 after the club won the Stanley Cup, works for the Dodgers. The couple has become close friends with the Turners.
"Justin and Kourtney are great friends of me and my wife, Cat," Toffoli told NHLPA.com. "They go above and beyond to do awesome work for so many people in the Los Angeles community."
JTF primarily supports homeless veterans, children (and their families) who are battling life-altering illnesses and diseases and various youth baseball organizations. Since its founding, the JTF has provided over 10,000 toys and 2,000 bicycles to children in the Los Angeles area through its holiday giving efforts alone. The foundation has a list of charitable outreach as long as its namesake's accolades on the diamond.
Turner, who batted .307 in 42 games in 2020 with four home runs and 23 RBIs, has helped the Dodgers reach the playoffs in each of the seven seasons he's been with the team. He's hit .295 in 72 career postseason games and is the team's all-time leader with 12 career playoff home runs. The infielder was named an All-Star and the NLCS MVP in 2017, and won the World Series in 2020.
Toffoli is enjoying a strong season of his own, which started hot by earning NHLPA.com Player of the Week in January along a four-game point streak, where at the time he led the league in goals and co-led in points.
The Scarborough, Ontario, native selected 47th overall by the Kings in 2010, is averaging nearly a point per game with the Canadiens and tallied 17 points in his first 18 outings with the Canadiens.
A four-time 20-goal scorer – he notched a career-best 31 goals in 2015-16 – Toffoli is also nearing the 550 NHL games played.
Toffoli even believes his baseball-playing pal would be a perfect fit, at least off the ice, for the Canadiens.
"Justin is a great guy and would be an especially fun teammate in a hockey dressing room," praised Toffoli. "He always has a good sense of humor that would be great for the long grind of the season."
The infielder would no doubt be thrilled if his friend managed to post another hat trick this season.
Toffoli, who swatted a home run during batting practice at LA Kings Night at Dodger Stadium in 2016, much to the delight of Turner and his Dodgers teammates, would be happy to oblige.
"It's always been great to support the Justin Turner Foundation in person, so it's nice to do a little something from a distance with the Enteprise Hat Trick Challenge."

More on the JTF

The JTF has also recently partnered with the 17Strong Foundation, which enables patients that are recovering from a life-altering illness to take a "victory trip" of their choice. JTF also works with Yokota Air Base in Fussa, Japan, to help create a baseball league for U.S. military children.
Turner's charitable endeavors don't end there.
The 36-year-old native of Long Beach, California, is a supporter and participant of the AM570 Radio-a-Thon supporting the Paralyzed Veterans of America and the DC Veterans Program. Aside from his community appearances with the Dodgers, Turner makes visits to CHLA, Cedars-Sinai, Mattel Children's Hospital and the Dream Center. He also hosts a fundraising golf tournament each year, an event that draws athletes (including Toffoli) and celebrities.