Flames/Sens series a special showdown for Tkachuk brothers
From rollerblades to NHL rinks, it's all brotherly love between Brady and Matthew Tkachuk ahead of their four-game series unique to the 2020-21 NHL season.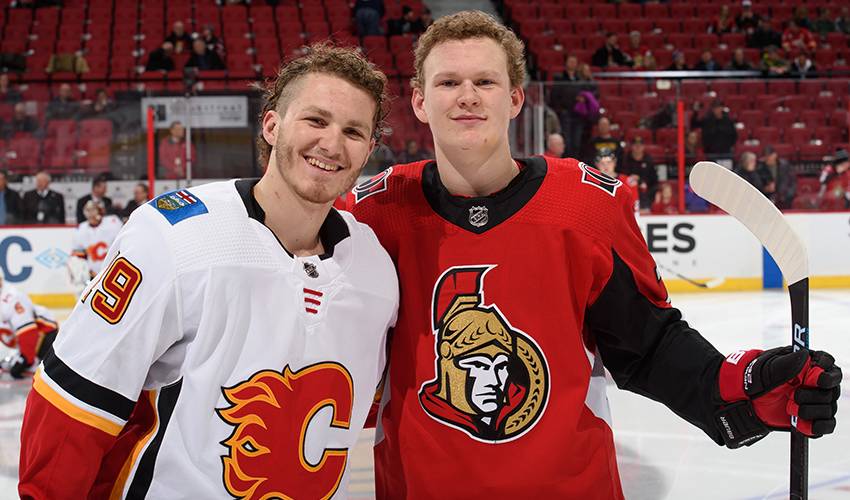 Feature photo: Getty Images
---
It's a Tkachuk brother quadruple bill.
When Calgary and Ottawa face off for the first time this season against one another, and in five out of six games, it'll be much more than just an all-Canadian matchup for the players wearing No. 19 (Matthew) and No. 7 (Brady) for their respective teams across the back of their jerseys.
The siblings were counting down the days in the lead-up to this part of the schedule, starting with three games to be played in the nation's capital and two more in Calgary.
"It's special," said Matthew, now in his fifth NHL season. "It's so much fun. It's an honour to play against him. In the perfect world, for the two of us and our family, we'd like it if we weren't on the ice at the same time as one other. I think my parents [their mom, Chantal and their father, Keith, longtime NHL standout] would like that a lot. They like watching one of us one shift and one of us another shift as opposed to juggling watching two kids at the same time. That's obviously out of our control."
Brady, in his third NHL campaign, is equally hopeful of being on the bench when his brother is on the ice.
A big part of the reason is in wanting a front-row seat to watch his fellow forward compete.
With their respective skill sets and significance to their teams, it isn't a likely scenario.
"To be honest, it's a blast being on the ice together, but I like to watch him when I'm not out there, so we'll see what ends up happening with everything. Hopefully, we're not on the ice together," said 21-year-old Brady.
Having the opportunity to face-off against one another is a huge thrill for both.
It's also something that never gets old.
"Absolutely does not get old," said 23-year-old Matthew, the sixth overall pick of the Flames in 2016. "I watch his games when we're not playing and he watches mine when he's not playing. But when we're out there on the same ice and I get to see how great a player he is, that will always be special for me."
It's the same for Brady, the fourth overall pick of the Senators in 2018.
"There's so much I could say about my brother. I respect everything about him. If I were to go into details, his work ethic comes to mind right away. I've never seen a guy work as hard as him. Just the way he carries himself – he knows how good he is, but there is no arrogance whatsoever. For him, it's about confidence. He demands so much out of himself."
Matthew, who scored a career-best 34 goals in 2018-19, speaks glowingly of his brother's character, both inside and outside of the arena.
"When I think of him as a player and a person, it's about how nice is and how genuine he is. He cares so much. Everyone on his team has nothing but great things to say about him. He's loved everywhere he goes. He's just a good kid. I think the biggest compliment you can give people – and I've heard it a lot about Brady – is that he is just a normal, down-to-earth guy. He's a great player, but you would never know that from talking to him. He's very humble. He cares so much about others and would do anything for his teammates. For him, it's always about family first, friends first and team first. He's a selfless person."
Brady, who posted back-to-back 20-plus goal campaigns in his first two NHL seasons, has similar praise for Matthew's team-first attitude.
"He puts the work in the summer to be at his best during the season. He's an awesome teammate. Buddies of his, former teammates, and his current teammates, they know he'll do anything to win. You have to have that on a team, a guy who is willing to do anything to win… that's what I see when we play against one another, and in every game he plays."
The impending matchups between Calgary and Ottawa also prompted a skate down memory lane for both, back to the days when they would go one-on-one in just about everything they did.
And yes, things did get competitive.
"We were never the type of kids to rush home from school and head downstairs to play video games," recalled Matthew. "That just wasn't us. You couldn't get a stopwatch started before we had our rollerblades on. Whether that was outside in the driveway playing one-on-one or if we were shooting hoops, jumping on the trampoline – all that stuff that kids would do – we just loved to spend that time together.
"When I was younger, I would get the better of him in most games," continued Matthew. "We would throw [sister and field hockey star] Taryn on Brady's team to give him someone else to play with, and it would be one-on-two a lot of times. The older we got, the more competitive the games got. He definitely made me better in a lot of different areas."
That would include everything hockey-related.
But it wasn't just brother supporting brother that helped them achieve their NHL dream.
"It's great for us to be able to play in the same league and to have the chance to play against one another, but it's also great for our parents, and our family and friends, who put us in the position to get us here," said Brady. "It's pretty cool to see him out there, but it's also that awesome feeling to know that it wasn't just us… it was a collective effort that got us to here. We're pretty appreciative and thankful when we get to play one another. For a bunch of years we barely got to see one another, so the past few summers have been great because we've been able to train and skate together, and just spend time as brothers."
For eight games in the 2021 NHL regular season the siblings will have the chance to have more time together, albeit in a unique setting.
"As a player, he's truly a star in this league and I'm looking forward to playing against him," said Matthew.
Added Brady, "It's been a great journey and hopefully we have plenty more years for this to happen."